Joyce Manor have today announced their sixth LP, 40 oz. to Fresno, which is set for release on June 10 via Epitaph. They've also dropped its first single, 'Gotta Let It Go', alongside a Mason Mercer-directed video. Watch and listen below.
The 9-track 40 oz to Fresno was produced by Rob Schnapf (Elliott Smith, Tokyo Police Club), who also produced Joyce Manor's 2006 album Cody. It was mixed by Tony Hoffer (Beck, Phoenix) and features Tony Thaxton of Motion City Soundtrack on drums. "This album makes me think of our early tours, drinking a 40 in the van on a night drive blasting Guided By Voices and smoking cigarettes the whole way to Fresno," vocalist Barry Johnson said in a statement.
Joyce Manor's last album was 2018's Million Dollars to Kill Me.
40 oz. to Fresno Cover Artwork: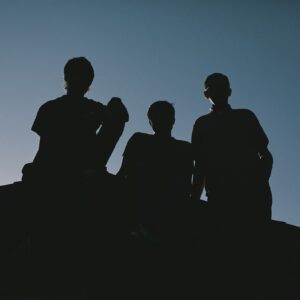 40 oz. to Fresno Tracklist:
1. Souvenir
2. NBTSA
3. Reason To Believe
4. You're Not Famous Anymore
5. Don't Try
6. Gotta Let It Go
7. Dance With Me
8. Did You Ever Know
9. Secret Sisters