Katie Alice Greer, formerly of Priests, has announced her debut solo album. Barbarism is out June 24 via FourFour Records. Today's announcement comes with the release of lead single 'FITS/My Love Can't Be', alongside an accompanying video. Check it out below.
"I'd spent something like 70 days mostly alone since the pandemic started," Greer said in a press release. "Then one weekend I biked out to Fairfax Avenue and found myself amongst thousands of people. It was jarring … To go from mostly the stillness of a barely-lived-in bedroom to projectile shopping carts, strangers chanting, phalanxes of beige gun toters, and tanks parallel parked outside luxury underwear and grocery shops on Melrose. Stuff was on fire. I think I listened to Exile On Main Street headed home, because it's similarly contradictory and complicated mixture of emotions felt resonant. I wanted to try and capture all that I was feeling without so much as re-telling events that inspired the emotions themselves. "
"I'm not a journalist, but maybe to underscore the contrast between a reporter and a storyteller, I wanted to make a Network Howard Beale-inspired music video to visually communicate the cacophony of feeling," she added of the video, which follows a news broadcast from the "Barbarism News Network."
Barbarism was written, performed, produced, and mixed entirely by Greer. Back in 2020, she shared two EPs, No One Else on Earth and 3 Colors. Priests announced an indefinite hiatus following the release of their album The Seduction of Kansas in 2019.
Barbarism Cover Artwork: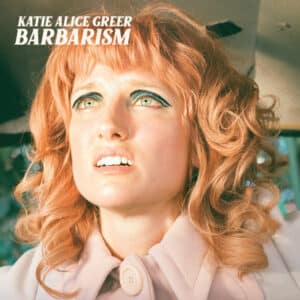 Barbarism Tracklist:
1. FITS/My Love Can't Be
2. Talking In My Sleep (Intro)
3. Fake Nostalgia
4. Dreamt I Talk To Horses
5. Flag Wave Pt. 1
6. Flag Wave Pt. 2
7. Captivated
8. No Man
9. A Semi Or A Freight Train
10. How Do I Know (PRING 5)
11. Barbarism