Pittsburgh five-piece the Zells have announced their sophomore album, Ant Farm, which will arrive on June 3 via Crafted Sounds. It includes the previously unveiled single 'Truther Uncle', as well as a new track called 'Hell Car'. Check out its music video below.
"This was one of the last songs that we wrote for the album, and it ended up being a good encapsulation of the various themes throughout the record; we took the album name "Ant Farm' from its lyrics," the band's Phil Kenbok explained in a statement, continuing:
I liked the idea of some weird, old king moping around like a Dark Souls or Radiohead character because he has to adapt to a new system that is really just as brutal and nonsensical as the one he was a part of before. You'd think this progressive move from a monarchy would be good, but the whole landscape just rots and gets worse, and regular people are still like ants or whatever. It's a futile situation that he can't separate his ego from, like a car on fire that he has to keep driving because it's his whole life. He's paranoid because he's probably going to die horrifically, which I'm also personally very afraid of. I picture him crying in the cold rain and joining the rest of us. That's the best outcome for him.
Ant Farm was produced and engineered by R.J. Gordon (Baked, Titus Andronicus), with mastering by Amar Lal (Big Ups). It features guest appearances from Adam Reich, Jordyn Blakely, and Davey Jones.
The Zells Cover Artwork: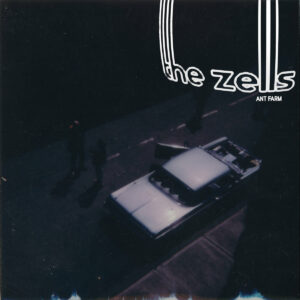 The Zells Tracklist:
1. Mankey
2. Dummy
3. Finnerty's Dream
4. Bryan Ray Trout, 1999
5. The Upside
6. JME
7. Truther Uncle 02:40
8. Payday
9. Hell Car
10. Call It Early
11. Suffer + Toil
12. Hard Reset