Born in China and grew up in the States, Amira Lin does well in integrating the collision of two different cultures into her design. She grew up in a family with artists and designers, which makes her extremely good at bringing words alive by means of illustration through her technique of color-matching. 
Q: Would you please briefly introduce yourself?
A: I came to the U.S. to study at the age of 15 and went to high school in California and Florida. Then I went to Pratt Institute in Brooklyn, New York and obtained an international merit scholarship of $19,000 per year. I majored in communication design with a focus on illustration and film production. I come from a family of designers. My mother studied fashion design and my father is an industrial designer. That's why I believe I've always had a good aesthetic sense since I was a kid.
Q: How would you define your own style?
A: I think we could define my style as joyful, lively with a sense of rhythm. The figures have more tension in their posture. I tend to use bold compositions and vibrant colors because I like using contrast in my work. For example, the combination of small intricate details in some areas and large blocks of color right next to it. I am also naturally drawn to patterns. Most of my works represent themes of social justice or sometimes inspired by personal feelings. I want to leave people with an impression of joy and playfulness looking at my work, and I try to incorporate more details into them so there's more to explore visually. This type of expression is very common in my works. When people talk about my work, I hope there are many things to explore rather than just seeing it all at once. 
Q: What makes you stand out from other designers? 
A: I would describe myself as a generalist since I am well-rounded in my skill sets. Even though illustration design is my first love and specialty, I am skilled in both motion design and graphic design. I have a wide range of interests that inspire my design process, and I also approach different design themes with different methods. I have always been sensitive to colors as well. My use of color often comes from many visual inspirations, ranging from mid-century modern furniture design, the Swiss Style posters in the 50s, graphic masters such as Paul Rand and Saul Bass, etc… I like a clean, bold and direct way of utilizing colors to tell a story. I don't like to follow popular trends without thinking because I know what works for me and what doesn't.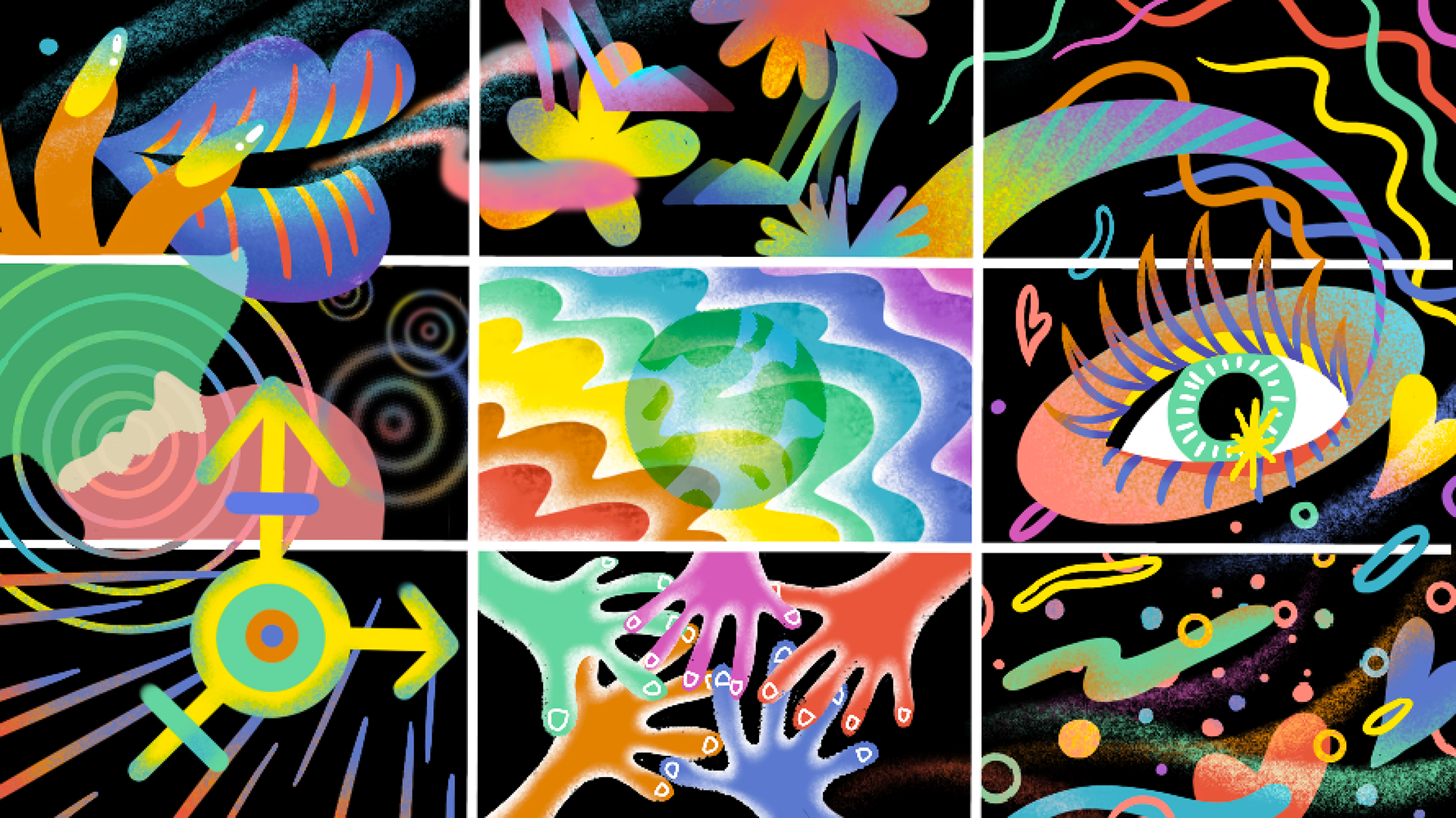 (Illustration Postcards, by Amira Lin)
Q:Your first internship was at Adweek. What were you trying to show through your design Pride in Quarantine?
A: Pride in Quarantine was the illustration I designed for an article that talks about how the LGBTQ community provided support and help to each other during the epidemic lockdown. The article was about the community supporting each other through online meetings. The design of the nine-box grid in this illustration was inspired by Zoom where  everyone appears in a small box on your screen. The colors I used are drawn from the six colored striped flag that represents the LGBTQ community, also known as the Pride Flag. Inside of the grids, I designed some geometric patterns as visual expressions. Those icons serve symbolic meanings of the LGBTQ group. The grid in which there are many hands represents unity and support within this community.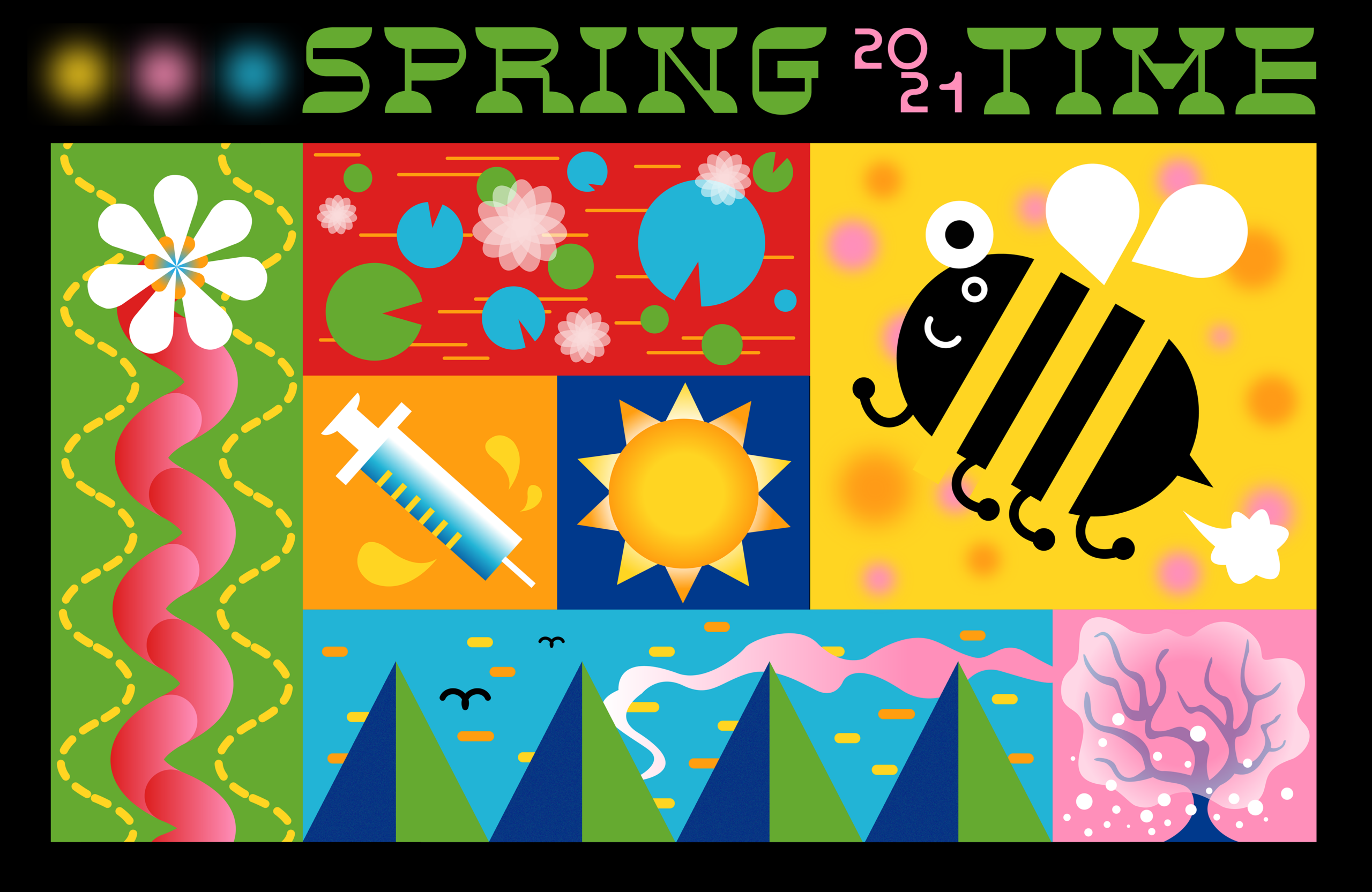 (Pride in Quarantine, by Amira Lin)
Q: You are now working at Champions Design. What's your latest project here?
A: The latest Champions Design project I have been working on is Carnegie Hall. We collaborate with Apple TV to create a premium subscription channel featuring musical content from around the world, and you can access them through Apple TV. So instead of going to the hall to watch the shows in person, people can just watch them at home now. I was in charge of creating the covers for each episode.