Liverpool four-piece Courting have announced their debut album, Guitar Music, which arrives on September 23 via Play It Again Sam. Along with the announcement, the band has shared a new single called 'Loaded'. Check it out below.
"In 'Loaded' we tie together a lot of ideas about change, and stagnation," frontman Sean Murphy-O'Neill explained in a statement. "It is inspired heavily by pop music, specifically artists like SOPHIE. It is us just throwing everything at the wall and trying to create something fun and ridiculous."
"Guitar Music is realising you actually love the music you hated when you were 13," Murphy-O'Neill said of the album, which was produced by James Dring. He continued:
It is lip fillers and being thousands of pounds in debt. It is missing mundane things about your childhood and mourning celebrities you were only aware of posthumously. It is dancing with your friends. It is falling in love with a drawing and it is always online. It is touching toes in bed, hearts carved into trees. It is swimming outside and listening to pop smoke. It is fireworks over family parks and Guitar Music is the opposite of our early releases in that it is very emotional. The stories told may be from the perspective of other characters at times, but these songs are filled with actual emotion rather than us trying to hide.
We felt that Guitar Music as a phrase was reductive and therefore decided to create a record with the intention of it being a body of work that could redeem being a "guitar band", by pushing it to different boundaries. To us, this record is a statement piece, it felt very exciting to make, to us, it feels a lot more special than we'd originally expected it would be."
Guitar Music Cover Artwork: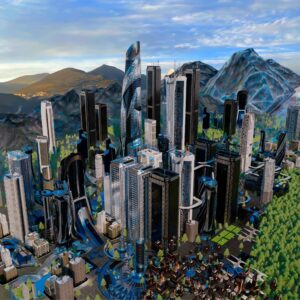 Guitar Music Tracklist:
1. Cosplay/Twin Cities
2. Tennis
3. Loaded
4. Famous
5. Crass (redux)
6. Jumper
7. Uncanny Valley Forever
8. PDA