NNAMDÏ has today announced a new album, Please Have a Seat, his first for new label home Secretly Canadian. It's slated for release on October 7. The first single 'I Don't Wanna Be Famous' is out today, and it comes with an accompanying video directed by Austin Vesley. Check it out and find the album cover (by Austin Call/duhrivative) and tracklist below.
NNAMDÏ wrote, produced, and performed the 14 songs on Please Have a Seat entirely himself. "I realised I never take time to just sit and take in where I'm at," the Chicago multri-instrumentalist said in a press release. "It's just nice to not be on 'Go, Go, Go!' mode, and reevaluate where I wanted to go musically. I wanted to be present."
NNAMDÏ released his last LP, Brat, in 2020. It was followed by two EPs, Black Plight and last year's Are You Happy.
Please Have a Seat Cover Artwork: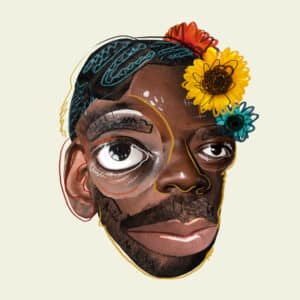 Please Have a Seat Tracklist:
1. Ready to Run
2. Armoire
3. Dibs
4. Touchdown
5. Grounded
6. I Don't Wanna Be Famous
7. ANXIOUS EATER
8. Anti
9. Dedication
10. Smart Ass
11. Benched
12. Careful
13. Lifted
14. Somedays