Following in the lineage of abstract landscape, the painter Lily Prince has rendered the American west—predominately the southwest, but with some inclusion of the verdant northwest—into a distinct body of work entitled, appropriately, American Beauty.  She has also turned her attention to the complexities and subtleties of the sprawling Lake Como in Italy's north, yielding a body of work titled Lago di Como. Together, American Beauty and Lago di Como–these two depictions of such intensive terrain–total Both Sides Now, which has recently ended its run at the Carrie Chen Gallery in Great Barrington, Massachusetts.
Both Sides Now began with oil pastel drawings created en plein air, which means they were fashioned outside at various locations. The drawings were brought back to her studio in New York's Hudson Valley, where they were used as inspiration and source material for Both Sides Now's final form: acrylic on canvas, as well as watercolor and gouache on paper paintings. En plein air can connote a pastoral meditativeness, which is certainly abundant in Both Sides Now. But—crucially–Both Sides Now is also undergirded by a venturesome physical immersion into these natural landscapes.
I had the enviable vantage point—as spouse, driver, unhelpful navigator– of witnessing the inception of Lago di Como and American Beauty. The physical distillation of American Beauty was a more participatory experience than that of Lago di Como. In Italy, much of my involvement was more removed, often spent while I was planted in a café.
The preliminaries of American Beauty, on the other hand, took the form of my perch in the driver's seat of an oversized, comfortable rental car that often, ever-so-carefully, needed to be navigated off the busy southwestern highways into a semi-private, semi-sequestered painterly vantage point.
My particular vantage point was the air-conditioned interior as Lily visually translated, into plein air drawings, what she saw before her out in the desert's intense heat—sometimes with the rush of fast-moving traffic a scant distance away.
What would be retained, transposed, combined? Both Sides Now is the fruition of these efforts.
The southwest—and specifically New Mexico, where we spent a good deal of time–is, to me, a place of hauntings. Los Alamos, such a touchstone in this country's march into the age of nuclear madness, appears—so unassumingly as to be almost startling—as a locale on a utilitarian roadside sign. As does the town of Roswell, the word itself loaded with significance in the annals of UFO theorists and advocates. This country's very strange psyche, to an extent, plays out amid the terrain of New Mexico. And to this painter who takes so much in the way of inspiration from the region's land and sky, there was the visiting and drawing at Georgia O'Keeffe's Ghost Ranch—a pilgrimage in every sense.
American Beauty feels akin to an excavation. Lago di Como, on the other hand, feels like a winnowing out. Light reflected on water is never still.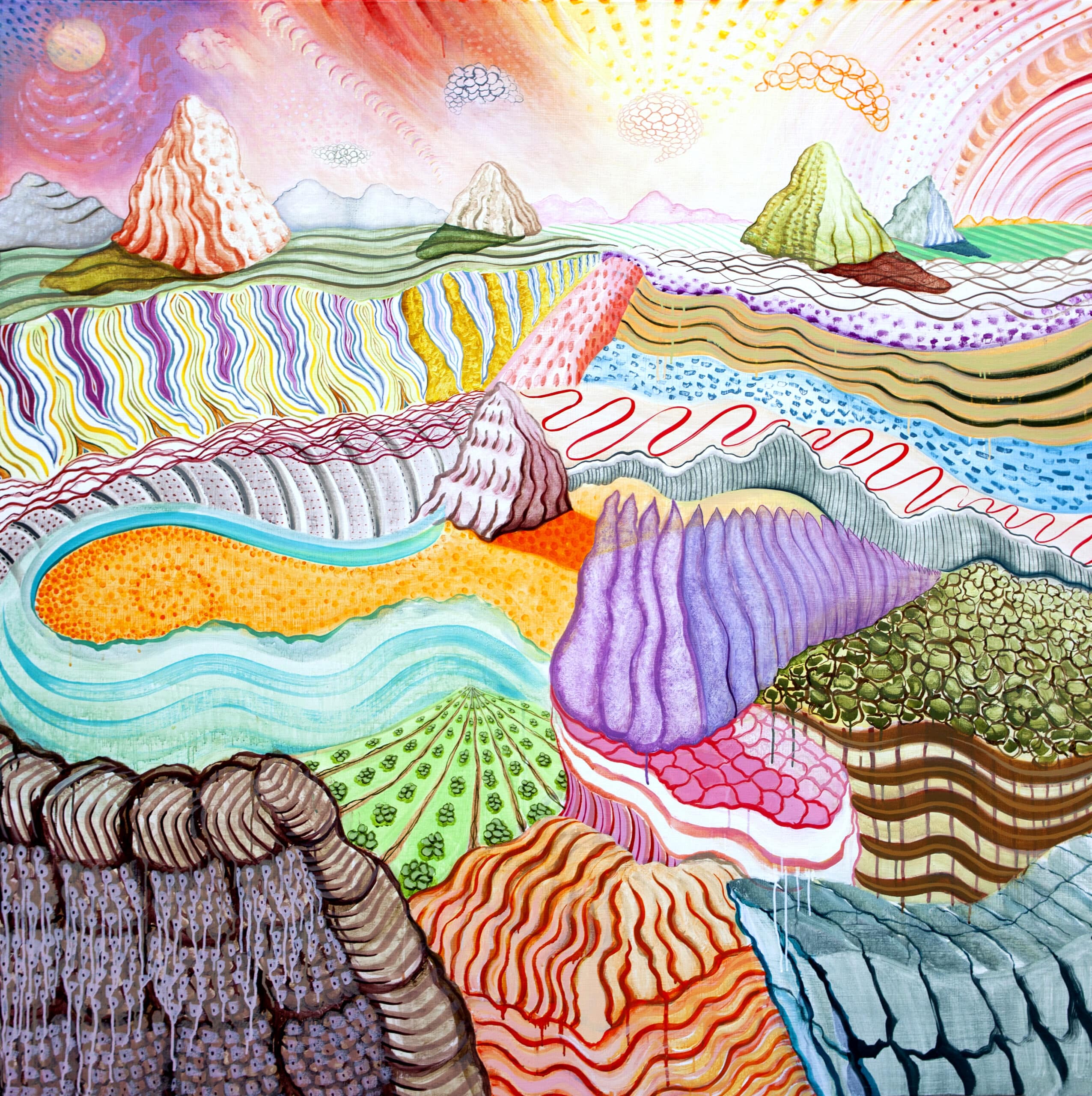 Lake Como is in constant motion, the enormous body of water shifting in its colors, its rhythms, in the shadows it casts throughout the day and into the late evening.
What would be retained, transposed, combined?
In James Joyce's "Araby," the youthful narrator seeks to preserve a cherished, almost sacred, image—in this case, a girl; a magical girl—as he makes his way through the coarse cityscape. "I imagined," he says, "that I bore my chalice safely through a throng of foes."
There is not, of course, that antagonistic dynamic in Both Sides Now. It is the opposite: This particular chalice is carried through a cascade of sensations: visual, aural, olfactory.
When I enter into Both Sides Now—and it is an act of entering, in the very real sense–I'm struck by the verdant expansiveness of American Beauty and Lago di Como.  The viewer hovers above all these works. You are now privy to the uncommon vantage point of observing the observer.
The terrain, the skies, the musicality, all go on forever.
American Beauty's southwestern vistas are not, on the whole, the pastoral expansiveness of greenery and fields and lakes.  Those belong to Lago di Como, whose sweeping vistas need to be interpreted vertically, not horizontally.
The expansiveness of Lago di Como revolves, of course, around the imperial Lake Como. There is depth, both literal and metaphoric. Lake Como itself seems so gigantic as to be its own separate country—which, of course, is an impossibility, almost like an optical illusion. There is an element of operatic grandeur in Lago di Como, enhanced by the appearance of some emphatic, royal purple.
The locus of American Beauty is a harvest of pinks, purples, aqua, orange. The land is undulating, symmetrical, zigzaggy. The terrain is hospitable, but only to a point. It demands certain rules and strictures. The language of the southwest is unknown to me, which makes it more impenetrable. It is mysterious to me in a way that Lago di Como is not. There is also the overlay of tragedy in American Beauty, of the Native peoples who lived and thrived, but are no more. American Beauty rings with distant sounds and echoes, intertwined into the sun-drenched ground. The heat of the southwest bakes into the stillness, its crevices and mystery. Shadow on stone becomes a refuge.
A palimpsest can be defined as a parchment with successive layers of writing, or something having hidden aspects that are apparent beneath the surface.  Both American Beauty and Lago di Como are a palimpsest: centuries and centuries of lived experience and art and beauty, each historical epoch inflecting the other. There is the strong sense of time in these works: the simultaneity of past and present.
---
Lago di Como is punctuated with the musicality of the Italian language. Listen to its very name and the surrounding towns: Cernobbio. Bellagio. Varenna. The musicality of Lago di Como, the place, is transposed into gestural paint passages.
American Beauty exists in broad daylight. There are no night scenes. A subtle, hidden current of anxiety hides just beyond view. Somewhere is the deeply rooted, primal fear that one could get very lost in this terrain and face potentially dire consequences.
There is also the lingering sense that, once lost, you would encounter some assistance, the flora and fauna serving as protector.  The desert is full of watchful, hidden sentries, a lurking energy just out of view.
The terrain in Lago di Como is certainly welcoming, but it will not go out of its way to make you feel at home. The understanding is that you are here to admire it: It takes the adulation as a matter of course. There is an element of noblesse oblige. Lake Como has merited inclusion in Stendhal's Charterhouse of Parma. It has seen empires come and go. It is not unduly impressed with you.
The skies in both American Beauty and Lago di Como figure prominently. American Beauty's skies absorb a myriad of elements, aqua shining amid the intense midday heat.  The distance one can observe is miles and miles away, a display of entirely different weather patterns. These skies are also possessed of a supernatural reflective quality, abounding with the serpentine patterns one expects to find on land, not in the air. In Both Sides Now, these skies are ripe with motion, emphasized by surprising—yet not unnatural—moments of almost aural repetitions.
The skies of Lago di Como lack those fantastical elements of American Beauty, but not the complexity. Their observable distance is intensified by the compression of framing mountains: Thin, washy layers of hot, shimmering waves, a stormy palette of blues, layered and almost oozing.
American Beauty and Lago di Como are studies of the sky. And they are studies in patterns. Every culture in every time has had the visceral need to decorate—a visceral need that extends to some of our animal cousins as well.  Humans have decorated and adorned in an unbroken chain that extends to this very artist's grandfather and father, who produced embroidery. It is a nice comment on the universality of the pattern-making impulse: from the caves of Altamira to an embroidery shop in Hudson County, New Jersey.
Both American Beauty and Lago di Como are sensory experiences. The dimensions of both these works stretch far ahead and far behind.
In Lago di Como, one can ascertain those particular impressions that can only be gleaned around the water. Air feels, smells, and sounds different around large bodies of water. Peoples' movements are slightly altered. What one eats and drinks are different near the sea and ocean.
At certain vantage points, looking at these works, I feel there is an element of role reversal. One can construe the American southwest as an almost austere locus, but the American Beauty series pulsates with its wide-ranging spectrum. There is a sprawling, untamed randomness.
And Lago di Como can appear almost well-regulated and ordered—not the usual descriptors one usually employs in regard to Italy. The work has a specific focal point—Lake Como–and its surrounding land, spread out with large measures of symmetry. The chaos of nature has been ordered through centuries and centuries of tilling the land; planting, sowing, reaping.
Both Sides Now abounds with a heightened sensory experience–akin, at times, to a hallucination. There is a mystical, spiritual overlay to the southwest and to Lake Como and this is very discernible in these paintings.
There are also, to me, strong hints of the living, breathing outside world. Beyond the vistas and skies of Lago di Como—beyond the confines of the borders of these paintings–are the little ferries that rumble and shake as they slice through the water, chugging back and forth to the various lake towns, each town possessed of its own distinctive characteristics.  There are the enduring churches, the outdoor cafés, the steep climbs up and down the narrow, hilly thoroughfares. The small, Syrian-owned bakery. Gelato at every turn, in every hue and flavor imaginable. Cornetti, Italy's answer to the French croissant. Fanta soda. The scent of wood-burning pizza ovens drifting into the warm air.
American Beauty does not directly reference the Navajo women selling jewelry, trinkets; the native chants that can be heard by simply flicking on the car radio. The unfamiliar brand names, gustatory combinations; the Spanish language. But they are here, absorbed into these works.
---
These are both places of flowing whispers.