Francis Lung has announced a new spoken word EP, Short Stories, which is out September 23 via Memphis Industries. Today, the Mancunian singer-songwriter has shared its first single, '2p Machine', alongside a video directed by animator Emily Garner (aka Pastel Castle). Check it out below.
During the past year, the former WU LYF member moved to Nantes, France and had a daughter with his wife and collaborator, Coralie. "Those first months following the birth of my daughter were a daze – the days were joyful, but the nights were long," Lung commented in a statement. "Once I'm up, I'm up, and I could never get back to sleep after feeding or changing the baby. In my semi-delirious state, I would lie awake in bed making up stories in my head to pass the time. '2p Machine' was the first of these, which originated from memories of being a kid on holiday in the arcades on Blackpool Pleasure Beach."
The Short Stories EP will follow Lung's 2021 album Miracle.
Short Stories Cover Artwork: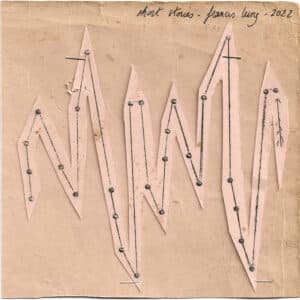 Short Stories Tracklist:
1. Midland Hotel II – The Restaurant
2. Due Date
3. 2p Machine
4. Midland Hotel I – Anne's List
5. Shadow Shyness
6. Midland Hotel III – Graffiti