Magdalena Bay have unveiled a remix of 'Chaeri' courtesy of Danny L Harle. It's taken from the just-announced deluxe edition of their 2021 debut album Mercurial World, which includes previously unreleased songs, remixes, alternative versions of tracks from the original LP, orchestral arrangements, and more. Mercurial World Deluxe comes out September 23 via Luminelle Recordings. Check out 'Chaeri (Danny L Harle Remix)' below.
"The Deluxe is a mish mosh of sorts, an amalgamation of new songs that didn't originally fit the flow of Mercurial World, of reimagined versions of existing album tracks by us and some talented remixers, plus some special secrets," Mica Tenenbaum and Matthew Lewin said in a statement. "When we started working on the Deluxe, we wanted it to flow like the original album did. These secrets tie the record together in a cool way, we can't wait for everyone to hear it."
Read our Artist Spotlight interview with Magdalena Bay.
Mercurial World Deluxe Cover Artwork: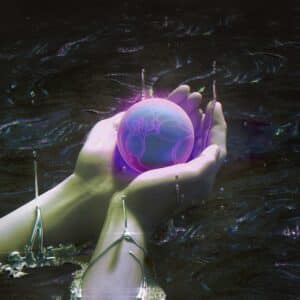 Mercurial World Deluxe Tracklist:
1. secret 1
2. The End
3. Mercurial World
4. Unconditional
5. Dawning of the Season
6. Secrets (Your Fire)
7. secrets 2-9: medley
8. You Lose!
9. secret 10
10. You Lose! (8-Bit)
11. Something for 2 (Cecile Believe Remix)
12. Chaeri
13. secret 11
14. Halfway
15. Hysterical Us
16. secret 12
17. All You Do
18. Prophecy (Synth & Strings)
19. Follow The Leader
20. secret 13
21. Chaeri (Danny L Harle Remix)
22. Chaeri (Piano & Strings)
23. Dominó (Spanish Version)
24. Dreamcatching