Boston-based emo quartet Future Teens have announced their third full-length album: Self Help will be out on September 23 via Triple Crown Records. Lead single 'BYOB' arrives with a music video directed by frequent collaborator Michael Herrick. Check it out and find the album cover and tracklist below.
"We've all learned the hard way that the best (and sometimes only) way to help ourselves is to ask for help from others," vocalist/guitarist Amy Hoffman said in a statement. "We didn't set out to write a record about that, Daniel [Radin] and I just happened to bring each other ideas with overlapping themes about mental health and struggling to get better – sometimes it's like we have the same brain, even with such different lived experiences."
"It took me a long time to understand that I needed to stop drinking, longer still to learn I couldn't do it on my own," they added of the new track. "'BYOB' came together over the first few months of my sobriety, starting when I thought I 'just needed some time off' and ending when I realized if I wanted anything to actually get better, I had to keep trying."
The follow-up to Future Teens' 2019 record Breakup Season was recorded with longtime collaborator and producer Andy D. Park (Death Cab for Cutie, Pedro the Lion, Now Now). "Making Self Help with all four of us playing together live was the most hectic, fun, exhausting ten days, made all the better by our producer and friend Andy Park," Hoffman commented. "His ability to turn our most esoteric ideas into something cooler than we had imagined is nothing short of magic."
In support of the LP, the band will embark on a fall US tour with Camp Trash and Rat Tally. Find those dates below, too.
Self Help Cover Artwork: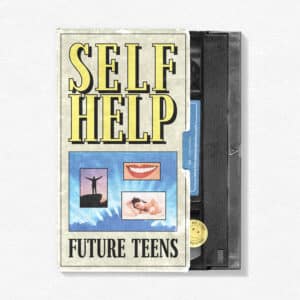 Self Help Tracklist:
1. Doorknob Confessional
2. Good Reason
3. Well Enough
4. Smile with your Teeth
5. BYOB
6. Stress Dreams
7. Team Sports
8. Same Difference
9. Real Change
10. Going Pains
Future Teens 2022 Tour Dates:
Oct 13 – Brooklyn, NY – MEADOWS
Oct 14 – New Haven, CT – State House
Oct 15 – Ashbury Park, NJ – The Saint
Oct 18 – Pittsburgh, PA – Mr. Roboto Project
Oct 19 – Columbus, OH – Big Room Bar
Oct 20 – Chicago, IL – Beat Kitchen
Oct 21 – Detroit, MI – Sanctuary
Oct 22 – Indianapolis, IN – Healer DIY
Oct 23 – Cleveland, OH – The Foundry