Brooklyn duo Rubblebucket have announced a new album titled Earth Worship. It's set to arrive on October 21 via Grand Jury. Today's announcement comes with the release of the LP's title track, which is paired with Haoyan of America-directed video. Check it out below, and scroll down for the album cover and tracklist.
Discussing the new album and its title track, Rubblebucket's Kalmia Traver said in a statement:
Feeling the heaviness of being life is OK, and we humans are in a pickle. When we say we "would like to break up these patterns", we're talking about the unhealthy addictive extractive patterns enmeshed into our whole human-centric society. Patterns that lead us to mistakenly believe we're isolated and not deserving of the love & pleasure of our dreams, lead us to cause needless harm to ourselves and our planet. Healing on a big scale is tied to healing on a mini scale and that's what this album and song are working on, hoping to dance with, hoping to dream about. My favorite quote I've heard lately (from Krista Tippet in her conversation with adrienne maree brown) was "vitality has endings in it". That's up on my wall now. I want to ~be about~ allowing ourselves to grieve & be tender together, learning how to separate from what isn't needed anymore, like a leaf off of a branch in fall, or like the linden flowers that are blooming now on the trees outside my window as I write this: fully mature, ready to spiral downwards to the earth and meet new energy, become more life. There are a million bazillion ways to worship the earth, and every day is an opportunity to find a new way. Making this album was one way we went for it. 
Alex Toth added: "'earth worship' the song – encapsulates the messages of the album as a whole. As a human being, being in pain is a given. Can we find 'clean' ways through the pain in order to break unstainable harmful patterns on individual, community and global ecosystem levels? In his book My Grandmother's Hands Resmaa Menakem defines clean pain as 'choosing integrity over fear and standing in that fear with integrity and moving towards the unknown.' Facing fear with integrity is an urgent matter as we are more than individuals. We are a continuum of life across many generations carrying stories, traumas, messages, vibrations and legacies."
Rubblebucket's previous LP, Sun Machine, was released in 2018.
Earth Worship Cover Artwork: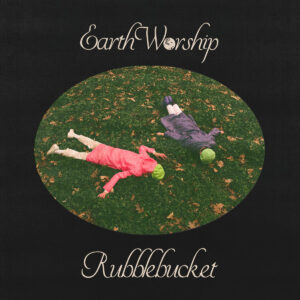 Earth Worship Tracklist:
1. Earth Worship (Intro)
2. Earth Worship
3. Morning In The Sun
4. Rain Rain Nature Rain
5. Geometry
6. Cherry Blossom
7. Melt Through The Floors
8. Zeros As Round As The World
9. Sexual Revolution
10. Sweet Spot
11. Truth In The Air
12. Mockingbird
13. Too Much Feeling