Martha have announced a new album: Please Don't Take Me Back will be released on October 28 via Specialist Subject Records. To accompany the announcement, the Durham indie-pop band has shared a brand new single, 'Baby, Does Your Heart Sink', alongside a video featuring the Futureheads' Ross Millard, Michael McKnight of Frankie and the Heartstrings, Mehzeb Chowdhury, and Elf Kingdon. Check it out below, and scroll down for the album cover and tracklist.
"'Baby, Does Your Heart Sink' is just your classic break-up song, but one designed to be played at the disco at the end of the world," Martha explained in a press release. "If there are multiple timelines, worlds, and universes out there, you've really got to wonder how things are going in the others, don't you?"
The accompanying visual was directed by the band's drummer, Nathan Stephens-Griffin, who commented: "This was the first time we'd all been together as a band for a while, and it was a really fun day. Pop Recs is a brilliant thing, and we want to support as much as possible – everyone should visit when they get a chance. We'll be doing our Northeast album launch on that very same stage in early December and we can't wait. Hopefully the people watching are more into it on the night though! It was also extremely cool to get to direct a video featuring a Futurehead and a Heartstring!"
Please Don't Take Me Back is Martha's first LP since 2019's Love Keeps Kicking. Martha released the album's title track back in May.
Please Don't Take Me Back Cover Artwork: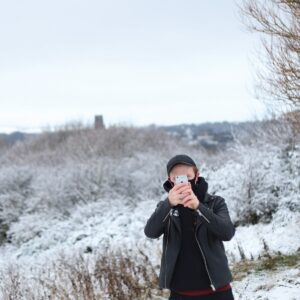 Please Don't Take Me Back Tracklist:
1. Beat, Perpetual
2. Every Day the Hope Gets Harder
3. Please Don't Take Me Back
4. Irreversible Motion
5. Baby, Does Your Heart Sink?
6. F L A G // B U R N E R
7. Neon Lung
8. Take Me Back to The Old Days (Reprise)
9. Total Cancellation of The Future
10. I Didn't Come Here to Surrender
11. You Can't Have a Good Time All of the Time