Fauness, the moniker of London-based singer-songwriter Cora Gilroy-Ware, has announced her debut album. The Golden Ass comes out October 28 via Cascine, and it includes the new single 'Mystery'. Check out a video for it below, and scroll down for the album artwork (by Mirren Kessling) and tracklist.
"For a while I've been thinking about how the concept of 'Mystery' is obsolete," Gilroy-Ware remarked in a statement. "Transparency and complete exposure seem to possess the beguiling, coveted allure that mystery once had. The song is an elegy to the idea of mystery, and for the video I wanted to create an embodiment of the concept, a masked character who makes her way into the sea and disappears. I thought that there's no one better to narrate Mystery's passing than the maenad, a type of nymph from Greek mythology. Holding her tambourine and sacred staff, a thyrsus, the maenad describes Mystery's departure from this world."
The Golden Ass will follow four EPs: Toxic Femininity (2018), Lashes in a Landfill (2019), Dreamcatcher (2020), and Maiden No More (2021).
The Golden Ass Cover Artwork: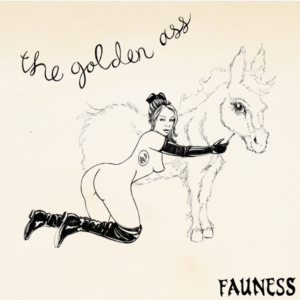 The Golden Ass Tracklist:
1. Lonely
2. Mystery
3. Peaches
4. Hours
5. Siena
6. Grape & Grain
7. Laura
8. High
9. Cinnamon
10. Girl In The Moon