Special Interest have announced a new album called Endure, which is set to arrive on November 4 via Rough Trade. Today, the band has previewed the LP with with a video for the new song 'Midnight Legend', which features Mykki Blanco. Check it out below, and scroll down for the album cover, tracklist, and Special Interest's upcoming tour dates.
According to the band's Alli Logout, 'Midnight Legend' is "a love song to all the girls leaving the club at 6 AM, a love song to everybody who doesn't have love around them. The ways we numb ourselves or participate in high-risk behavior because we all feel so isolated and alone is also very much enabled by clubs, institutions, and party 'friends.' This song is about listening to people who never actually get heard."
Logout continued: "I see the three legends portrayed in the video as a whole person, but all represent different processes of grief. You have the fucked-up outta their mind one, the slut phase one numbing themselves with bodies, and the moment when you are open to the world again and love can be let back in . They come together towards the end of the video, symbolizing coming back to yourself."
Endure was self-produced and recorded at HighTower in New Orleans. It was engineered by James Whitten, mixed by Collin Dupuis, and mastered by Matt Colton. The record includes the previously unveiled single '(Herman's) House'.
Endure Cover Artwork: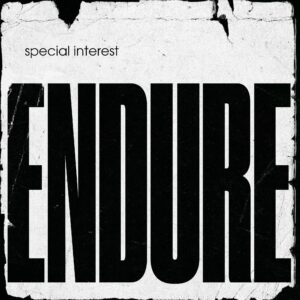 Endure Tracklist:
1. Cherry Blue Intention
2. (Herman's) House
3. Foul
4. Midnight Legend
5. Love Scene
6. Kurdish Radio
7. My Displeasure
8. Impulse Control
9. Concerning Peace
10. Interlude
11. LA Blues