Miss Grit – the project of New York–based, Korean-American artist Margaret Sohn – has announced their debut album. Follow the Cyborg, the follow-up to 2021's Impostor EP, is set for release on February 24 via Mute. The record will include the previously released song 'Like You', and today, Sohn has shared a Curry Sicong Tian-directed video for its title track. Check it out below, along with the album cover and tracklist.
"I wanted to place my body in the cyber world, allowing the different variations of my ghost to move about freely," Sohn said of the song's accompanying visual in a press release. "I wanted to look a little freakish, unrecognizable to myself to avoid my instinctive filtration."
Sohn recorded Follow the Cyborg in their home studio, drawing inspiration from sci-fi films such as Her, Ex Machina, and Ghost in the Shell, as well as essays by Jia Tolentino and Donna Horroway's A Cyborg Manifesto. The LP features contributions from Stella Mozgawa of Warpaint, Aron Kobayashi Ritch of Momma, and Pearla.
Read our Artist Spotlight interview with Miss Grit.
Follow the Cyborg Cover Artwork: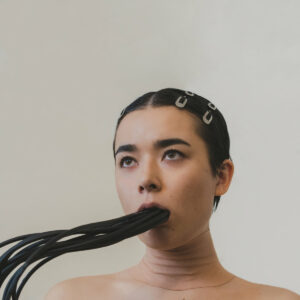 Follow the Cyborg Tracklist:
1. Perfect Blue
2. Your Eyes Are Mine
3. Nothing's Wrong
4. Lain (Phone Clone)
5. Buffering
6. Follow the Cyborg
7. 사이보그를 따라와
8. Like You
9. The End
10. Syncing