Amourlee Overview
Choosing an online dating site is not an easy task, especially when it comes to such a variety of choices. There are plenty of dating providers but still, so many men complain about their quality. Amourlee.com is one of the dating websites you can come across on the Internet.
What is Amourlee dating and how is it different from other dating providers? In the review below, we tried to find this out. Learn everything about the pros and cons of this dating website and see whether it is worth your time and money. Make sure to spend money only on the highest quality and excellent customer service.
| | |
| --- | --- |
| What we like about Amourlee | What we don't like about Amourlee |
| Free registration | Recurring payments (if your balance goes beyond 5 credits, more credits will be purchased automatically) |
| Excellent customer service | |
| Many free features | |
| Multiple payment options | |
| Genuine profiles of females | |
| User-friendly design | |
| Possibility to sign up with your Google account | |
How to Sign Up to Amourlee
There is nothing difficult about registering on this dating portal. You can create an account using your username and create password, as well as provide some basic information about you, such as date of birth, country, etc. It is even easier to sign up using Amourlee login with the help of your google account. Just click Login with your Google account and here you go — the website receives your basic information, processes it, and you are a member of the site.
How to Create a Profile on Amourlee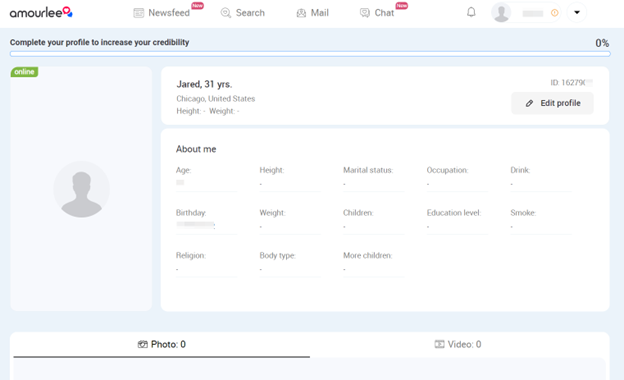 Regardless of which of the signup options you choose, you will need to complete your profile, of course, if you are going to succeed on the site. Females are not likely to talk to men who have empty profiles and no pictures, they will consider you not serious and in most cases, you will fail. Therefore, completing your profile on Amourlee is a must. Your success depends on it.
You will have to provide basic information about yourself first, such as your country (it can be defined automatically by the dating platform), city, date of the birth, profession, etc. After doing it, the site will ask you to upload your photo. You can choose to do it later, however, it is recommended not to procrastinate. Girls hardly reply to men who have no photos in their profiles.
Based on our Amourlee review, we can give you a few recommendations regarding how to choose a photo for this website. First of all, you should be alone in it. Avoid pictures with friends, especially female friends. Even if this is your sister in the photo with you, women looking for serious relationships will hardly think so. They will automatically consider you a womanizer.
Secondly, the photo should be up-to-date (not older than 6 months). Even if you think you did not change much, women will ask for a video message from you and see how you look today. They might be disappointed and think you were not very honest. It will reduce your chances a lot. Last but not least, avoid posting pictures with naked cores or sunglasses. These girls must see your face clearly to know who they are dealing with. Females on this website are very serious and if they see your intentions are not as good as theirs, they will not keep talking to you.
After uploading a photo, make sure to reply to a few questions. They are a must on this website and you will not be able to avoid them. The platform wants to know what your preferences regarding your potential partner are, as well as what your goal on this website is. Based on this information, it will be able to offer you suitable matches to save you time and increase your chances of success. Make sure to add at least a short description of yourself, your hobbies, and your interests in your profile.
Amourlee Free and Premium Feature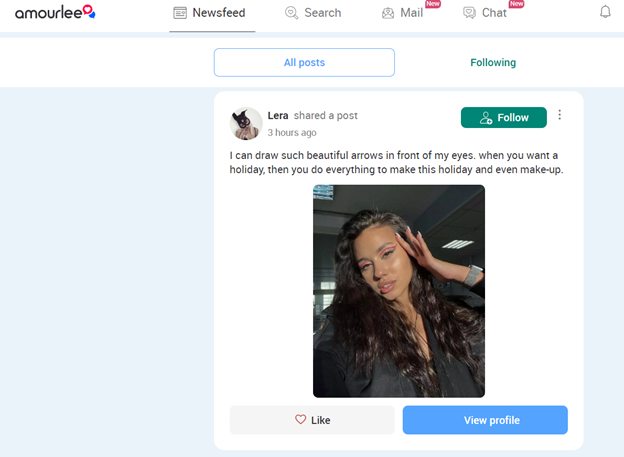 This dating service can be used both for free and at some cost. Everything depends on what features you are going to use. Registration is completely free. Some features become available to you right after registration while others are available after paying for your membership only.
Free Features
Among free features, we can name registration, browse members' profiles, send winks, and read messages and chat messages. You can also see the main photos of women for free. More pictures might be available at an extra cost.
Premium Features and Costs
After becoming a paid member, you can use all premium features. They include exchanging messages in the chat, sending emails, and photo and video files. These are very necessary options without which you will not be able to get to know any women. Most likely, you will have to buy credits for that.
However, they do not cost that much, so it is worth it. The cost of a bunch of 20 credits costs only $2.99. If you are lucky enough and can catch a special offer, you will be able to get them for just $0.99. This price is ridiculously low and these credits are pretty enough to get to know someone and keep talking to them further.
Keep in mind that once your balance goes beyond 5 credits, you will be charged for the next 20 credits automatically. Turn this function off when you do not plan to use the platform anymore or after finding someone.
How to Use Amourlee
The website is very easy to use and navigate, you will hardly have any problems doing it. Communication is very smooth and flawless. There are no issues with making a payment or reading messages. It is a very safe and reliable platform. Read the full Amourlee guide before joining to get all information you need.
Women's Profiles on Amourlee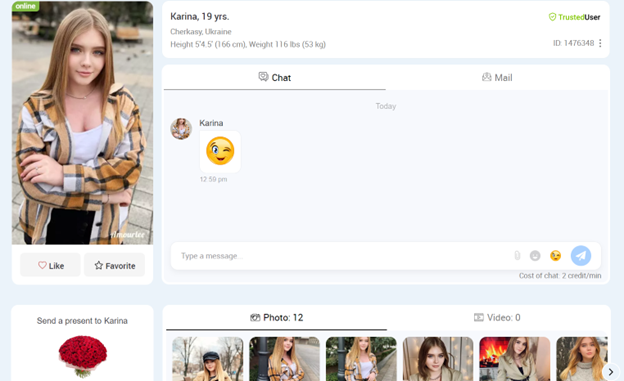 Female profiles on Amourlee can be searched by those who are online or offline, as well as preferable age groups. They contain real photos of girls which are very detailed. You can see how every woman looks from all angles, photos are not photoshopped.
Profiles contain such information as her age, height, weight, date of birth, marital status, children, etc. You will find everything you need to understand whether this person matches you or not. Each profile also contains a short description of every woman's interests, hobbies, etc.
How to Start Communicating with Women on Amourlee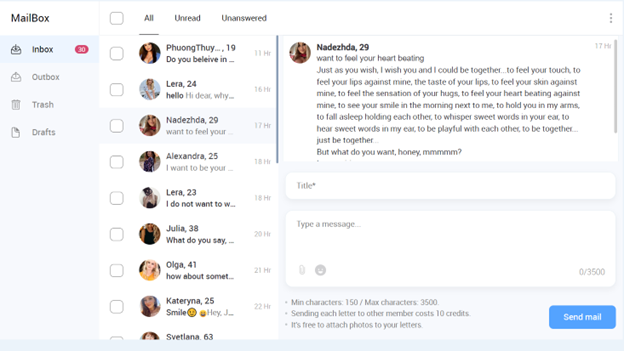 If you plan to start talking to women on this website, you can use one of the following options:
Amourlee emails
Chat messages
Images exchange
Audio files and photos exchange
Winks and stickers
It is recommended to use all of the options for full-fledged communication.
User Experience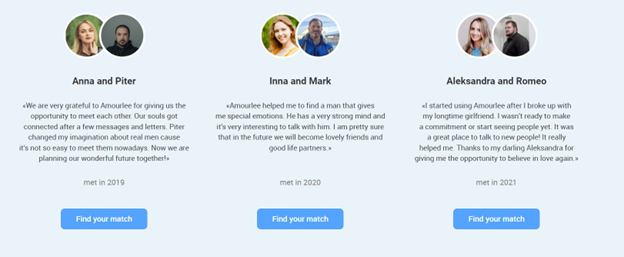 Here is what real users of Amourlee think about using it.
Jon A., 62
I subscribed to Amourlee a month ago and it was a great experience for me. I met a wonderful lady, we already plan to meet in reality soon. I hope she will like me during our meeting because I plan to bring her to my country soon.
Cedric D., 33
I have never succeeded with women in the US, so I decided to try an international dating service. Amourlee seemed very genuine and easy to use, so why not. I liked what I saw and how responsive girls on this website were. I will keep using it and see what happens.
Northon, 41
Amourlee is one of a kind. I loved how it works and met a few great girls here. I am going to keep talking to them directly and see where it leads us. Maybe I even get married soon, who knows.
What Experts Think of This Site
Is Amourlee legit? Many experts wonder about it when starting to review this website. Here is what authoritative experts think about this dating platform.
Regardless of all simplicity of its design and functionality, Amourlee seems to be very effective when it comes to dating. All members' profiles are detailed and contain real photos of users. You will find real and genuine interest in you from them. This happens rarely on dating websites.
This website is very user-friendly and guarantees excellent user experience. All profiles are very interesting and genuine, women are responsive, and do not disappear after a while. If you are looking for a good dating experience, this website is the one you need. Last but not least, it is very affordable and anyone will find it quite cheap. Most likely, subscription to a casual dating app will cost you more than Amourlee.
Get the Most out of Amourlee
The Amourlee dating site is quite interesting and is a bit different from other providers. Unlike a plethora of similar websites, it offers a whole range of free features, such as completely free registration, browsing female profiles, sending winks, reading emails and web chat messages, etc. However, if you want to succeed and enjoy your communication to the fullest, you will need to purchase a membership which will renew automatically. It doesn't cost much though. This site is very cheap and affordable even for students.
We recommend using our tips regarding completing your profile. For example, on Amourlee, you will hardly be able to succeed and enjoy the process without having a decent photo in your profile. Women will not appreciate that and you will just waste your time. Make sure to add some description along with a quality photo. If you are going to enjoy the process to the fullest and get the most out of this website, make an impression of a serious man.
We also recommend you exchange photos and videos with girls. It is a very convenient function that allows you to get to know your interlocutors better. Talking in live text chats is one thing but seeing how the person on the other side of the screen looks is totally different. You will definitely adore this and all females on Amourlee seem to enjoy sending their videos and watching the ones from you a lot.
FAQ
Is Amourlee legit?
Yes, this dating platform is absolutely legitimate. It has an officially registered lawful address and very responsive customer support. Moreover, the site is fully encrypted and protects your personal information very well. No leaks of information are possible when dealing with Amourlee.
All payment options on this portal are secure, so no double payments ever occur. You can be sure to use a 100% legit dating provider when registering on Amourlee. All female profiles are verified, so you will hardly face the problem of fake girls or ghostly profiles.
What free features does Amourlee provide?
What is Amourlee? This question bothers many potential users. This website is not expensive and sometimes, you can even use it totally for free. Thus, it offers a range of free options, such as a 100% free registration, free winks, and profile browsing. If you want to read girls' messages or chat messages, you will also be able to do it at completely no cost.
However, if you want to exchange photos, videos, and emails, you will need to purchase a membership. The cost is very affordable compared to that on other dating sites, so you will hardly spend much time using it. Its cost can be compared to cheap or free dating apps where you only pay a nominal membership or subscription fee.
Can I communicate with real people on Amourlee?
On this website, you will communicate with real people only. All female profiles are manually and thoroughly verified by the site administration. You cannot come across any ghost or fake profiles on this platform. All girls have real photos and send video messages, they are genuinely interested in communication, and serious relationships. The question of whether you can talk to real people on Amourlee should not even be asked because the answer is yes, all people are real there.