Moving to a new city can be tough. Being surrounded by people and an environment that one is completely unfamiliar with is undoubtedly challenging. Social animals need to have interaction with others to survive and thrive. And this is why the ShareSpace App was invented.
"A lot of my friends and I struggled with finding our ideal homes, ideal roommates especially because you can always find apartments on lease online but when you don't know anyone from the city, it's almost impossible to find a reliable roommate. Obviously, no one wants to live with complete strangers," says Erica Gao, the inventor of the Share Space App.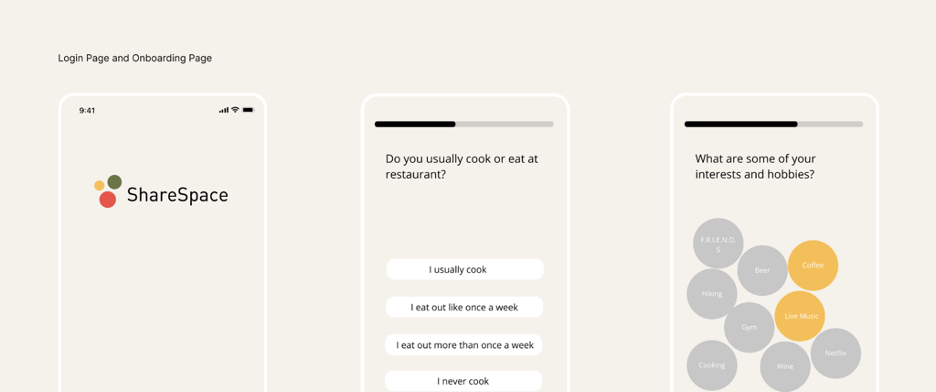 (The ShareSpace App)
ShareSpace is an all-in-one search and chat platform that matches users with potential roommates based on common interests and habits. Starting with a preliminary screening during onboarding, the app can record users' interests and habits and show the matched results. And users can communicate and look at the apartments together within the app.
Gao did several rounds of interviews and research, the results showed that people prefer to live with someone that they share the same hobbies and habits with, and that they wish to be able to communicate with each other, which might take long in the early stage, but they don't have an appropriate platform to do that.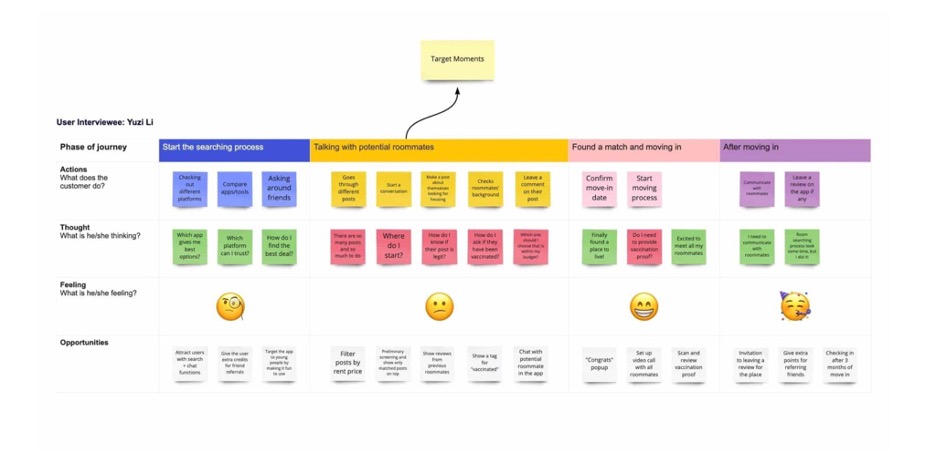 (Interview results collected by Erica Gao)
Even the competitors such as Apartment List, Zumper and Spare Room don't offer automatic roommate matching. Nor do they provide an online chat function. Gao strategically extracted the features that were proven effective from these apps and incorporated them with the ideas that she sketched herself to articulate possible solutions for user tests and summarized the ones that actually worked.
"Firstly, the app allows users to upload their expectations of their future roommates. And then the system would automatically produce a list of some potential options, including their profile pages that contain information like reviews and links to their social media profiles," Gao explains, "most importantly, users can directly reach out to each other within this app for communication."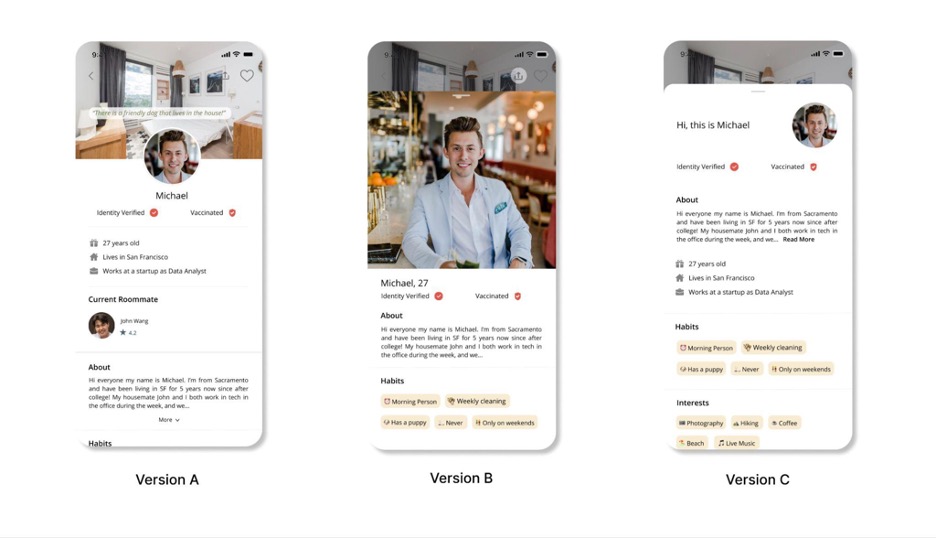 (Adjustments made to the profile page by Erica Gao)
However, the process was not always that smooth for Gao. For example, she learned from the user interviews that people don't feel comfortable directly asking for others' vaccination status in regard to Covid-19. So, Gao then added vaccination proof upload to the onboarding questionnaire and a filter function which can be selected to only show vaccinated results on homepage.
The whole project took about one month for Gao to complete, from early research and testing to optimization based on user feedback. She also partnered with the product team at Wish, the e-commerce startup, to design from a business and product strategy perspective, making the product beneficial for both parties. For Gao, Product strategy and business constraints are what she kept in mind to choose the best one moving forward when building her design.