The pleasant aura of outdoor living encourages us with the alluring prospect of fresh air, and gentle breezes. By designing the perfect outdoor oasis, you'll not only make the most of your patio or deck but also enjoy a serene space in any month. Whether you're hosting an evening birthday party, spending quality time with your special ones, drinking best coffee, or simply appreciating some solitude in the ambiance of nature, let us help you make an outdoor living into an amazing relaxing retreat.
Table Of Contents
Define The Space Using An Area Rug
Make A Defined Look With Dining Tables
Feel Comfort With An Outdoor Sofa
Set The Tone By Upgrading The Lighting
Conclusion
Define The Space Using An Area Rug
Just like the interior area, an outdoor rug can help to define the relaxation space. In addition to providing a stylish and comfortable look, they also protect your outdoor deck, floor, or patio which can easily become chipped or damaged with use over time. 
These rugs generally come in different materials, colors, and sizes. The type of outdoor rug you'll want largely depends on what you intend to use it for. If you want to protect and prevent surface area damage, use a large, weatherproof area rug. Not only do they add a bold pop of color to your patio, but also create an inviting feel. If you live with a big family and make the most of your outdoor space, nylon-based rugs are the best choice. Because It is easy to clean, won't fade, and is stain-resistant. The size you will choose a large enough to go underneath your patio furniture while leaving a wide border around the perimeter.
But one thing you keep in mind before buying an area rug is that should be durable and UV resistant so that it doesn't fade in the sun.
Make A Defined Look With Dining Tables
We live in an area where every day is thanksgiving. But when the weather changes, managing the intimate dinners in the inner space is a little more challenging, especially when you have a bigger guest list than expected. If you're lucky enough to have any kind of outdoor space, so you can use it by choosing the right patio dining table and chairs for your guests. But finding the right outdoor dining table can also be a challenge for us. Not only does the piece need to be sturdy and weather resistant, but it also has to fit your space and your style.
A wooden dining table, especially a made from hardwood is very durable and can withstand weather and extensive use. Another great option for a durable and weather-resistant outdoor table is one made from marble, granite, or slate. These tables are extremely heavy to move around, but they can last for years and provide your family or guest with a place to enjoy meals. 
While purchasing, also consider the size of the table. If you frequently entertain guests, you should consider getting one with table space and a higher seating capacity.
Feel Comfort With An Outdoor Sofa
A great patio sofa brings comfort and function to your outdoor spaces. They look similar to indoor models, but they feature an entirely different set of materials. While purchasing you make sure that the sofa should be sturdy enough to handle the elements. Weather-resistant fabrics are a must for outdoor seating.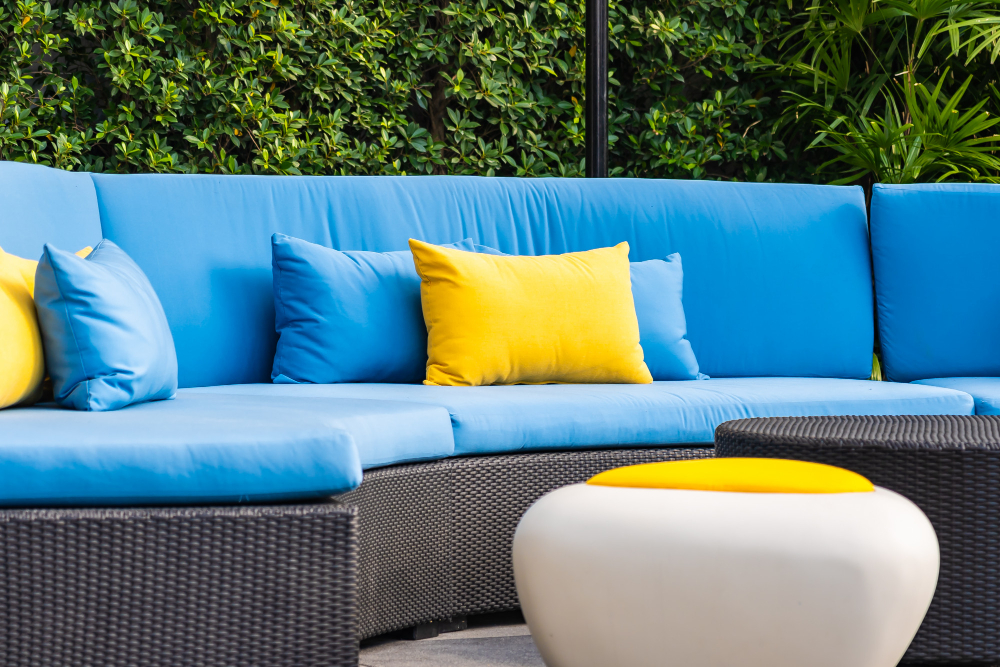 Set The Tone By Upgrading The Lighting
When the sun goes down and the day turns into night, a well-planned outdoor lighting scheme improves the safety of your home for visitors or guests at night. In addition to providing a safety function, they also provide a warm and glowy ambiance after sunset. Like indoor lighting, its outdoor counterpart also comprises beautiful table fixtures, overhead, accent lights, and wall bulbs. You can use lamps as vintage lanterns or hurricane lights to make the space more ambient.
String lights are a also great way to add a touch of whimsy and charm to your outdoor space. Hang string lights from trees and poles, or wrap them around your deck or patio for an enchanting look.
Conclusion
The perfect patio should be a place of relaxation and respite. With the right elements and design, your patio can be a tranquil retreat for you and your family. Consider adding comfortable furniture to sit and enjoy the weather. Adding the right lighting and soothing music to your patio can make it a serene and inviting space. With these tips, you'll be able to feel yourself sinking into vacation-relaxation mode.