Dan Croll has announced his next album, Fools, with the new single 'Slip Away'. The follow-up to 2020's Grand Plan comes out on May 19 via Communion Records. Check out 'Slip Away' below, and scroll down for the album's cover artwork and tracklist.
Fools finds Dan Croll stepping into the role of co-producer alongside Spacebomb's Matthew E. White. "This album came at the end of a turbulent few years for me with the isolation of covid, a break-up, and the homesickness for all that I left behind to move to America," Croll explained in a statement. "But whilst these were all challenging moments there were some moments of beauty and resilience that allowed me to get through it all. These songs document that tumultuous period that not only I but I'm sure a lot of others went through in what can only be described as a challenging moment in time."
"I decided to go back once more to Richmond, Virginia, to work with Matthew E. White and the incredible musicians there," he continued. "Each time I've been back I feel we grow and understand each other more and more, and there was a particular ease in capturing these songs that I hope comes through in the record."
Commenting on 'Slip Away', he added:
I recently hit my five-year milestone of living in Los Angeles, and 'Slip Away' is about the fatigue and struggle I've felt over the past year. It's frequently had me questioning how realistic it is to carry on living here, and whether draining my savings, living without healthcare, and being so far away from home/family is really worth it. I found myself on occasions fantasising about throwing in the towel and slipping away into a much simpler life, a life possibly even outside of the music industry. Having been in music my entire adult life, a part of me has wondered whether I could ever exist outside of it. A 9-to-5 job has always been something I've seen from the outside looking in, and to me, the structure and steadiness have always been so attractive. 'Slip Away' is about the lure of escaping to a simpler existence.
Fools Cover Artwork: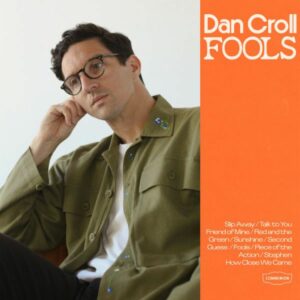 Fools Tracklist:
1. Slip Away
2. Talk to You
3. Friend of Mine
4. Red and the Green
5. Sunshine
6. Second Guess
7. Fools
8. Piece of the Action
9. Stephen
10. How Close We Came