Neutral Milk Hotel have announced a career-spanning box set titled The Collected Works of Neutral Milk Hotel. Slated for release on February 24 via Merge, the collection will feature both of the band's LPs, 1996's On Avery Island and 1998's In the Aeroplane Over the Sea, along with two 10-inch EPs, three 7″ singles, an exclusive 12-inch picture disc of Jeff Mangum's Live at Jittery Joe's performance, and more. Listen to a previously unreleased recording of the rarity 'Little Birds' below.
According to a press release, Jeff Mangum wrote 'Little Birds' in 1998 following a confrontation with an anti-LGBTQ street preacher in Athens, Georgia. After a small group of people gathered and shouted back at him, Mangum yelled to the point that the preacher eventually went away. A more recent version of the track, recorded live at the Prospect Park Bandshell on Neutral Milk Hotel's 2014 reunion tour, is the one included in the new box set.
Mangum previously collected almost all of the group's output in a limited-edition box set that was self-released in 2011. The Merge box set marks the collection's first digital release and contains a double LP edition of On Avery Island, the 'Holland, 1945' b/w 'Engine' 7″ with new artwork, a remastered version of the 1994 Everything Is EP, and more.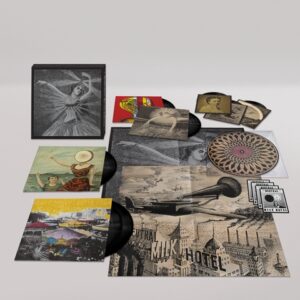 The Collected Works of Neutral Milk Hotel Tracklist:
In the Aeroplane Over the Sea:
1. King of Carrot Flowers Pt. 1
2. King of Carrot Flowers Pts. 2 & 3
3. In the Aeroplane Over the Sea
4. Two-Headed Boy
5. Fool
6. Holland, 1945
7. Communist Daughter
8. Oh Comely
9. Ghost
10. [untitled]
11. Two-Headed Boy Pt. 2
On Avery Island:
1. Song Against Sex
2. You've Passed
3. Someone Is Waiting
4. A Baby for Pree
5. Marching Theme
6. Where You'll Find Me Now
7. Avery Island/April 1st
8. Gardenhead/Leave Me Alone
9. Three Peaches
10. Naomi
11. April 8th
12. Pree-Sisters Swallowing a Donkey's Eye
Ferris Wheel on Fire:
1. Oh Sister (1995)
2. Ferris Wheel On Fire (1993)
3. Home (1992)
4. April 8th (1992)
5. I Will Bury You in Time (1994)
6. Engine (1993)
7. A Baby for Pree/Glow Into You (1995)
8. My Dream Girl Don't Exist (Live) [1992]
Everything Is:
1. Everything Is
2. Here We Are (For W. Cullen Hart)
3. Unborn
4. Tuesday Moon
5. Ruby Bulb
6. Snow Song
7. Aunt Eggma Blow Torch
Little Birds:
1. Little Birds (Live) [1998]
2. Little Birds (Studio Demo) [1998]
You've Passed / Where You'll Find Me Now:
1. You've Passed (Alternate Version)
2. Where You'll Find Me Now (Alternate Version)
Live at Jittery Joe's:
1. Intro
2. A Baby for Pree
3. Two-Headed Boy
4. I Will Bury You in Time
5. Gardenhead / Leave Me Alone
6. Two-Headed Boy Pt. 2
7. I Love How You Love Me
8. Engine
9. Naomi
10. King of Carrot Flowers Pt. 2
11. King of Carrot Flowers Pt. 3
12. Oh Comely