Tim Hecker has announced a new album, No Highs, which will be released on April 7 via kranky. Today, the Canadian composer has previewed it with the new single 'Lotus Light', which you can check out below, along with the album artwork, tracklist, and Hecker's upcoming  European tour dates.
Along with Hecker's combination of strings, processed electronics, horns, and cathedral keys, the follow-up to 2019's Anoyo features contributions from saxophonist Colin Stetson. According to a press release, "Hecker mentions 'negation' as a muse of sorts – the sense of tumult without bombast, tethered ecstasies, an escape from escapism. His is an antagonism both brusque and beguiling, devoid of resolution, beckoning the listener ever deeper into its greyscale alchemies of magisterial disquiet."
Back in 2021, Hecker released his original score for the Colin Farrell-starring series The North Water. His original soundtrack for Brandon Cronenberg's new thriller, Infinity Pool, arrives this Friday, January 27 via Milan Records.
No Highs Cover Artwork: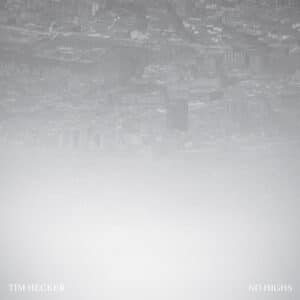 No Highs Tracklist:
1. Monotony
2. Glissalia
3. Total Garbage
4. Lotus Light
5. Winter Cop
6. In your Mind
7. Monotony II
8. Pulse Depression
9. Anxiety
10. Sense Suppression
11. Living Spa Water
Tim Hecker 2023 Tour Dates:
Apr 8 Brussels, BE – BRDCST – AB Theatre
Apr The Hague, NL – Rewire – Amare
Apr 14 Prague, CZ – MeetFactory
Apr 15 Oslo, NO – Parkteatret
Apr 16 Bergen, NO – Landmark
Apr 18 Berlin, DE – Volksbühne
Apr 19 Athens, GR – Java tickets
Apr 20 Lisbon, PT – Culturgest
Apr 21 Braga, PT – gnration
Apr 22 Barcelona, ES – Razzmatazz PRE-HUMAN
Apr 24 Udine, IT – Cas*Aupa x Far East Film Festival
Apr 27 London, UK – Fabric
Apr 28 Budapest, HU – House of Music