Alex Lahey has announced her new album, The Answer is Always Yes. The follow-up to 2019's The Best of Luck Club is due out May 19 via Liberation. Lead single 'Good Time' was co-written and produced by Jacknife Lee, and it arrives with a video from director Jon Danovic. Check it out and see the album cover and tracklist below.
"Living in a world that wasn't made for you makes you pretty strong and adaptive, and you find the fun in it," Lahey said in a press release. "It also makes you realise how absurd everything is. With this record, I wanted to get weird because the world is weird, and it's even weirder when you realise you don't fit into it all the time."
Of 'Good Time', she added: "This song was inspired by a night out I had at the pub with my friend soon after Melbourne came out of lengthy lockdowns. We were watching all these strangers around us have this 'whatever it takes' attitude towards making the most of the night (aka getting lit). It was a bit of a shock after being cooped up for so long, but also kind of invigorating."
The Answer is Always Yes will include the previously released single 'Congratulations'.
The Answer is Always Yes Cover Artwork: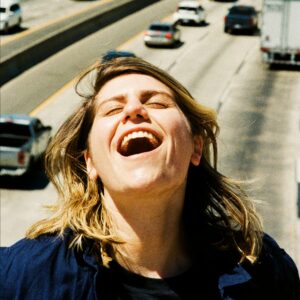 The Answer is Always Yes Tracklist:
1. Good Time
2. Congratulations
3. Never Get Your Money Back
4. Sky is Melting
5. Way Down
6. Makes Me Sick
7. Shit Talkin'
8. Permanent
9. They Wouldn't Let Me In
10. Answers Always Yes