Feist has announced her next album: Multitudes arrives on April 14 via Interscope. Along with the announcement, she's shared three new songs: 'Hiding Out in the Open', 'In Lightning', and 'Love Who We Are Meant To'. Take a listen below, and scroll down for the album's cover artwork and tracklist.
Multitudes marks Feist's first LP since her 2017 effort Pleasure. Feist produced the new LP alongside Robbie Lackritz and Mocky at Northern California's Redwood Forest, with contributions from Gabe Noel, Shahzad Ismaily, Todd Dahlhoff, and Amir Yaghmai.
"The last few years were such a period of confrontation for me, and it feels like it was at least to some degree for everyone," she said in a press release. "We confronted ourselves as much as our relationships confronted us. It felt like our relational ecosystems were clearer than ever and so whatever was normally obscured- like a certain way of avoiding conflict or a certain way of talking around the subject- were all of a sudden thrust into the light. And in all that reassessment, the chance to find footing on healthier, more honest ground became possible, and the effort to maintain avoidance actually felt like it took more effort than just handing ourselves over to the truth."
To celebrate Valentine's Day, Feist will be debuting new material during a free "mini concert" taking place tonight at 7:00 pm ET; tune in here.
Multitudes Cover Artwork: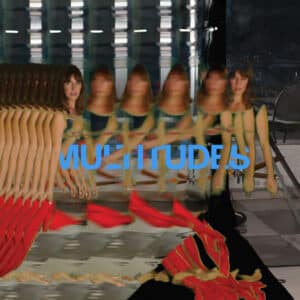 Multitudes Tracklist:
1. In Lightning
2. Forever Before
3. Love Who We Are Meant To
4. Hiding Out in the Open
5. The Redwing
6. I Took All of My Rings Off
7. Of Womankind
8. Become the Earth
9. Borrow Trouble
10. Martyr Moves
11. Calling All the Gods
12. Song for Sad Friends