Eight years after her death and six decades following her quiet retirement from the film world, Setsuko Hara arguably remains the best-known twentieth-century Japanese actress. Audiences worldwide remember her unique beauty (she was often suspected to be of partial European heritage)1 and the humane performances she gave in the films of Yasujiro Ozu. "Decidedly unglamorous," wrote Stephen Harvey in a 1974 issue of Film Comment, "this least histrionic of actresses relied on little more than an irrepressible half smile and decorously hushed voice. Yet her performances are invariably so moving that no pyrotechnics were needed." Cementing Hara's status as a film icon was her premature disappearance from cinema screens in 1963 — the year of Ozu's death and not long after her swan song in Hiroshi Inagaki's 1962 Chushingura. Per film historian Donald Richie, she withdrew from the public eye claiming to have never enjoyed acting,2 and secluded herself in Kamakura, south of Tokyo.
Despite the international acclaim of her work for Ozu, Hara's collaborations with that director (six films made between 1949-1961) comprise a small part of a career that, historically speaking, hit its most interesting phases a decade or so previous. Between the late 1930s and late '40s, Setsuko Hara as a film presence symbolized swaggering political agendas. In 1937, she was scouted3 for the Nazi Germany-Japan co-production The New Earth / The Daughter of the Samurai, which concludes with her farming in Manchuria (the Chinese demographic annexed by Japan a few years earlier). Hara's embodiment of wartime expansionism continued in Tsutomu Sawamura's Naval Brigade at Shanghai (1939), in which she plays a Chinese woman at first opposed to but later endorsing the Japanese forces occupying her city. In the early '40s, she exuded patriotism in settings familiar to domestic Japanese audiences: happily seeing off battle-bound recruits in Kunio Watanabe's Toward the Decisive Battle in the Sky (1943), dedicatedly serving the military despite personal loss in Kiyoshi Saeki's Three Women of the North (1945), and playing herself in Mikio Naruse's Until Victory Day (1945), a comedy wherein she and other starlets were dispatched to entertain troops on a Pacific island.
Following Japan's surrender to the Allied Powers in 1945 and the start of the American Occupation that same year, Hara's screen image changed, now abiding by film regulation supervised by the foreign authorities. In addition to banning heroic depictions of militarism and feudalism (which the Allies believed responsible for Japan's international aggression during World War II), the Occupation censors encouraged democratic movies promoting individuality, workers' rights, and the emancipation of women.4 As one of her nation's most popular actresses, Hara became a cinematic spokesperson for the Occupation's vision: gone were the nationalistic speeches, the fawning over military tunes, the willingness to die for imperial causes. She now depicted idealistic Japanese hopeful for a better life in the new Japan.
This latter cycle of films included Akira Kurosawa's No Regrets for Our Youth (1946), for which Hara played a determined young woman whose father and lover are persecuted by the wartime authorities, and who becomes an activist by the drama's end. In Tadashi Imai's two-part The Blue Mountains (1949), she espoused liberal principles before an old-fashioned community. Kozaburo Yoshimura's The Ball at the Anjo House (1947) cast her as the sole member of a bourgeois family accepting change in their world. The latter picture ended with Hara persuading her father to accept the passing of their previous way of life and stepping into the sun, beaming in close-up: a symbol of optimism for the future. She'd reunite with Yoshimura the following year for Temptation, a picture placing greater emphasis on straight-forward melodrama but nonetheless streaked with time capsules of late-'40s Japan.
Temptation (1948) begins with a twenty-one-year-old medical student named Takako Hitomi (Setsuko Hara) visiting her father's grave in remote Gifu Prefecture. There she meets Ryukichi Yajima (Shin Saburi), an older man and former student of her parent. Riding the train together, they reminisce over their loss in common, Ryukichi remembering how, during the war, Takako's father had been expelled from his professorship for liberalism. Later, Takako tearfully remembers her father's dedication to his students despite being "under the watchful eye of the military police." For Setsuko Hara fans, these lines immediately recall No Regrets for Our Youth and how that film began with Hara's father losing his job under the same circumstances. Both plot threads derive from the real-life terminations of suspected leftist educators during the war.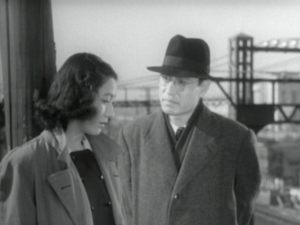 Back in Tokyo, Ryukichi invites Takako to live with him and his children out of respect for her dead father. Residing under the same roof, Takako learns that her patron is a progressive politician hoping to help "the new Japan." At one point, she finds a book in his study analyzing "private life and [criticizing] our notions of the makeup of family." (The year of Temptation's release also witnessed the Civil Code of 1948, which challenged the Confucian family system defined by the earlier Meiji Civil Code and promoted "the dignity of the individual, equality of the sexes, and high regard for offspring.")5 Takako herself is something of a progressive — wanting to live with independence and benefit others by becoming a doctor. Meantime, Ryukichi squabbles with members of his party over support for a rival group's candidate ("Individuality, personal opinion, zeal. How many politicians in Japan possess these qualities today?") and attempts to free one of Takako's fellow students, who's been arrested for selling sweeteners disguised as flour. When detained, the student claims he purchased the deceptive goods from the black market. Black markets, while prevalent in Japan going back to the late 1930s, had metastasized after the war, with more than sixty thousand stalls appearing in Tokyo in 1946 alone. The problem remained widespread two years later — so much so that a magazine editorial quipped, "The Only People Not Living Illegally Are Those in Jail."6
Also reflective of the dark underbelly of Occupation-era Japan is the tuberculosis which has confined Ryukichi's wife (Haruko Sugimura) to a sanitarium. This disease of the lungs was the number one cause of death in Japan throughout the first half of the twentieth-century but especially in the postwar years: killing two hundred and eighty-two per thousand individuals in 19457 and over one hundred thousand annually through the remainder of the decade.8 Sure enough, the wife's condition is terminal and she ultimately succumbs to her condition — but not before suspecting her husband's fallen in love with the young woman he's taking care of.
In a 1947 interview with the English-language paper Stars and Stripes, Setsuko Hara expressed refusal to perform kissing scenes in motion pictures — despite the Occupation censors' encouragement to studios for on-screen acts of physical affection. Like popular leading man Ken Uehara, Hara felt kissing remained infrequent among Japanese and thus did not want to perform such scenes until it became common behavior.9 However, also like Uehara — who enacted a steamy love scene with Daiei starlet Fujiko Yamamoto in Yoshimura's 1956 Night River — she only maintained this resolve so long, as marked by a tearful kiss between her and Shin Saburi in Temptation. Also indicative of Occupation influence are occasional abrupt edits suggesting censorship. In the late 1940s, separate branches of the foreign government were charged with approving scripts and screening finished products before allowing them into theaters.10 Occasionally, lines or scenes met with script approval were deemed "problematic" on film and thus required deletions. A few moments indicate Temptation was one such film to undergo post-production cuts: characters sometimes change places or posture in the middle of shots, likely dialogue axed at the censors' orders.
Temptation doesn't so much critique late-'40s Japan as it allows society to reveal itself through dialogue; by drama's end, neither protagonist has done anything to impact their nation — Ryukichi's still a progressive in rhetoric only, and Takako nearly gives up everything (including medical school) to flee her troubles. (One of the least accomplished of Hara's liberal protagonists of the Occupation era, many of whom achieved greatness at least for themselves.) Instead, the narrative thrust derives from the protagonists' May-December relationship, which the film handles in a straight-forward manner. Working from a script by Kaneto Shindo, director Yoshimura steadily develops Ryukichi and Takako's relationship through chemistry and key situations. In a mid-movie dance sequence, the two characters enjoy each other's company initially on a forced platonic level. As the scene progresses, however, Takako leans closer and more affectionately into her partner, fingers crawling up his shoulder as they weave about the dance floor. Yoshimura ideally times a montage of close-ups alternating between faces, intertwined hands, and — of course — their feet moving in unison upon the dance floor. The results, accompanied by a slow waltz, rank with the most romantic film material this reviewer has ever seen.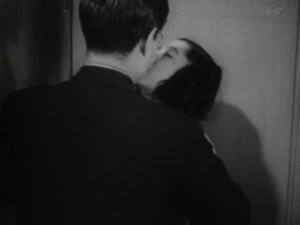 Occasionally the melodrama becomes a tad overheated (e.g., the inevitable confrontation with the wife and her sudden about face on her deathbed: begging Takako to look after her family), but Temptation nonetheless triumphs through the chemistry of its leads and retroactively fun time capsules. All carried along wonderfully by Setsuko Hara, who here goes against earlier mentioned praise for the subdued acting in Ozu's pictures, relying heavily on histrionics to convey her character's conflicted feelings. She'd remain a vessel for Occupation politics a while longer, though in 1949 found herself in roles indicating the near end of foreign scrutiny. While the censors expressed concerns with Keisuke Kinoshita's Here's to the Young Lady and Ozu's Late Spring — both of which revolved around Hara being pressured into an arranged marriage (deemed "feudalistic" by the occupying government), the two films went into production and release with their basic premises unaltered. (The script for Ozu's film merely softened a few lines regarding the war.)11
Hara clung to star status after the Occupation's 1952 end and entered the phase of her career for which she remains most famous. No longer jostled by government politics, she maintained fame by representing emotional agendas felt by her audience. Her collaborations with Ozu continued — predominately playing housewives and daughters who know best — while other directors, such as Mikio Naruse, pitted her against unscrupulous men. In three '50s films for the latter director, she temporarily leaves an inattentive husband in the first, permanently leaves him in the second, and starts considering divorce in the third. Writing in the late '50s, during the height of Hara's popularity and not long before her retirement, historians Donald Richie and Joseph L. Anderson described the actress as "almost excessively subtle in her attacks on men, her main complaint being that they fail to understand, one, her business talent and, two, her true feminine delicacy. This type of role […] has not unnaturally made her enormously popular with middle-aged women, whose spokeswoman she has become."12
Notes:
Galbraith, Stuart, IV. The Emperor and the Wolf: The Lives and Films of Akira Kurosawa and Toshiro Mifune. New York: Faber & Faber, 2002, p. 75
Harvey, Stephen. "People We Like: Setsuko Hara." Film Comment Vol. 10, No. 6 (November 1974), p. 34
Hansen, Janine. "The New Earth (1936/7): A German-Japanese Misalliance in Film." in Gerow, Aaron and Abé Mark Nornes. In Praise of Film Studies: Essays in Honor of Makino Mamoru. Yokohama and Ann Arbor: Kinema Club, 2001, p. 188
Hirano, Kyoko. Mr. Smith Goes to Tokyo: Japanese Cinema Under the American Occupation, 1945-1952. Washington, D.C.: Smithsonian Institution Press, 1992, p. 149
Desser, David (ed). Ozu's Tokyo Story. Cambridge: Cambridge University Press, 1997, p. 31
Prince, Stephen. Audio commentary for Stray Dog. The Criterion Collection DVD.
Dore, R.P. City Life in Japan: A Study of a Tokyo Ward. Berkeley: University of California Press, 1958, p. 65
Conrad, David A. Akira Kurosawa and Modern Japan. Jefferson: McFarland, 2022, p. 58

Hirano, p. 160

Ibid, pp. 47-8

Ibid, p. 49; 54; 70

Anderson, Joseph L. and Donald Richie. The Japanese Film: Art and Industry (Expanded Edition). Princeton: Princeton University Press, 1982, p. 399