Madison McFerrin has announced her debut album, I Hope You Can Forgive Me, which is out May 12. To mark the news, she's shared a Kemp Baldwin-directed video for the lead single '(Please Don't) Leave Me Now'. Check it out below, along with the album artwork, tracklist, and McFerrin's upcoming tour dates.
McFerrin wrote '(Please Don't) Leave Me Now' after enduring a car accident with her partner in 2021. "Being able to walk away from a near-death experience without physical harm is one of the greatest blessings I've received in this life," she explained in a press statement. "It reaffirmed my purpose as an artist. Writing '(Please Don't) Leave Me Now' became an incredibly therapeutic and cathartic experience. Being able to express that kind of fear while still creating a fun environment was key to making this song.
Of the accompanying video, McFerrin added:
Death showed up in more ways than one in the process of making this video. In the weeks leading up to the shoot, multiple family members on the production side passed unexpectedly, bringing our plans to a halt. The fate of the video was in flux. Thanks to the tenacity of my team, we were able to regroup and move forward, albeit with a delay.
For the video, we wanted to capture the feeling of not being prepared to die. I'm talking to myself both above and within the grave, grieving both who I was and who I could be. I didn't expect being in a grave for multiple hours in a day would affect me, but it definitely contributed to my journey in processing a near-death experience. This song and video are a manifestation of my own personal growth as not only a musician, but as a human.
McFerring produced the majority of songs on I Hope You Can Forgive Me, which features contributions from her father, Bobby McFerrin.
I Hope You Can Forgive Me Cover Artwork: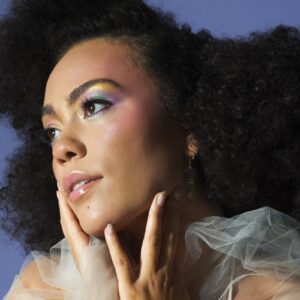 I Hope You Can Forgive Me Tracklist:
1. Deep Sea
2. Fleeting Melodies
3. Testify
4. Run
5. God Herself
6. OMW
7. (Please Don't) Leave Me Now
8. Stay Away (From Me)
9. Utah
10. Goodnight
Madison McFerrin 2023 Tour Dates:
Mar 2 San Jose, CA – The Continental
Mar 3 Los Angeles, CA – Walt Disney Concert Hall
Mar 13-18 Austin, TX – SXSW
May 20 Frenchtown, NJ – Artyard
Jun 1 Los Angeles, CA – Zebulon
Jun 2 San Francisco, CA – The Independent
Jun 4 Eugene, OR – Hult Center
Jun 5 Portland, OR – Doug Fir
Jun 13 Chicago, IL – Sleeping Village
Jun 15 Columbus, OH – Rambling House
Jun 23 Baltimore, MD – Creative Alliance
Jun 24 Ellenville, NY – Love, Velma
Jun 25 Marlboro, NY – The Falcon
Jun 29 Brooklyn, NY – Elsewhere
Jul 9 Rotterdam, Netherlands – North Sea Jazz Fest
Aug 10-13 Dorset, England – We Out Here Fest