Visual artist Tong Wang found his niche in his exploration of minimalism. One of the most popular aesthetic styles, minimalism is appreciated not just by celebrities but by individuals in various industries. The biggest challenge for artists who work in this style is to create minimalist designs that are not too minimal.
Wang was taken aback when he was approached to design a visual identity for Bad Monster, a skateboard brand from China. On the surface, the brand name and product seemed incongruent. The skateboard market is dominated by brands from Canada, America, and Australia, which made the client's desire to launch a distinctive Chinese brand with an eye-catching name and design more intriguing.
"I know I have to find a connection between the monster and the skateboard. I can't just pick a monster face randomly and use that as the logo," Wang explains, "Monster is a very attention-grabbing word so it's necessary to highlight the monster itself in the design."
After conducting a comprehensive examination, Wang noticed the prevalence of screws on skateboards. On average, there are four screws on each side of the board, with more screws being added for skateboards with more intricate designs. It was from this observation that Wang derived his original inspiration."
The arrangement of screws on the skateboard reminded Wang of human eyes, with the smaller screws being encircled by larger ones, resembling pupils. He leveraged this connection to create a monster's eye design based on the shape and structure of the screws. Wang also incorporated elements of balance into the design, reflecting the importance of maintaining balance in skateboarding."
Wang then provided the brand with several different color combinations. Both sides eventually came to an agreement on black and red, which closely relate to the theme of the monster as well as the positivity and energy of skateboarding.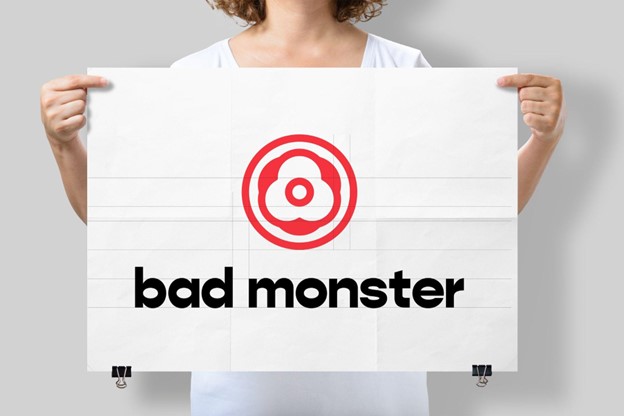 (Bad Monster Logo Design, by Tong Wang)
The final result came out super satisfying. Wang is glad to have the opportunity to enrich the brand image and generate an active and dynamic vibe for today's young generation, motivating them to always stay up-to-date with the latest trends.
Wang's creativity of minimalism lies in his practice toward the space, colors and shapes. Artists grow up in different backgrounds and thus have different approaches to portray art. But Wang sees minimalism as a unique method to keep himself focused on the right track to avoid distraction when it comes to the goals that he is looking to achieve.
The great art in history is always rooted in pain and sorrow. Wang sees that as a reflection of people's desire for love and happiness, which is the message that he is trying to convey in his presentation of minimalism.