Avalon Emerson has announced a new album under the moniker Avalon Emerson & the Charm. The self-titled LP will arrive on April 28 via her new label Another Dove. To accompany the announcement, the DJ and producer has unveiled a new song called 'Hot Evening'. Check it out below and scroll down for the album's cover art and tracklist.
In a press release, Emerson had this to say about 'Hot Evening':
Hot Evening is a stamped passport. It's a series of diary entries, home movies, and polaroids. It's the moment of calm when 200 adults all partake in group snack time and nap time at 35 thousand feet. It's seeing the same sun set over a new city skyline. It's wondering if I've spent my youth on too many proverbial and literal moving sidewalks, going forward sure, but to where? and will there just be another long terminal to cross when I arrive?
The sonic inspiration comes from somewhere between Todd Edwards, the Magnetic Fields, and the Chordettes. Unlike Sandrail, where disparate sketches slid together into a final version quickly, Hot Evening hovered around 75% done for over a year, ebbing and flowing into different shades of complete until the final touches came together right at deadline.
Emerson's new record was executive produced by Bullion. It includes the previously released single 'Sandrail Silhouette'.
Avalon Emerson & the Charm Cover Artwork: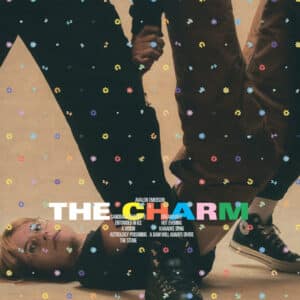 Avalon Emerson & the Charm Tracklist:
1. Sandrail Silhouette
2. Entombed In Ice
3. A Vision
4. Astrology Poisoning
5. The Stone
6. Dreamliner
7. Hot Evening
8. Karaoke Song
9. A Dam Will Always Divide