McKinley Dixon has announced his new album, Beloved! Paradise! Jazz!?, which is set to land on June 2 via City Slang. It features guest appearances from poet and writer Hanif Abdurraqib, Teller Bank$, Alfred., Ghais Guevara, Anjimile, and Seline Haze. Check out a video for album's new single 'Run, Run, Run' and find its cover art and tracklist below.
"The cover of Beloved! Paradise! Jazz!? came to fruition when I sent the album to artist Ladon Alex with little to no description," McKinley explained in a press release. "I told him to listen to the album and draw what he felt would describe what he heard. What he brought back was this beautiful portrayal of afro futurism. We are both fans of anime and sci-fi, so Ladon created the narrative of this boy inside of a room with his power about to be unleashed. Since the cover is the first thing you see, the album then is presented as the magic that the boy contains. The story unfolds."
Beloved! Paradise! Jazz!? will include the previously released tracks 'Sun, I Rise' (featuring Angelica Garcia) and 'Tyler, Forever'.
Beloved! Paradise! Jazz!? Cover Artwork: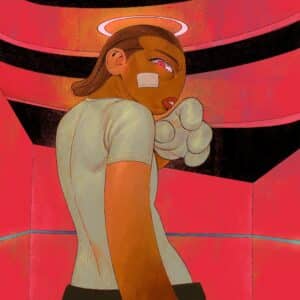 Beloved! Paradise! Jazz!? Tracklist:
1. Hanif Reads Toni
2. Sun, I Rise [feat. Angelica Garcia]
3. Mezzanine Trippin' [feat. Teller Bank$ & Alfred.]
4. Run, Run, Run
5. Live! From the Kitchen Table [feat. Ghais Guevara]
6. Tyler, Forever
7. Dedicated to Tar Feather [feat. Anjimile]
8. The Story So Far (Interlude)
9. The Story So Far [feat. Seline Haze]
10. Beloved! Paradise! Jazz!? [feat. Ms. Jaylin Brown]