The Japanese House, the moniker of Amber Bain, has announced her sophomore LP: In the End It Always Does comes out June 30 via Dirty Hit. The album was produced with help from the 1975's George Daniel and Chloe Kraemer. Along with the previously unveiled song 'Boyhood', it includes the new single 'Sad to Breathe', which you can check out below.
"I wrote 'Sad To Breathe' some time ago, it's one of the oldest songs on the record," Bain explained in a statement. "It was very different back then; it's gone from being solely electronic to what it is now, mostly live/ acoustic instrumentation. It's about that desperate feeling when someone leaves you and the disbelief that they could. It's funny you could have those kind of insane dramatic thoughts, that feel so real at the time, but can by some miracle look back in fondness to your entire life being ruined. It all circles back around."
The Japanese House released her EP Chewing Cotton Wool in 2020. Her debut album, Good at Falling, arrived in 2019.
In the End It Always Does Cover Artwork: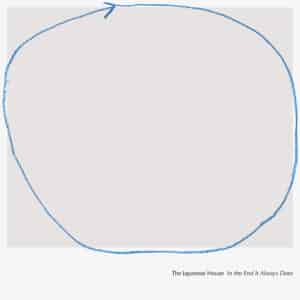 In the End It Always Does Tracklist:
1. Touching Yourself
2. Sad to Breathe
3. Over There
4. Morning Pages
5. Boyhood
6. Indexical reminder of a morning well spent
7. Friends
8. Sunshine Baby
9. Baby goes again
10. You always get what you want
11. One for sorrow, two for Joni Jones