Wye Oak – the duo of Jenn Wasner and Andy Stack – have announced Every Day Like the Last, a collection of new songs and previously unreleased tracks. It's set for release on June 23 via Merge, and its title track is out today. Check it out below, along with the album cover and tracklist.
"This song is about the sacrifices we make for love, companionship, and community," the band said of 'Every Day Like the Last' in a press release. "Human beings are messy, and yet—we need each other. The quality of our relationships determines the quality of our lives. But for all of us, and especially for those of us whose formative relationships were not so simple—alone can feel like the safest place to be. This song is about learning how to relax into imperfection, release the impulse to control, and accept the reality that life is brief and always ending, so we might as well have some company."
Every Day Like the Last was recorded in Wasner and Stack's current home state of North Carolina and Virginia at venues such as Stack's backyard studio. It features the singles Wye Oak have released since 2019's Fortune, as well as three brand new songs.
"There's been so much uncertainty in our lives," Wasner explained. "Not just our lives personally, but everyone's—and a big part of my life has been learning how to live inside of uncertainty, and not feel like my own emotional discomfort requires that I have to figure out, or attempt to figure out, how everything is going to be." She continued:
Something that felt exciting to me was being a little bit more fleet-footed and light about being able to put things out into the world," says Wasner. "A lot of these songs, we would write them and record them and then they'd come out a couple of weeks later, which, to me, just sort of feels so much more in line with how the creative process works and feels on our end of things." 
Every Day Like The Last — that could mean every day like the day that came before, or it could mean every day like the last day that you get. Both meanings apply. But for me, trying to live inside of the uncertainty is the theme. That is the thread that ties all the songs together—tolerating the discomfort of not knowing.
"We both were feeling not wanting to be tethered into the machine in the way that we had been for so long," Stack added. "We just wanted to be able to make stuff in the room. And when we were able to do that, the aspirations shifted, because we were able to exercise this other muscle that we hadn't in a long time."
Every Day Like The Last Cover Artwork: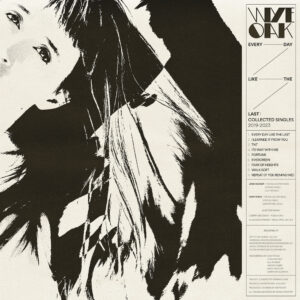 Every Day Like The Last Tracklist:
1. Every Day Like the Last
2. I Learned It from You
3. TNT
4. Its Way with Me
5. Fortune
6. Evergreen
7. Fear of Heights
8. Walk Soft
9. Repeat