The Knife's Olof Dreijer has announced a new collaborative album with Mt. Sims titled Souvenir, a collection of five steel drum tracks. It's set for release on June 9 via Rabid, and its first single, 'Hybrid Fruit', is out today. Check it out and find the album's cover artwork and tracklist below.
Souvenir began after Dreijer and Sims were contacted by the Trinidad/New York organization Special Friends of the Earth (SFOTE) to create music using a steel drum created by the Trinidad-based instrument maker Ellie Mannette. "We tried to find our own thing," Dreijer said in a press statement. "That's usually our way around using an instrument that has been heavily exoticized and appropriated."
Souvenir follows Dreijer's co-production work Fever Ray's latest LP, Radical Romantics, which arrived in March.
Souvenir Cover Artwork: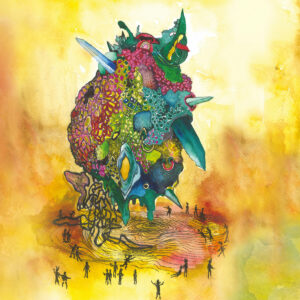 Souvenir Tracklist:
1. Liten Karin
2. Hybrid Fruit
3. A Vessel of Clay
4. Breaths of Clay
5. Across This Mud