Sweeping Promises have announced their sophomore full-length: Good Living Is Coming for You will be out June 30 via Sub Pop. 'Eraser' leads the follow-up to 2020's Hunger for A Way Out, and you can check it out along with the album artwork and tracklist below.
According to the band's Lira Mondal and Caufield Schnug, 'Eraser' is "a malevolent creep – an overly ambitious, shadowy force who bears an uncanny resemblance to you. She watches your every move, mirrors your motions, and ultimately uses your voice against you without you ever noticing what she's done. She's unchecked ambition, a paranoid girl Friday, an overriding impulse to reflect rather than project. She must be stopped at all costs."
Back in 2021, Sweeping Promises released 'Pain Without a Touch', their first single for Sub Pop.
Good Living Is Coming For You Cover Artwork: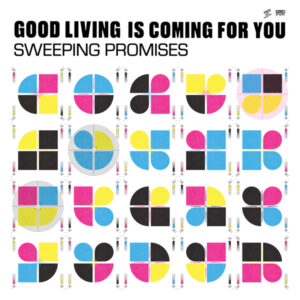 Good Living Is Coming For You Tracklist:
1. Eraser
2. Shadow Me
3. Good Living Is Coming for You
4. Connoisseur of Salt
5. Walk in Place
6. You Shatter
7. Petit Four
8. Can't Hide It
9. Throw of the Dice
10. Ideal No