"When you think of King Kong just plain fighting Godzilla, it is stupid. But how you stage it, the times in which it takes place, that's the thought process of the filmmaker."
Ishiro Honda1
The events and phenomena which birthed Ishiro Honda's King Kong vs. Godzilla (1962) spanned many years. Honda's original 1954 Godzilla had been a sizable domestic hit, selling more than eight million tickets in Japan, and paved the way for not only a sequel—Motoyoshi Oda's Godzilla Raids Again (1955)—but similar pictures about monsters and mutants besieging civilization. The genre arrived at an ideal time, when the nation's major studios were in excellent shape, turning out hundreds of films in breadwinning genres and supported by a ravenous public. In 1958, attendance for Japanese films reached an all-time high of 1.13 billion,2 a contemporary Ministry of Trade and Industry survey finding the average Japanese attended twelve to twenty movies each year.3 With Toho (the studio behind Godzilla) leading the way, Japanese science fiction became the latest marquee brand.
"The moral of all these films was the same," wrote film historian Donald Richie in 1961. "Japan is ravaged by monsters who are defeated, not by warlike methods, but by technological know-how. […] The Japanese are too afraid and together they work for world peace."4 On point as Richie's observations were, the genre was destined for significant change. Released that same year was Honda's Mothra, which also concluded with an optimistic view of global relations; but this time the monster peacefully returned to its island home. And with King Kong vs. Godzilla, the films began emphasizing humor on the monster level, playing up youngster's affinity for the creatures. That said, the movies were some time from becoming childrens' matinees and—especially in the case of King Kong vs. Godzilla—continued reaching for the broadest possible demographic.
In bringing the eponymous monsters together, Honda and screenwriter Shinichi Sekizawa turned to another box office genre: the salaryman comedy. From the hustle of company employees to satisfy their bosses and outperform competitors came a narrative reason for what one character declares "the battle of the century." The resultant film was billed as one of Toho's 30th anniversary releases alongside such pictures as Hiroshi Inagaki's star-studded Chushingura, Akira Kurosawa's samurai comedy Sanjuro, and Mikio Naruse's biopic of author Fumiko Hayashi Her Lonely Lane.5 Audiences seemingly didn't share Honda's consternation with monsters prone to anthropomorphic antics,6 as the picture sold 11.2 million tickets on initial release and to this day remains (attendance-wise) the most successful Toho Godzilla movie.
King Kong vs. Godzilla was not a thoughtless comedy. In its own satirical manner, the film continued its predecessors' tradition of using science fiction scenarios to reflect social issues. Whereas dire pictures such as Godzilla (1954) and The H-Man (1958) commented on nuclear weapons—and optimistic Cold War-era spectacles like The Mysterians (1957) and Gorath (1962) imagined future international utopias—the 1962 film mocked a media phenomenon that, like the kaiju genre, had been developing in Japan since the 1950s.
Japanese fascination with electronically transmitted images took root as early as 1926 when Kenjiro Takayanagi of Hamamatsu Higher Technical College successfully displayed a katakana character on a Braun cathode tube, though it wasn't until 1953 that Japanese TV broadcasting officially began. Steep prices (the cheapest set averaged ¥175-180,000 at a time when most salarymen earned ¥15,000 a month7 and a house could be purchased for ¥200,000)8 meant television was initially a luxury for the wealthy and for businesses. The latter adopted it as a tool for attracting customers, who readily congregated around shop windows, train stations, and public plazas to watch recorded stage acts, talent shows, and sports.
By 1958—the year Japanese cinema hit its attendance peak—the average cost of a set had fallen to ¥60,000, and the number of subscribers grew from 866 to over a million.9 That figure doubled the following year—in no small part because of Crown Prince Akihito's televised wedding with commoner Michiko Shoda. Prime Minister Hayato Ikeda's "income doubling plan" of 1960 increased the affordability of at-home entertainment apparatuses, a professor rationalizing the fixation on television as: "There is less to do in Japan; in our leisure time, people here either do nothing—that is, take a nap—or watch television, or do other things inside the house. There are fewer places to go, because of the population density."10 Some filmmakers reflected the obsession with TV. Yasujiro Ozu's 1959 comedy Good Morning focused on elementary-age brothers pressuring their parents to buy a set. And in 1962, by which time 64.8% of Japanese households owned a set, Honda and Sekizawa skewered the ratings racket.11
Having become Japan's first broadcaster in February 1953, NHK (Nippon Hoso Kyokai—Japan Broadcasting Corporation) campaigned to block other competing licenses, failing when NTV (Nippon TV—Japan Television) ran programs of its own that August.12 The war for the public's attention intensified from there, spawning entertainment of the frivolous sort: quiz shows, on-camera food fights, "talent contests" highlighting the worst singers possible for the biggest laughs possible, and reality/stunt programs such as NTV's aptly named Let's Do Anything Show. In February 1957, social critic Soichi Oya cynically remarked to Shukan Tokyo: "When we look at the state of today's mass media, we see that the masses will become happy to devour anything… A campaign to turn us into 'a nation of 100 million idiots' through […] television has developed."13
"All a medicine company would have to do is just produce good medicines, you know? But the company doesn't think that way. They think they'll get ahead of their competitors if they can use a monster to promote their product. Mr. Sekizawa satirized social conditions well. That was his speciality."
Ishiro Honda14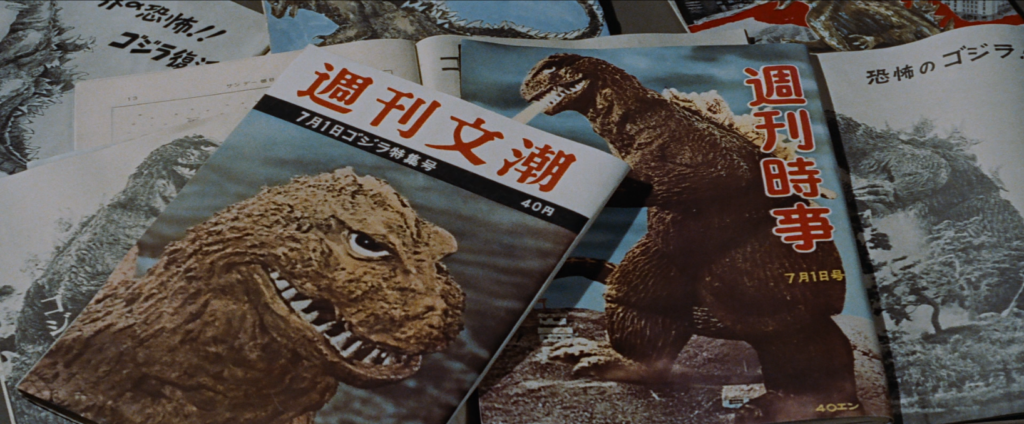 In his book A Nation of a Hundred Million Idiots?: A Social History of Japanese Television, 1953-1973, Jayson Makoto Chun remarked: "TV executives thought that programs needed to be flashy, sometimes grotesque, full of spectacle, and easy to understand. Long dramas or education programs failed to attract casual viewers."15 Fittingly, King Kong vs. Godzilla begins on such a note. Mr. Tako (Ichiro Arishima), an advertising executive for Pacific Pharmaceuticals, sits before a mind-numbing educational program his company sponsors, every bit as bored as the audience. Sure enough, he receives a displeased call from his boss and comes to discover the show's ascertained a miserable rating of 5%. From here, he devises a new strategy (something flashy and full of spectacle): bring a monster to Japan as their mascot. "Back then, Sekizawa was working on pop song lyrics and TV series," recalled Honda, "so he really had a clear insight into television."16
King Kong is successfully captured on the remote Faro Island, but not before Godzilla emerges from an iceberg and begins carving a path of destruction to Japan. Mr. Tako's response is one of outrage—that a monster other than his own is consuming media attention. (In a sly bit of commentary, one of Tako's assistants remarks that a movie's being made about Godzilla, while another says Godzilla-yaki is currently available in restaurants.) News of Kong's capture eventually turns ratings in Tako's favor, and the notion of a monster fight comes up. Envisioning full-page ads of Kong promoting his company's pharmaceuticals, Tako pitches a tagline: "I'll pulverize Godzilla, because I use Pacific drugs."
"Who's stronger: King Kong or Godzilla?" one of Tako's employees asks. "Idiot!" another says. "It's not a wrestling match!" As touched on earlier, the monster antics in this picture are occasionally humanlike, the battle moves often patterned on professional wrestling, which itself remained a TV sensation in Japan. One of Japan's first television celebrities was professional wrestler Mitsuhiro Momota, better known by his stage name Rikidozan. Capitalizing on anti-American sentiment less than ten years after World War II, Rikidozan won a thrown match with the "American" (in actuality Canadian) Sharpe brothers, to the delight of Japanese spectators. (Adding to the subterfuge: Rikidozan, like the foreigners he triumphed over, was not of his claimed heritage—rather, a Korean.) A few months prior to King Kong vs. Godzilla, foreign wrestler Freddie Blassie gouged the forehead of opponent Great Togo in a broadcasted match, the resultant blood causing two elderly spectators to collapse and die. In response to the tragedy, an NTV manager brushed aside their deaths and commented that ratings soared to 50-80%.17
King Kong vs. Godzilla is not as fierce as some of its contemporary satires—Yasuzo Masumura's Giants and Toys (1958) is relentlessly cynical, vicious, and unhappy—ignoring the uglier elements of commercialism in favor of spectacle and a feel-good tone. "The main thing I wanted in this picture was enjoyment," director Honda stated.18 Though the very thing he poked fun at factored into the decline of Japanese cinema—including the Godzilla series. The executives behind Japan's ratings wars were, unfortunately, all too successful. Frivolous programs kept audiences at home; and by the time Honda's film was in theaters, ticket sales had fallen to 622 million (about half of the all-time peak five years earlier). The following year, it was down to 511 million.19 "I used to go to [the theater] three to four times a month to watch [movies]," confessed one subscriber. "However, after we got a television, I stopped going. Even in the village, if a traveling theater came two times a month to show movies, now even if we buy tickets, nobody in our house goes out to watch it."20 Then came the announcement of the 1964 Tokyo Olympics and the nationwide demand to watch the games from home; the introduction of color TV further distracted audiences.21
As numbers for Godzilla shrank throughout the remainder of the decade (in 1967, Jun Fukuda's Son of Godzilla sold a meager 2.48 million tickets), the loss of audiences impacted the film companies. Studios downsized and once-popular genres such as period and home dramas began migrating to the small screen;22 meanwhile, Toho and others started producing TV shows of their own.23 In 1988, the effects of TV (and later home video) were so strong that attendance plummeted to a miserable 161,000.24 Nowadays, Japanese films enjoy a greater share of the domestic box office, with about 152 million tickets25 sold in 2022, but has yet to regain the market of the 1950s. Even with the modern smartphone epidemic and a slight wane in TV consumption in Japan (a daily average of 159.4 minutes versus the 180 reported in 1980), broadcasting remains a major commercial presence. "Smartphones are undoubtedly convenient as communication tools," reported The Mainichi in 2019. "However, there are things that cannot be conveyed by anything other than the power of TV images."26
Works cited and further reading:
Ryfle, Steve and Ed Godziszewski. Ishiro Honda: A Life in Film, from Godzilla to Kurosawa. Middletown: Wesleyan University Press, 2017, p. 187
Yomota Inuhiko. Translated by Philip Kaffen. What Is Japanese Cinema? A History. New York: Columbia University Press, 2019, p. 109
Anderson, Joseph L. and Donald Richie. The Japanese Film: Art and Industry (Expanded Edition). Princeton: Princeton University Press, 1982, p. 412
Richie, Donald. "'Mono no aware': Hiroshima in Film" in Broderick, Mick (ed). Hibakusha Cinema: Hiroshima, Nagasaki and the Nuclear Image in Japanese Film. New York: Routledge, 1996, p. 29
Ryfle and Godziszewski, pp. 185-6
Ibid, p. 188
Chun, Jayson Makoto. A Nation of a Hundred Million Idiots?: A Social History of Japanese Television, 1953-1973. New York: Routledge, 2007, p. 55
Partner, Simon. Assembled in Japan: Electrical Goods and the Making of the Japanese Consumer. Berkeley: University of California Press, 1999, 165
Chun, p. 72
Riesman, David and Evelyn Thompson Riesman. Conversations in Japan: Modernization, Politics, and Culture. New York: Basic Books, 1967, p. 170
Chun, p. 73
Ibid, p. 54
Ibid, p. 3
Ryfle, Steve. Japan's Favorite Mon-Star: The Unauthorized Biography of "The Big G." Toronto: ECW Press, 1998, p. 82
Chun, p. 159
Ryfle and Godziszewski, p. 187
Chun, p. 157
Ryfle, p. 82
Galbraith, Stuart, IV. The Japanese Filmography: A Complete Reference Work to 209 Filmmakers and the More Than 1250 Films Released in the United States, 1900-1994. Jefferson: McFarland & Company, Inc., 1996, p. 471
Chun, p. 132
Richie, Donald. A Hundred Years of Japanese Film: A Concise History, with a Selective Guide to DVDs and Videos. New York: Kodansha International, Ltd., 2001, p. 177
Schilling, Mark. Contemporary Japanese Film. Boston: Weatherhill, 1999, p. 15
Ryfle and Godziszewski, p. 237
Galbraith, pp. 470-1
"'One Piece' Tops Japan's Box Office in 2022." com. https://www.nippon.com/en/japan-data/h01590/ Accessed 30 April 2023
"Editorial: The power of television still strong despite smartphone era." The Mainichi, 13 May 2019