Local Natives have announced their fifth studio album: Time Will Wait for No One arrives July 7 via Loma Vista. Today's announcement comes with the release of the new single 'NYE', which you can check out below, along with the LP's cover art and tracklist.
Time Will Wait for No One, the follow-up to 2019's Violet Street, was recorded in Los Angeles with producer John Congelton. "This record was made during a time of metamorphosis for us," the band said in a statement. "Former selves melting away as some of us became fathers, endured periods of isolation, loss, and identity crisis. The highs and lows we were feeling at the same time were so extreme."
"There was a moment halfway through making the album, we played one of the most emotional concerts of our lives," they continued. "A sold out show at the Greek Theater in LA, our first performance in almost two years, but we didn't know how we could move forward. As individuals and as a band, we were on the verge of a collapse. Time flows on uncontrollably and change is relentless, and the people you love are the only constants. Out of that reckoning we dissolved everything down to start again, and had the most prolific period of songwriting in our history. This is the first chapter, Time Will Wait For No One."
Time Will Wait for No One will include the previously shared single 'Just Before the Morning'.
Time Will Wait For No One Cover Artwork: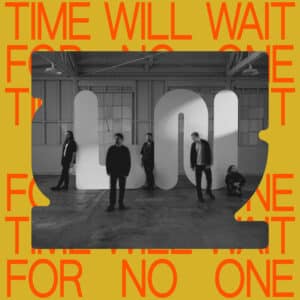 Time Will Wait For No One Tracklist:
1. Time Will Wait For No One
2. Just Before the Morning
3. Empty Mansions
4. Desert Snow
5. Paper Lanterns
6. Featherweight
7. Hourglass
8. Ava
9. NYE
10. Paradise