Juilliard Extension is pleased to celebrate the success of the Introductory Ballroom Dance Workshop that took place on Sunday, April 23. Participants had the opportunity to learn ballroom dancing from the world-renowned dance duo, Denys Drozdyuk and Antonina Skobina. The workshop was designed to help students learn and improve the basic ballroom dance techniques and embraced dancers of all skill levels.
The two Ukrainian instructors are both world-class ballroom dancers who hold multiple World Championships as well as USA National Championships. Denys and Antonina co-founded the ballroom dance duet "DNA" with the aim of developing ballroom dance as a performing art.
"We were so excited to have Denys and Antonina here," said Isabella Sun, the Operations Lead of the event. "My team and I had to make sure everything could go smoothly because we valued their presence more than anyone else."
In addition to the countless communication and the setup of the recording team, Sun wanted to ensure the needs of each participant in the workshop was taken care of because that was the original purpose of the event. As an experienced Operations Lead, Sun knew it would have been frustrating if a beginner-level student got overlooked and did not enjoy the dance as much as everyone else.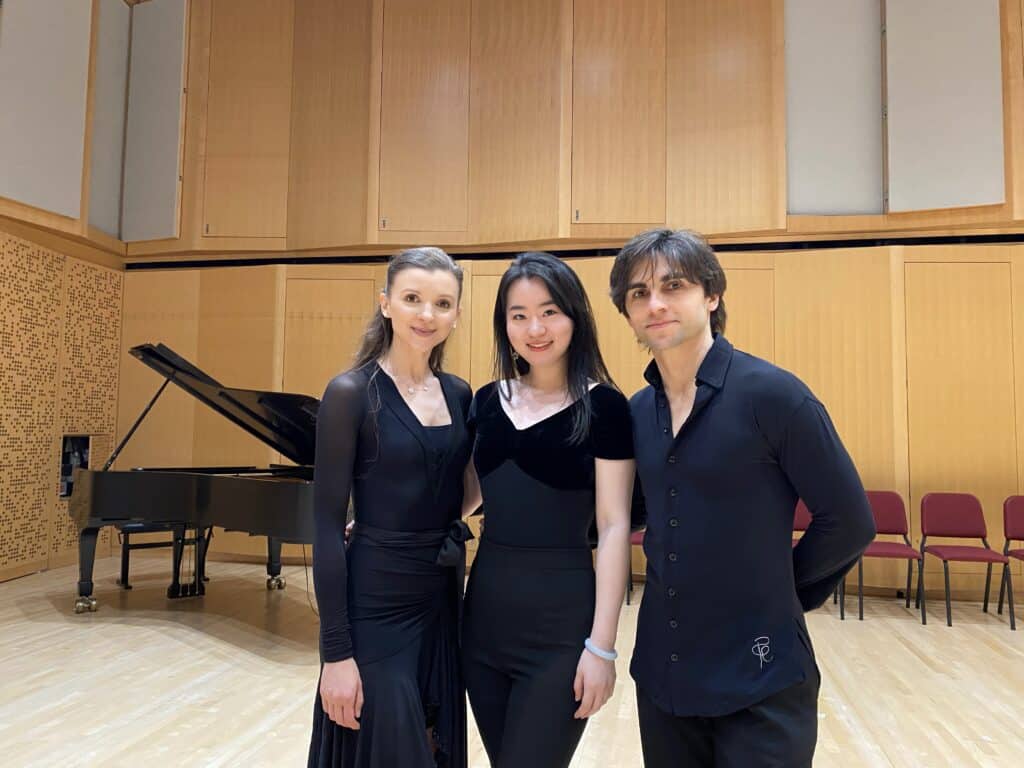 Among the 60 people that signed up for the workshop, Yuchen Liu was the most grateful participant towards Sun. As a legally blind student, Liu always finds ballroom dancing as a great way to connect with others. But to help her learn the steps well, a patient and experienced guide had to be found.
"I got informed that I would be Liu's guide 48 hours before the workshop," Sun added. "We speak the same language, and I'm also an experienced dancer. I'd be more than happy to help her. The last thing I wanted was for her to feel like an outcast at a workshop."
Sun was surprised when she found out that Liu is a pianist and how quickly she could memorize those steps, which might be a result of having such a high sensitivity of the beat. She taught Liu every move by hand and explained the key points of each move in detail till the last minute of the workshop.
Liu expressed appreciation to Sun by referring to her as an angel when being interviewed by PIX11 after the workshop was over. Despite Liu not being the main character in the workshop, she might just have received as much attention as the instructors did.
"People who came for different reasons ended up making new friendships and it was beautiful to achieve that through performing art like Ballroom dancing," according to Sun. Starting this fall, the Ballroom Dancing Workshops will be offered once a semester to those who are looking forward to trying it out.