Washington singer-songwriter Margo Cilker has announced her sophomore album, Valley of Heart's Delight. The follow-up to 2021's Pohorylle is set to arrive on September 15 via Fluff & Gravy Records. Check out its lead single and opening track, 'Lowland Trail', below.
Speaking about the new album, Cilker said in a press release:
I wrote these songs surrounded by the wild landscapes of the Northwest, but I was leaning toward the place I'd come from. I felt cut off from my family and the valley that held them. I spent hours thinking about my sense of belonging. I'd traveled through many places and then, when the travel stopped, I ruminated on where I had ended up. Where were you when the music stopped? I was in Enterprise, OR. And there in Enterprise, my mind drifted back to the Valley of Heart's Delight.
I wrote about family — about death and rebirth, and the arcs of love and art through a family line. There are songs that hint at missteps and redemption. There are songs about trees: in orchard rows, family trees, redwoods. And water: agricultural runoff, wild rivers, dammed rivers, baptismal flows. And there's a [cover] song about a fish, cause it's a damn good song and I wanted to record it.
Valley of Heart's Delight Cover Artwork: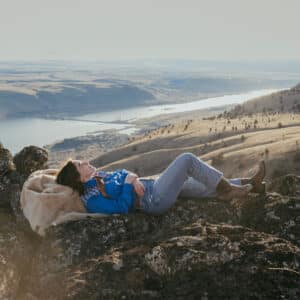 Valley of Heart's Delight Tracklist:
1. Lowland Trail
2. Keep It On A Burner
3. I Remember Carolina
4. Beggar For Your Love
5. Mother Told Her Mother Told Me
6. With The Middle
7. Santa Rosa
8. Crazy Or Died
9. Steelhead Trout
10. Sound & Fury
11. All Tied Together