Known for making affordable luxury and providing you with value for money with its slim-like watches, Frederique Constant is known for producing quality watches that will capture your attention from the get-go. In particular, one of their fantastic watches include the Highlife Chronograph Automatic which features an impressive movement and a beautiful timeless design. So, let's look at why this watch is the ideal choice for any watch aficionado.
This watch comes in three designs. The first and probably the most sensible choice features a classic black dial with a globe pattern embossed in the center. The piece comes in a 41mm stainless steel case and bracelet, presenting a clean and stylish appearance. Following on, we have a white dial piece also with an embossed globe pattern in the center. Unlike the black dial model, this piece has a stainless steel and rose gold dial & bracelet. This is a truly magnificent selection for those looking for a more distinctive look. Last but certainly not least design-wise, we have a white dial with a blue outer layer contrasting harmoniously with the smooth bezel of the watch. For an authentic look, the strap is made of calf leather with a crocodile pattern.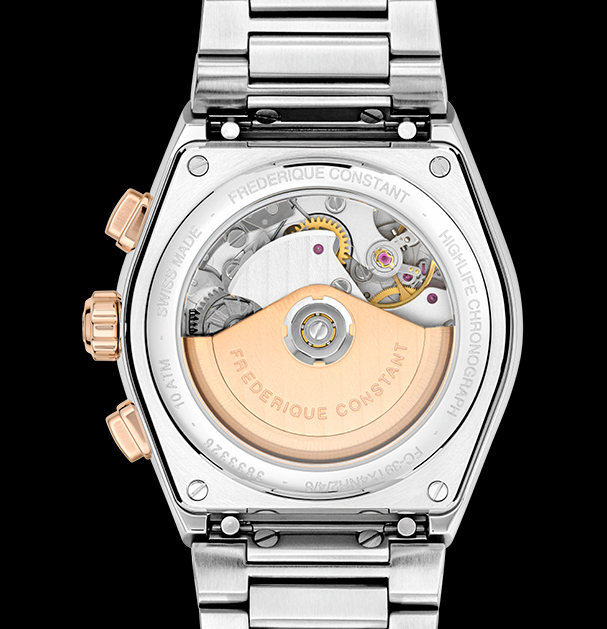 Ticking on, the watch carries the FC-391 movement which is an automatic movement with 26 jewels and a respectable power reserve of 60 hours. It also boasts an impressive 28'800 alternations per hour, providing excellent precision for a mid-budget luxury watch.
If you're still not decided on this watch, or simply want to look in other directions before deciding, you're in luck. There are many worthwhile alternatives to this watch. However, this will all depend on your budget and whether you care about the brand name and overall style of the watch. In the pricier range, you could opt for the Rolex Cosmograph Daytona but you will spend at least ten times more and will have to most likely opt for a pre-owned piece. On the other hand, you could opt for a Zenith Chronomaster which in the pre-owned market ranges from £5,000 to £9,000. Other brands like Tissot also offer the PRX Chronograph which is cheaper and is just as stylish as the Highlife Chronograph.
Truthfully, the Frederique Constant is a brand that will always pop up in the mid-budget luxury watch market, particularly considering the quality they provide for the money spent. This includes the Highlife Chronograph Automatic, a piece that oozes elegance and ageless appeal that can be held in your watch collection for decades to come. With a starting price of £2,995, I'd certainly consider this watch for my collection.