Few directors have so profoundly impacted me as Yasujiro Ozu. While my adolescent self was perplexed by his films' unconventional approach (the leisurely pace, the absence of "dramatic highs" other stories take for granted, the rigorous shooting aesthetic), with adulthood came an appreciation for their technique and understanding of the joys and sorrows that permeate ordinary human life. Cinema has long attracted me with the promise of learning something about the world, and in Ozu's quiet dramas about the dissolution of families, the social gaps between generations, etc. I found honest reflection of what people everywhere—regardless of race or culture—think and feel. (I'll never forget my first viewing of 1942's There Was a Father and how the behavior of its protagonist after watching his parent die mirrored mine in a similar moment of loss. My reaction upon seeing my grandfather lifeless in a hospital bed just weeks earlier was the same: the quiet realization I'd never again speak with someone I'd always known, a slow retreat—then the tears came.) To paraphrase film critic Stanley Kauffmann, the definition of Ozu's appeal isn't how much we know about him but how much he knew about us.
With 2023 marking the sixtieth anniversary of Ozu's death (and the one hundred and twentieth of his birth), I dedicated a sizable portion of a recent Japan trip to this director. While in Tokyo, I traversed to the shitamachi town of Fukagawa, where Ozu was born and spent part of his youth and early adult life. There I attended an exhibit at the Koto City Furuishiba Culture Center and learned of the local Ozu Bridge, which was promptly tracked down after leaving the museum. A later date found me at the seaside community of Atami—admittedly to see the castle smashed by King Kong and Godzilla in their famous 1962 tussle but also with the hope I could find where Ozu filmed the "sea wall" scene in Tokyo Story (1953). As readers can imagine, much has changed in seventy years (the wall is gone and the background peninsula's crowded with buildings), but I managed to find roughly the spot where Chishu Ryu and Chieko Higashiyama, ignored and cast away by their children, gazed at the water and decided it was time to return home.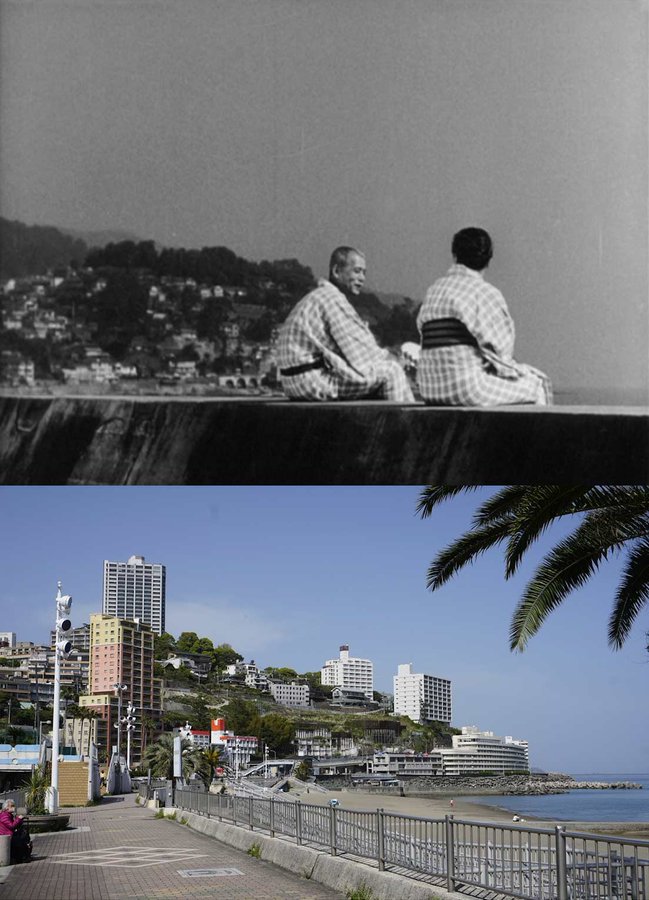 Another highlight occurred when a friend of a friend informed me of an exhibit at Yokohama's Kanagawa Museum of Modern Literature. The next day I was on the shinkansen and delighted in seeing not only scripts, photographs, and personal belongings of Ozu's (plus home movie footage of him!) but equipment used on his last few films: the Mitchell camera that filmed his impeccable images, the custom-made stopwatch (designed to simultaneously measured seconds and celluloid frames) used to time scenes. My only regret regarding this Yokohama excursion is that I missed the chance to see the great actress Mariko Okada, who was to speak at the museum the day I flew home.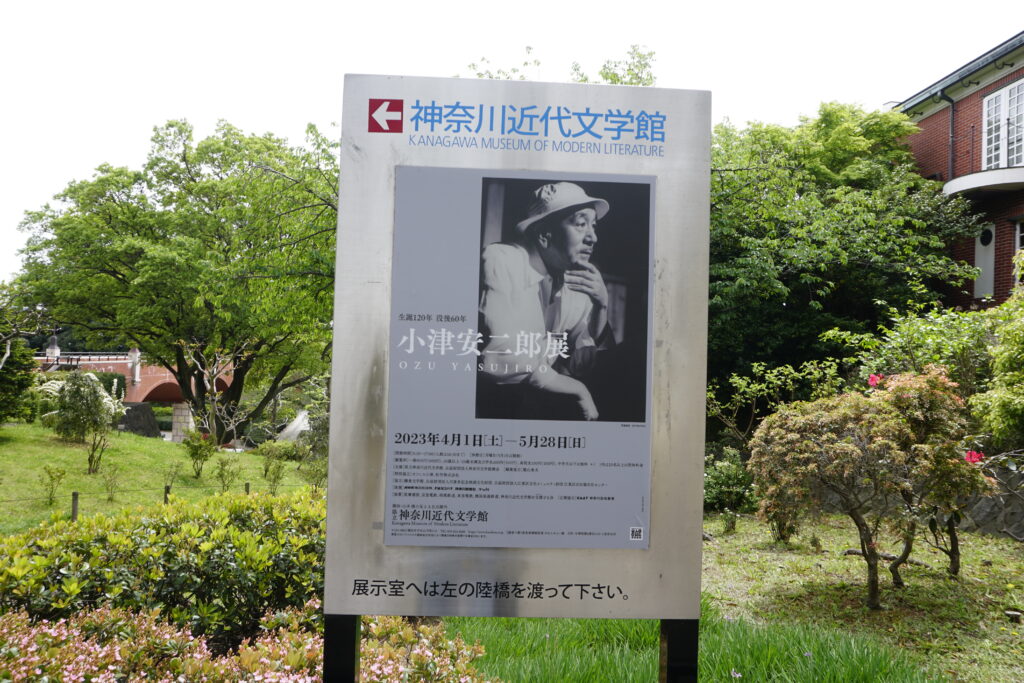 Most ethereal, though, was visiting the temple Engaku in Kamakura—where Ozu's buried alongside his mother. I knew not where to look upon entering the temple cemetery, only that their gravestone was marked by the kanji character 無 (mu—"nothingness"). So I wandered amid the tombstones (the only person around minus a groundskeeper) until finally I located the grave. Smiling at the sight of the alochol-loving director's tomb stocked with liquor bottles, I placed some coins on the stone before offering a few words. Ozu once confided to cinematographer Yuharu Atsuta his suspicion that foreigners wouldn't think much of his movies; quietly I informed him how wrong he'd been—that I wish he'd lived to see the impact his movies have had around the world. At the time of Ozu's passing, he'd known of rave reviews in London for Tokyo Story and surely was aware of film historian Donald Richie's showing five pictures at the Berlin Film Festival. But I doubt he imagined that in 2012, international filmmakers and critics polled by Sight and Sound magazine would vote that same movie the greatest of all time.
A final (somewhat amusing) anecdote. While riding the train back to Tokyo, I learned Engaku is also the resting place of other Japanese film legends such as Akira Kurosawa and Mikio Naruse and—I was told later still—Keisuke Kinoshita. I hope to pay my respects at each of their graves on my next trip to the Land of the Rising Sun.