CMAT has put out a new song called 'Have Fun!'. It's set to appear on her sophomore album Crazymad, For Me – out October 13 via AWAL – along with the previously released single 'Whatever's Inconvenient'. Check out its Greg Purcell-directed video below, and scroll down for the LP's cover art and tracklist.
"This is a song about ring necked parakeets that are wild in London, but it is also a song about getting over a breakup and moving on from an emotional stalemate even when you don't, or can't, forgive the other person's actions," Ciara Mary-Alice Thompson explained in a statement. "I suppose it is a song about how things in life are never satisfying, and don't make sense, but they exist anyway and we have to make the best of it. And have fun!"
Crazymad, For Me will follow CMAT's 2022 debut, If My Wife New I'd Be Dead. The Irish singer-songwriter described the new LP as "an abstract break-up album – about what happens when you are still angry about something that happened 10 years ago."
Crazymad, For Me Cover Artwork: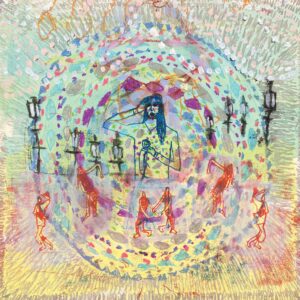 Crazymad, For Me Tracklist:
1. California
2. Phone Me
3. Vincent Kompany
4. Such A Miranda
5. Rent
6. Where Are Your Kids Tonight [feat. John Grant]
7. Can't Make Up My Mind
8. Whatever's Inconvenient
9. I…Hate Who I Am When I'm Horny
10. Torn Apart
11. Stay For Something
12. Have Fun!