The 2023 Primavera Sound Festival began its first weekend yesterday at the Parc del Fòrum in Barcelona, and things got off to a great start. Excitement was high, the weather was ideal, and overcrowding – which caused some problems on the first festival day last year – did not seem like it was going to be an issue. I caught very brief glimpses of sets by Pusha T, NxWorries, the Comet Is Coming, and a mesmerizing performance from the Spanish artist Júlia Colom, but for the most part, I made a point of catching the full sets of every act I was planning to see on Thursday. In chronological order, here are six highlights from the first day of the festival.
---
BC, NR, Still on the Stage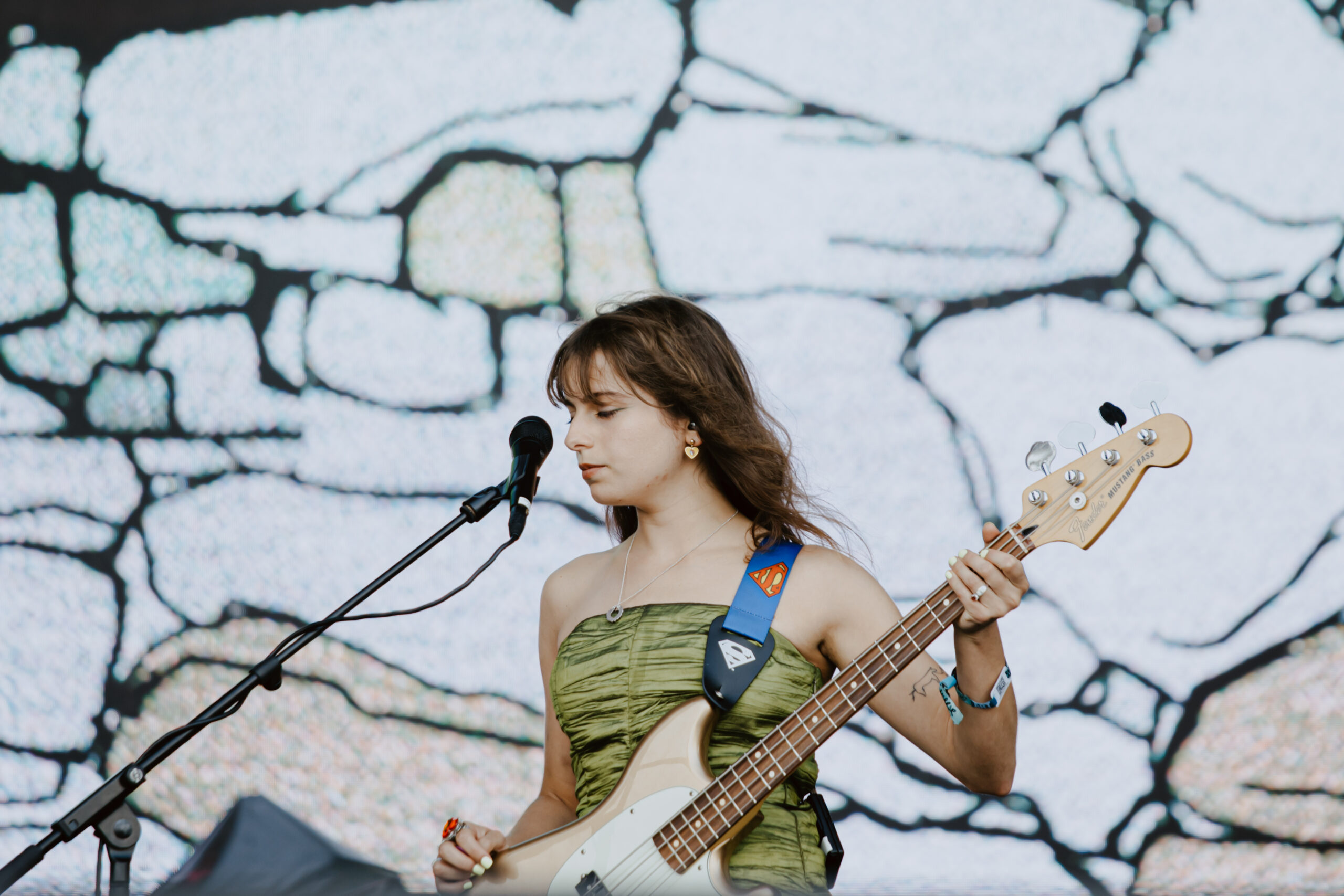 Black Country, New Road are the only band I was planning to see this week that I also caught at Primavera last year, and it's worth noting that their setlist is still essentially the same – they've been playing all-new material since the departure of singer Isaac Wood, showcased in the Live at Bush Hall album that came out earlier this year. But the show they delivered early in the evening on Thursday was on another level. For one thing, the move to one of the main stages, the Estrella Damm, felt like a considerable upgrade, one they'd earned. And while they sounded comfortable with the songs a year ago, by now they've grown in both muscle and subtlety, entangling in cunning and surprising ways throughout their set.
The giddy curiosity with which fans had previously received the material had turned into excitement and familiarity, which extended beyond the music – before the band had announced it was drummer Charlie Wayne's birthday, a group from the crowd had already sung happy birthday. There were hauntingly somber and intense moments in 'I Won't Always Love You' and 'Turbine/Pigs', which started out as solo showcases for Tyler Hyde and May Kershaw, respectively, but soared back up when the rest of the band joined in. (Wayne had his moment in the spotlight, too, smashing out an incredible drum solo.) Even when they stood still on the stage, the camaraderie between them was a beauty to behold, and – against the odds, given the emotional content of some of the songs – it all felt like a big celebration.
Alex G Brings Out Caroline Polachek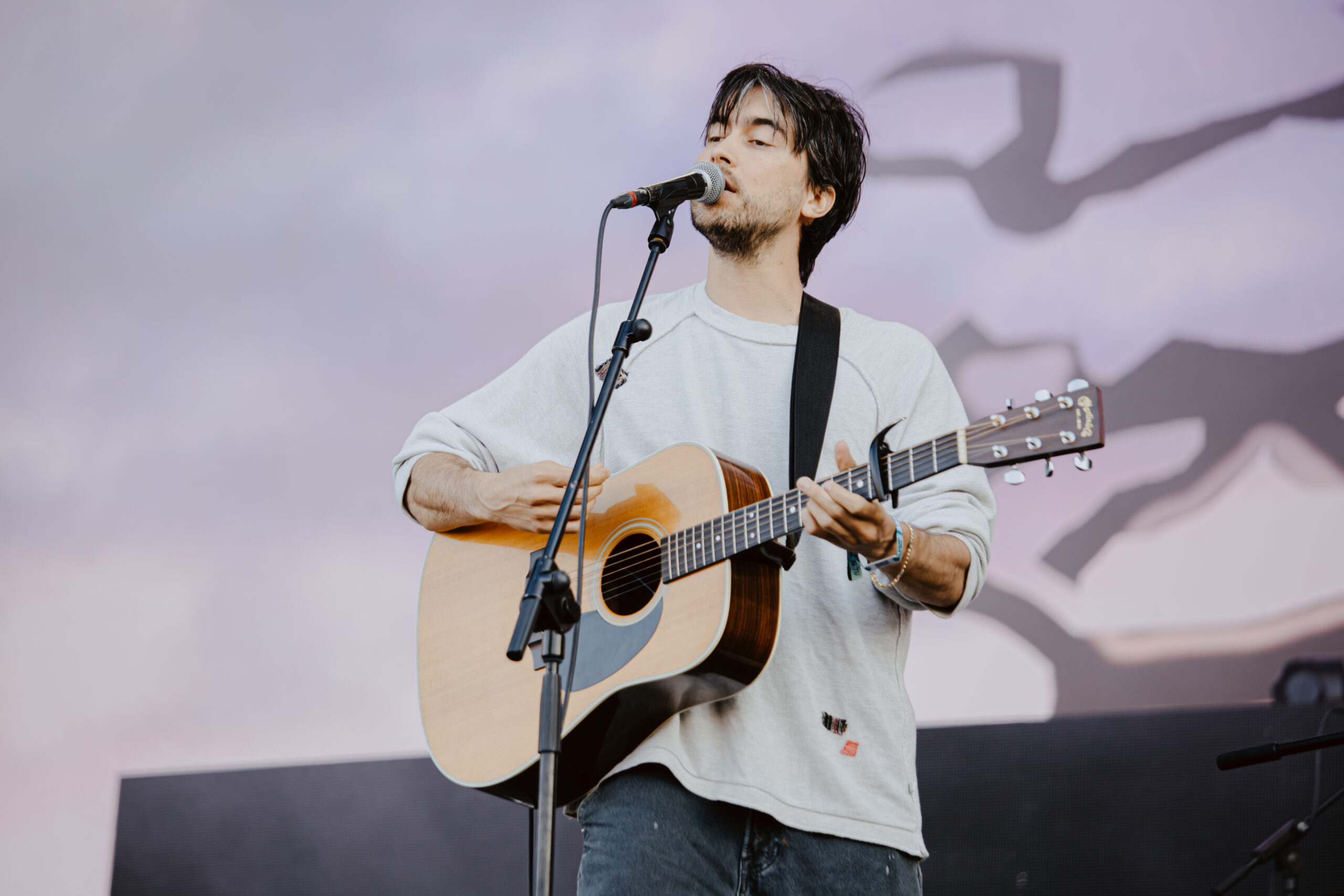 The presentation of Alex G's set at the Santander stage started out cool and straightforward, letting the heartfelt simplicity of the songwriting speak for itself. A casual fan might have worried the show would end up feeling flat, but it was full of eerie tension, lingering on the edge of catharsis but never making it obvious or giving too much away. And there was at least one big surprise – Alex G brought out his "friends Caroline and Maya" to sing backup vocals on 'Mission', and the crowd roared when they realized it's Caroline Polacheck, who's set to perform at the festival on Saturday. (Maya Laner plays in Polachek's band.) Even with the persistent air of mystery hanging around them, the songs got the crowd moving, and through it all, there was a clear and earnest sense of gratitude. (Alex G did not say much, but he did have a lot of thanks to give.) "I see great waves coming our way/ Beautiful sunsets on lost and lonely days," he sang on 'Miracles', which felt especially resonant. The ocean was right there in the distance, and all Alex G had to do was point out how beautiful it looked.
You Gotta See Turnstile Live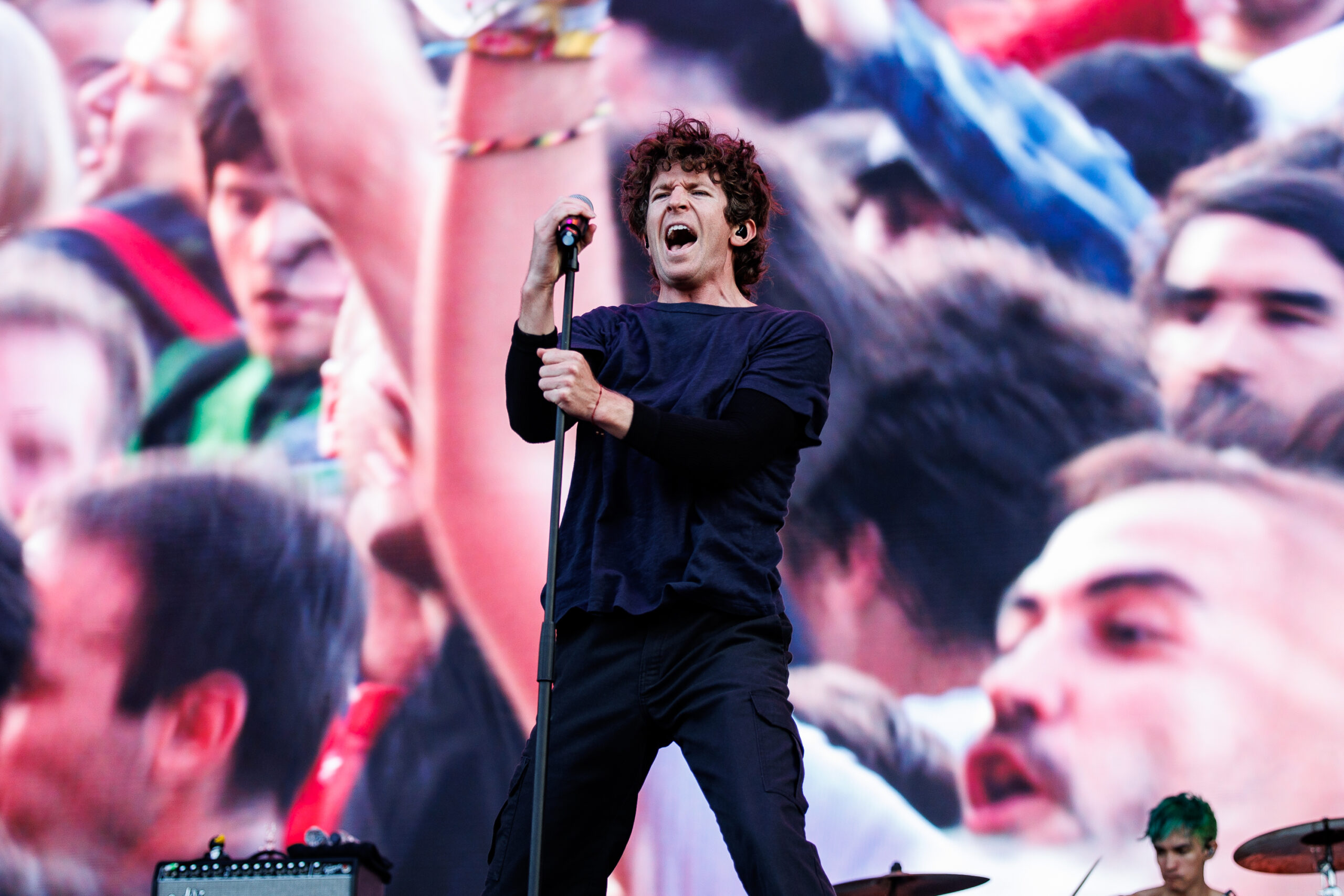 The crowd at the Turnstile show really only stood still for one moment: Daniel Frang's drum solo, which, beyond being technically astounding, felt like a feat of human endurance – one of the best I've ever seen. I can't imagine anyone being let down by the energy the group radiated during their set, which was as joyous and riveting as you'd expect; but their performance was also a masterclass in tension and release and a lesson in breaking the barrier between performer and audience. You didn't need to know anything about Turnstile to recognize those were pros up there on the stage, but frontman Brendan Yates knew exactly how to shake up the crowd and make sure everyone having as much fun as humanly possible. When he led a chorus of "Can't be the only one," it served as a poignant reminder of why all these people wanted to get in the pit in the first place. You really don't need to see it live to "get it" – but trust me, you gotta.
New Order Deliver a Robust, Crowd-Pleasing Set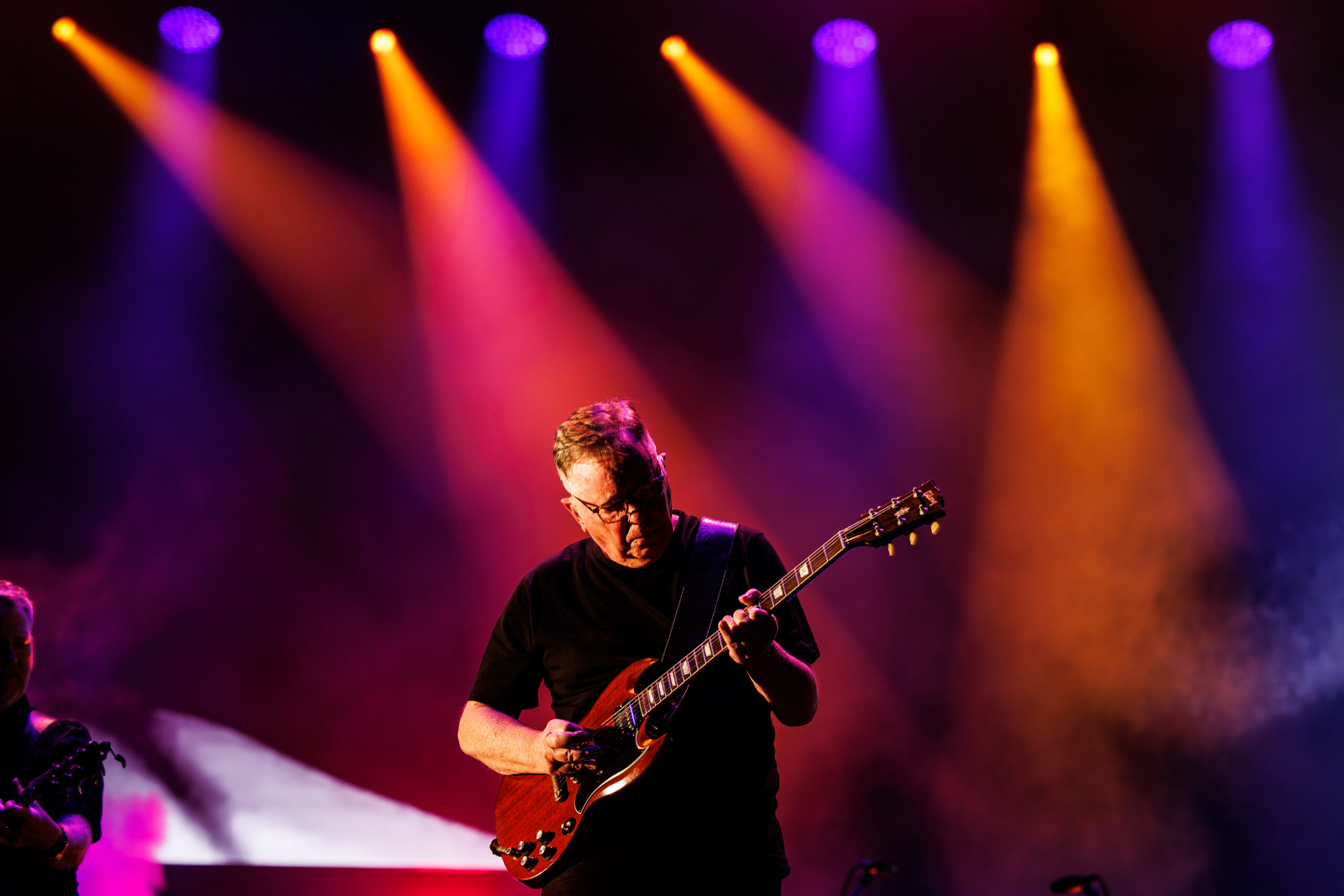 Just one look at this year's Primavera poster is enough to gauge just how wide-reaching New Order's influence is on the modern pop landscape; Halsey, of all people, made that much clear in the performance that followed right after. The group could have easily phoned it in – they've not much left to prove – but they delivered a robust, crowd-pleasing set filled with hit after hit. While every note played by keyboard Gillian Lesley Gilbert seemed to be struck down from heaven, and the whole band's rhythm was so locked-in it almost sounded alien, there was something resoundingly human about Bernard Sumner's vocal delivery, which was sometimes impassioned and often wearily wistful. There were a few flashes of theatricality but not a hint of overindulgence, and Sumner did his part to keep the crowd engaged. But the classics naturally invited an ecstatic response, and the Joy Division encore was both a fitting and poignant conclusion.
Halsey (Kinda) Wants to Make Her Old Songs Better
Halsey seemed to approach her headling set at the Santander stage with a somewhat conflicted sense of perspective, acknowledging the fact that there were people who were perplexed, even pissed, upon seeing her name on the poster. Feigned or not, she turned her antagonism into fuel for a performance that, at different points, will have taken both fans and skeptics by surprise. Kicking off with a fiery rendition of 'nightmare', from her Nine Inch Nails-produced album If I Can't Have Love, I Want Power, immediately sent a message to anyone about to head out that this is what Halsey sounds like now. "Should we just make all of my old songs better?" she even said at one point, before launching into a hard rock version of 'Closer'.
On the other hand, she took pride in debuting a set that featured a number of older hits she hadn't played for years without giving them much of a fresh treatment, which was great for those old fans but probably not the ones won over by her new sound. She herself seemed to be having the most fun when playing new songs like 'Girl Is a Gun', so it's a shame there weren't more of them. "Does it make more sense now?" she asked at one point, addressing those still questioning her place at Primavera. Even as it generally adhered to the conventions of a pop show, it was a little all over the place and genuinely did rock hard. She gave everyone something to remember, and you couldn't accuse her of faking any of it. So… maybe?
Blur, Reunited, Shine the Lights and Make It Happen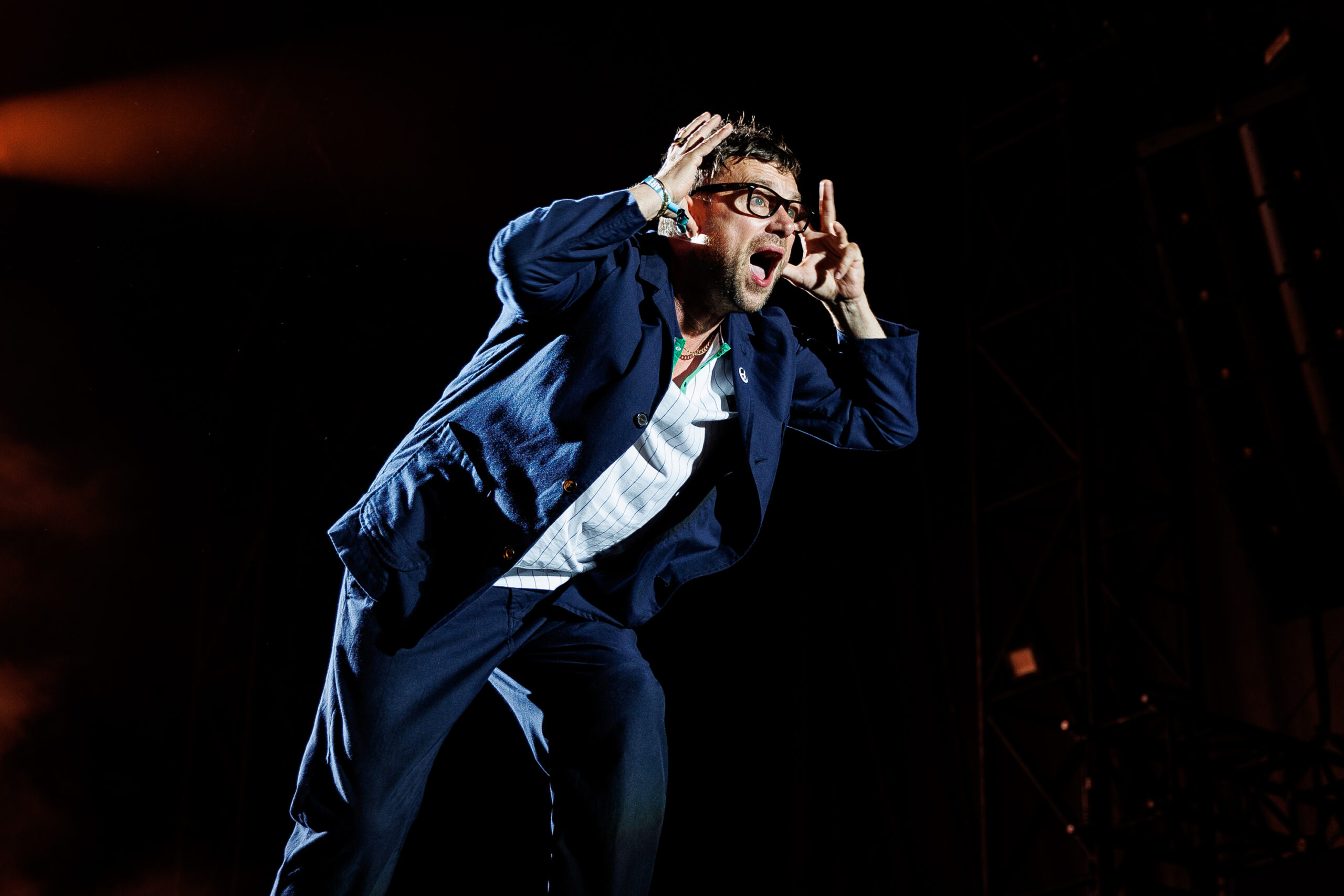 Arriving at a crucial point between a string of warm-up UK gigs and the band's comeback tour – including two shows at Wembley Stadium this summer – the stakes were high for Blur's headlining Primavera set. When Gorillaz delivered a crowd-pleasing set at the festival last year, I wondered if Damon Albarn's cartoon side project had come to overshadow the success of Blur, or if their kind of music was more suited to the summer festival circuit. But while Gorillaz relied on a stream of collaborators, genre shifts, and elaborate visuals to get the party going, Blur can elicit the same euphoric, unifying response just by being Blur. The band kept things tight and uncomplicated throughout the performance, playing enough of the classics (including the tour debut of 'Country House') to justify giving time to deep cuts like 'Luminous' and a couple of new songs (beginning with an unreleased track called 'St. Charles Square'). There was nothing really flashy about the whole thing, except when Albarn requested all the lights be momentarily turned on. Beyond remarking on the ludicrousness of the megayacht spotted from his hotel ("It's not okay"), the frontman did not need to say much, yet seemed positively giddy just to be there playing with the band, which gave certain songs a heightened sentimentality. "It's so lovely to be with my old friends again," he sang half-drunkenly at one point, taking pleasure in stating the obvious. That night, they really, really, really made it happen.
---
Follow along with our Primavera Sound 2023 coverage here.