Speedy Ortiz have announced that their new LP, Rabbit Rabbit, will be released on September 1 via Sadie Dupuis' own label, Wax Nine. Along with the announcement, they've shared the new single 'You S02', which follows the recently unveiled 'Scabs'. The track arrives with an accompanying Elle Schneider-directed video that pays homage to John Carpenter's They Live. Check it out below.
Speaking about the new track, Dupuis said in a statement: "Mostly when I've met my musical heroes, they're kind and principled people. But occasionally someone whose work I love(d) reveals themselves to be anti-union, or anti-'woke,' or some other gear-grinding ugliness. That's who I wrote 'You S02' about, the song's frenzied guitar and synth solos mirroring the crazymaking intensity wafting off people who act like thatI. n the TV show You's second season, the main character moves from New York to LA in hopes of a fresh start, but (spoiler) remains a murdering psychopath. Changing cities won't make you a hero if you still treat others badly."
Of the video, she added: "It was freezing out—Southern California was experiencing unseasonal snow—but the low temps fit the bill for a video about how revenge is best served cold (in a non-heated swimming pool)."
Speedy Ortiz co-produced the follow-up to 2018's Twerp Verse with Illuminati Hotties' Sarah Tudzin, who also mixed the album. It was recorded between Rancho de la Luna in Joshua Tree and Sonic Ranch in Tornillo, Texas, while Emily Lazar and Chris Allgood handled the mastering at the Lodge in New York. It's also the first Speedy Ortiz LP to feature longtime touring bassist Audrey Zee Whitesides and drummer Joey Doubek.
Rabbit Rabbit Cover Artwork: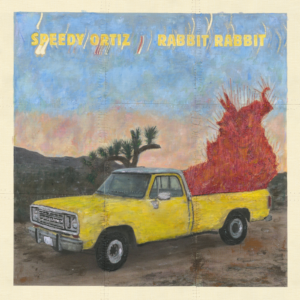 Rabbit Rabbit Tracklist:
1. Kim Cattrall
2. You S02
3. Scabs
4. Plus One
5. Cry Cry Cry
6. Ballad of Y & S
7. Kitty
8. Who's Afraid of the Bath
9. Ranch vs. Ranch
10. Emergency & Me
11. The Sunday
12. Brace Thee
13. Ghostwriter