There was a lot to see on the second day of Primavera Sound Barcelona 2023. Though scheduling conflicts meant I had to miss sets by Beth Orton, Julia Jacklin, Julia Holter, Karate, Avalon Emerson & the Charm, and Nation of Language, among others, and even after deciding to skip Depeche Mode's headling set (I'd seen them live in 2017) to allow myself a much-needed break, the highlights were plentiful. Plus, catching Daphni's euphoric dance set, which went late into the night, did not leave me with much time to actually put together the write-ups. But I managed: Here are the most memorable moments of the night.
---
Getting Excited With the Beths
"Look, it's the ocean!" Elizabeth Stokes exclaimed, fittingly, after singing about being too scared to dive in on 'Knees Deep', a highlight from the Beths' latest album Expert in a Dying Field. (In an interview, Stokes told us the song was in fact inspired by her time spent in Spain.) The Dice stage was, indeed, a wonderful setting to experience the band's driving, hook-filled indie pop, and everyone seemed to be having a great time. At one point, Stokes had to replace a capo that somehow exploded off her guitar, and bassist Benjamin Sinclair did an incredible job stalling by getting us to wave over at a boat that happened to be passing by ("You got a ticket?"). Highlights included 'I'm Not Getting Excited', 'Jump Rope Gazers', and 'Silence Is Golden', and the new album's title track made for a great show-closer: "How do you know/ It's over when you can't let go/ Can't stop, can't rewind?" We've all been there and felt the crushing weight of that question. Somehow, singing along to the words still gets us excited.
Soul Glo Make Their Message Clear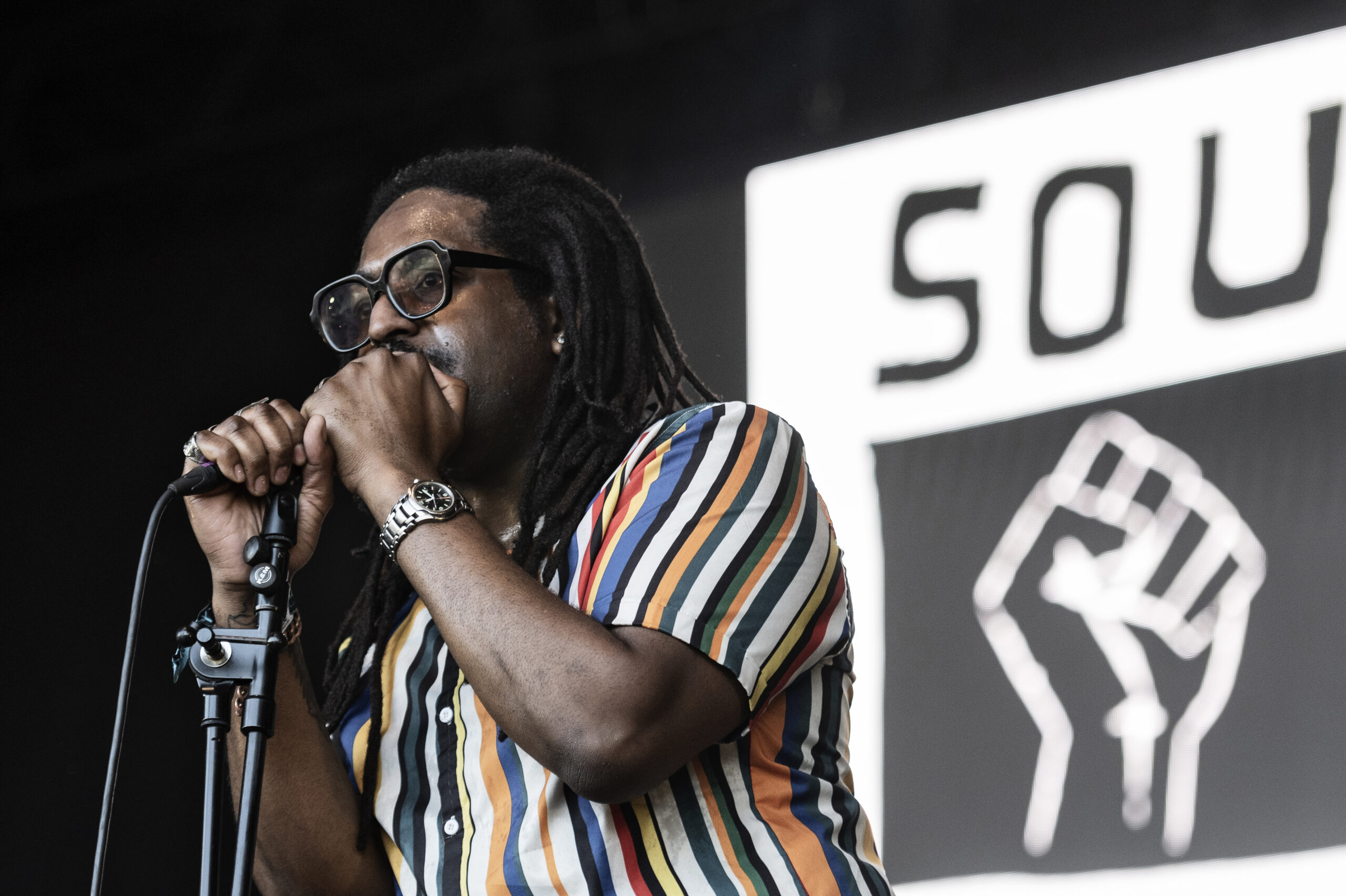 There's a high chance that anyone who caught Soul Glo's set at the Plentitude stage on Friday evening will call it the heaviest and most frenetic thing they've seen all week – or likely ever. Given that this is Primavera, this maybe doesn't say much, but even those vaguely familiar with what the group is about might have been caught off guard by just how fast and chaotic the show was, or how compelling Pierce Jordan's presence on the mic really is. There was a mosh pit going for the majority of the set, and it got wildly (and appropriately) overwhelming on the closer 'Gold Chain Punk (whogonbeatmyass?)'. With the lyrics practically unintelligible, though, I wasn't sure how well the songs' radical politics would translate outside their home country, until Jordan made the message abundantly clear in a speech: "There's no fucking freedom in the United States."
The Japanese Breakfast Show Is a Rush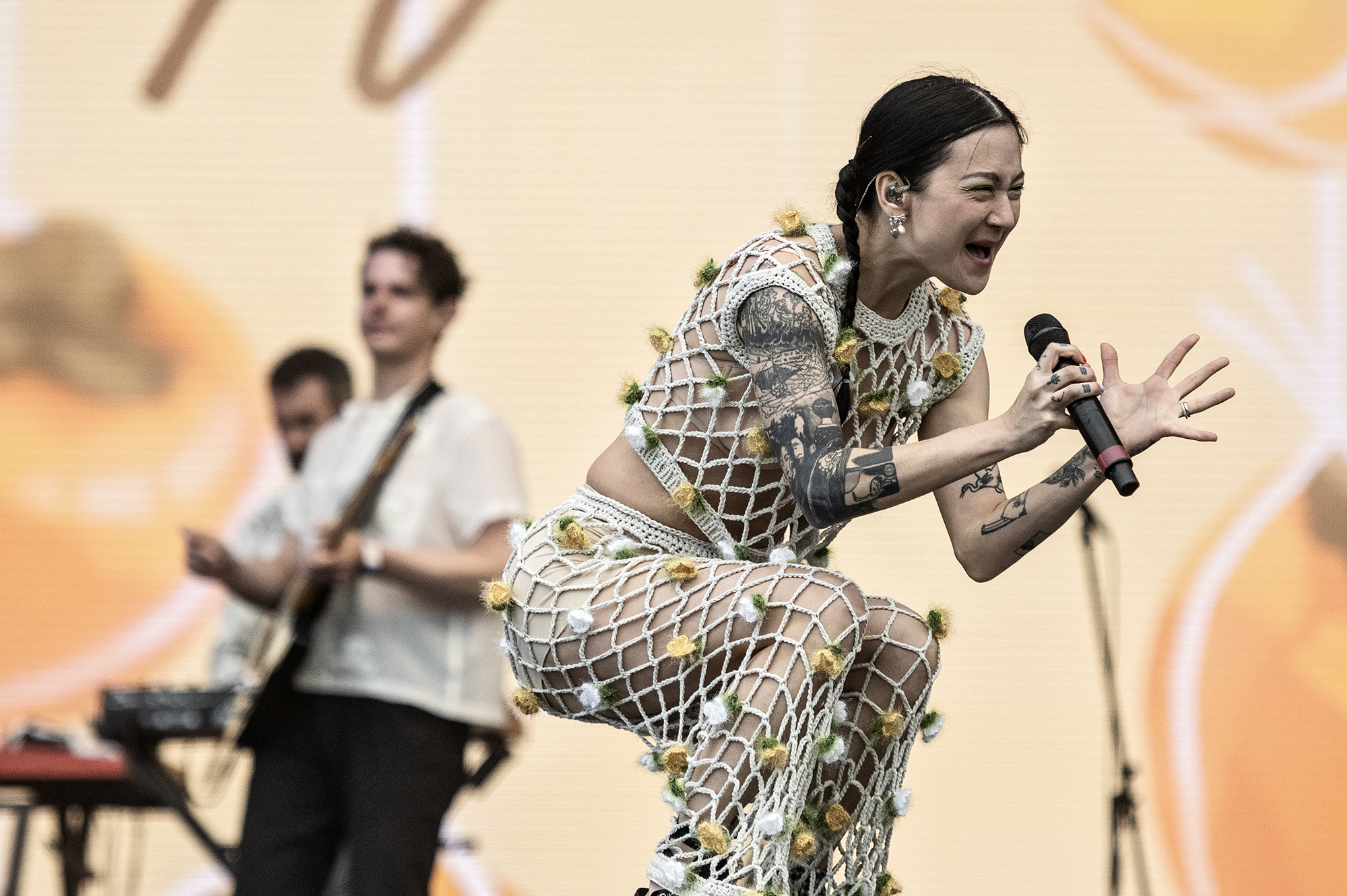 This was Japanese Breakfast's first-ever show in Spain; their scheduled appearance at Primavera last year was one of a few that ended up being canceled. The crowd at the Santander stage may not have lingered on every word – I wonder if their music translated better at the intimate Vision by Pull&Bear stage later that night – but those around me looked captivated, and the whole performance was, to quote one of their most beloved songs, a rush. Michelle Zauner, at once giddy and expressive, took delight in how much space there was to bounce around on the main stage and often went out of her way to interact with the audience. The more upbeat songs – 'Be Sweet', 'Savage Good Boy', 'Everybody Wants to Love You' – were unsurprisingly enjoyable, but it was the combined lushness and vulnerability that seeped through cuts like 'Glider' (from the Sable soundtrack), 'Posing in Bondage', and 'Boyish' that gave the show an immersive quality. "I feel like I've worked my whole life to be here," Zauner remarked, and someone in front of me claimed she says that at every festival. Of course, I thought. Even if that's the case, it doesn't make it any less true.
Tomberlin Vibes
Tomberlin's i don't know who needs to hear this… is an album that has gotten me through a lot over the past year, and I was fully prepared for her live show to leave me all emotional. But at the wonderfully intimate, sort of secluded Vision by Pull&Bear stage on Friday night, Tomberlin was just there to vibe. She's technically on vacation, she said, but was happy to be playing the festival. During her acoustic 30-minute set, she fielded questions, concerns, and song requests from the audience, and a few members quietly engaged. (Way to get all the introverts in one place, Primavera.) Still, not even the persistent echo of electronic music ("That's exactly what the next album is going to sound like") could prevent the soul-crushing beauty of her songs from cutting through the chilly summer night breeze. In the end, even in their stripped-back form, songs like 'stoned' and 'happy accident' did not fail to wreck me. Between hours and hours of loud noise, her "quiet ass little music" was exactly what we needed to hear.
Thrilling as Alvvays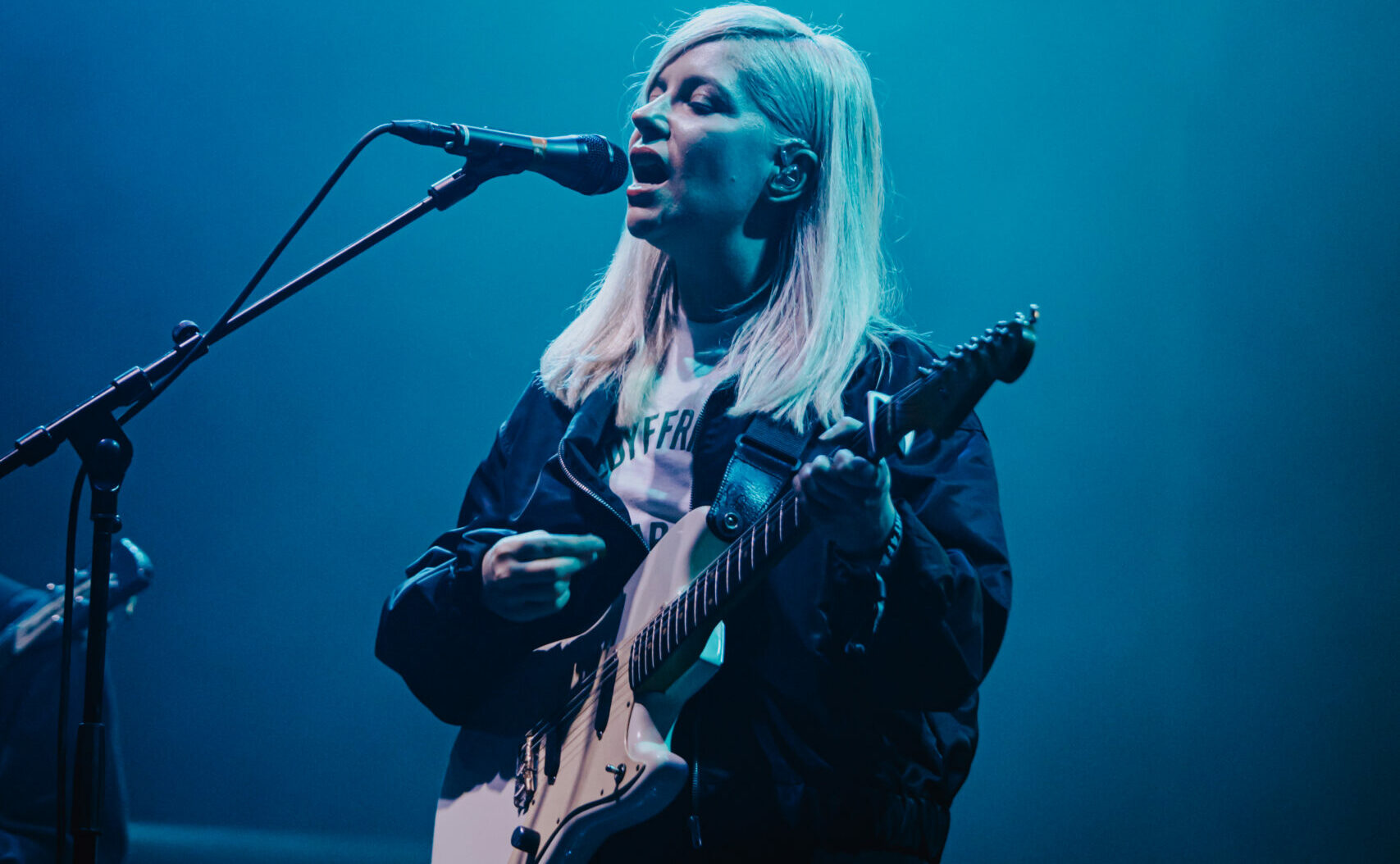 I had the pleasure of seeing Alvvays when they were touring in support of 2017's Antisocialites, and I remember it as a dreamy, wonderful show with a good number of singalongs. But now the power-pop band has Blue Rev to promote, a record shot through with sharper melodies and dense textures that could have been harder to recreate live. But the new songs just made the audience explode in a whole new way. Infectious is the only word that keeps coming to mind; so perfectly did their energy match that of the music that it must have been coursing through their veins from the first moment of contact. The wistful sentimentality of songs like 'Not My Baby' and 'Dreams Tonite' did nothing to undercut the livelier moments, including 'Pharmacist', 'Belinda Says', 'Pomeranian Spinster', and the ultimate crowd-pleaser 'Archie, Marry Me', not least because they all played like hits to this crowd. But by ending with 'Lottery Noises', Alvvays reminded us just how great they've gotten at mixing all these dynamics into a single track. I can't imagine their show being any more of a thrill, but time always proves me wrong.
Kendrick Lamar Embraces His Superstardom With a Dramatic, Powerful Show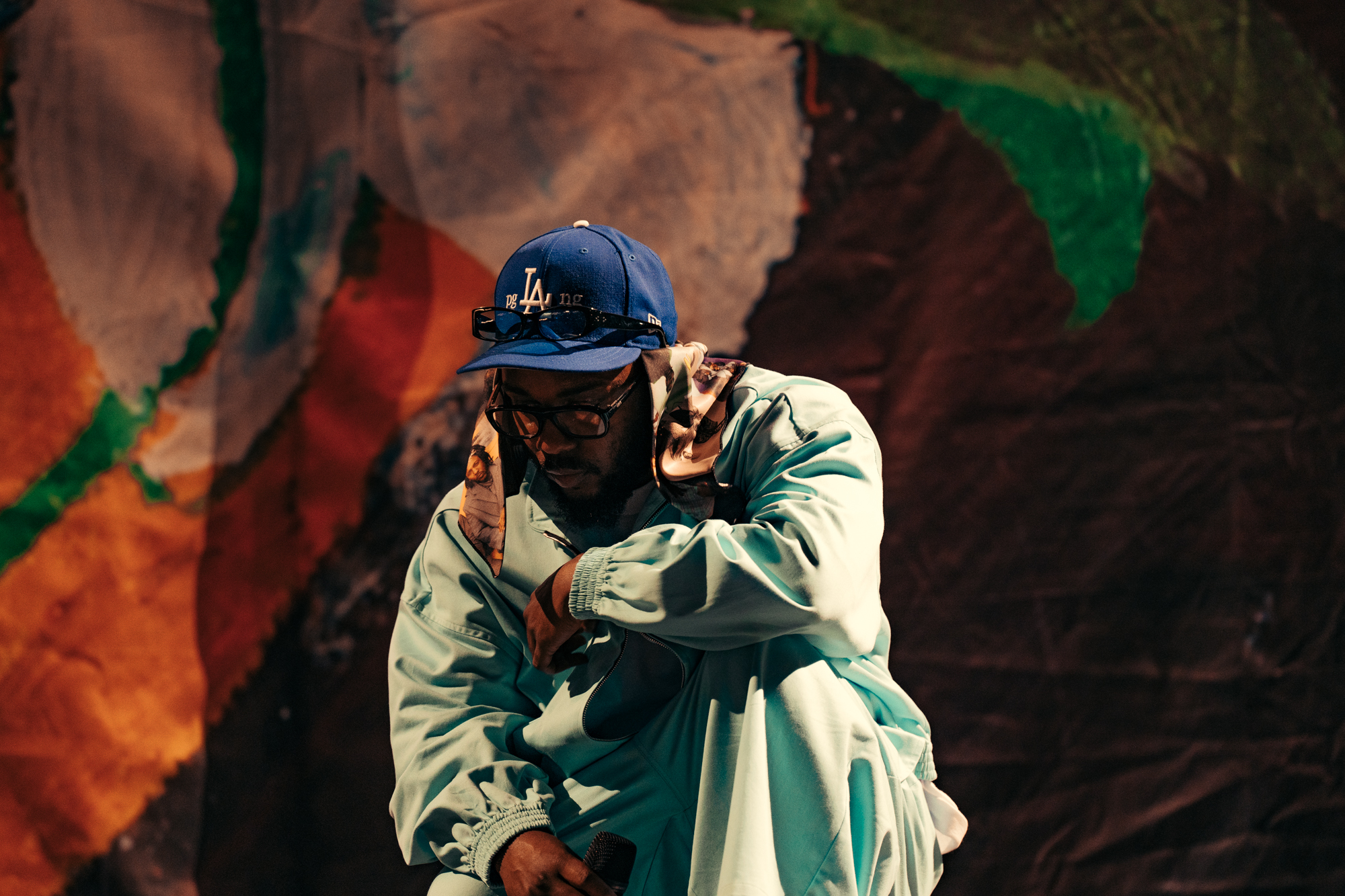 Mr. Morale & the Big Steppers is a messy, conflicted, and richly detailed self-portrait of an album that doesn't easily lend itself to live performance, especially in a festival setting. Instead of trying to come up with an innovative solution to this problem – how much could you play up the irony of having to play these songs in front of hundreds of strangers? – Kendrick Lamar seemed more intent on leaning into than wrestling with his superstar status, rolling through several crowd-pleasers from his catalog with ease. At times he let the silence between songs hang for a little longer than you'd expect, which you might read into as a pointed conceptual choice rather than a theatrical one, but even that sounds like a stretch. The set design appeared minimal, the performance carefully and intricately choreographed, though from where I stood in the back, I couldn't make out just how elaborate and dramatic the whole presentation was. (I also missed the three songs with Baby Keem that came at the end.) Some of his songs might have been stripped of their thorniness, but Lamar's subtle intensity was masterful. It was an undeniably captivating show that didn't set out to challenge your perception of who the rapper is but didn't quite prop up his image, either, instead letting the humanity and impact of his work speak for itself.
Christine and the Queens' Lonely, Celestial Spectacle
Christine and the Queens had no trouble bringing his boldly theatrical, uniquely poetic vision to the festival stage. Drawing inspiration from Tony Kushner's play Angels in America, Chris offered an arresting preview of his soon-to-be-unveiled album Paranoïa, Angels, True Love, giving the tracks 'Let me touch you once' and 'I met an angel' their live debut while artfully weaving in fan favorites like 'People, I've been sad' and 'Saint Claud'. Through his dramatically intense performance, the loneliness at the heart of the music spiraled into anger, tenderness, aching desperation, and finally back to love; he repeatedly looked to his band, the "lords of music," to envelop the feeling in its grand, celestial glory. You simply could not imagine this performance taking place any time before midnight; unlike other performers at the festival, Chris had no interest in the sea stretching out across from us. His were locked up to the sky, hungry for the moon and all it refuses to hide.
Yves Tumor Turns That Shit Up
A "big ass crowd" had gathered to watch Yves Tumor's set at the Cupra stage on Saturday night, and even the artist themselves seemed a little amazed. But their fearless, mesmerizing performance proved they could command the biggest stage any festival could possibly have to offer. At the start of the show, Tumor kept asking for the volume to be turned up, and they never stopped teasing and interacting with the audience like a true, frenzied rock n' roll showman. Antics included licking the camera, gliding down across the floor, and simulating sex acts with the band's glammed-up guitarist and drum…set. The songs from Tumor's latest album, Praise a Lord Who Chews but Does Not Consume (Or Simply, Hot Between Worlds), plus highlights from Heaven to a Tortured Mind and The Asymptotical World EP, sounded fantastic live, a reminder of just how far their music has come in leaping out of the shadows. This was no parody of a rock star, they seemed to suggest, but the absolute real thing.
---
Follow along with our Primavera Sound 2023 coverage here.