Art should not be a one-way output. With an attitude of openness, multimedia artist Meichun Cai upgrades the value of individual artists to a discussion on the boundless possibilities of new forms of life. By leveraging technologies such as artificial intelligence, virtual and augmented reality and holographic projection, Cai is able to frame her imagination of the future.
Q:Would you briefly introduce yourself?
A: My name is Meichun Cai, a multimedia artist and designer. I completed my bachelor's degree at the School of Visual Arts and my master's degree at Harvard University, with a focus on design technology. My work explores the multifaceted relationships between humans, nature and machines in the context of emerging technologies. My research areas include immersive storytelling, cognitive augmentation, mixed reality, installation and 3D printing. Some of my recent works have been selected for the SXSW Art Program and exhibited in China, North America and Europe.
Q: What made you switch from fine arts to technology design?
A: During my undergraduate, I studied the spatial needs and behavioral habits of the target user groups in the early stages of design, and then created a tailored physical space – it was all about molding the tangible world to meet specific needs. However, I soon realized that physical space wasn't the final frontier. There existed a potential to extend, modify, and reimagine these spaces through the powerful lens of technology. My first professional experience at an international architecture firm exposed me to advanced approaches like building information modeling, virtual reality and computational design. These tools didn't just enhance productivity, they fundamentally altered the way we approached design and made it more efficient, more adaptive, and infinitely more creative. Consequently, I decided to focus on the intersection of design and technology.
Q: What is your design philosophy of Building Toy?
A: My fundamental goal was to reimagine the relationship between space, function, and human interaction. Traditional architecture often remains static and pre-defined by practical considerations. However, when I encountered VR, I began contemplating the possibility of creating a space that could dynamically respond to human behavior. In turn, the people within it would be influenced by this dynamic space and respond to it in distinctive ways, instigating a continuous, symbiotic exchange between space and inhabitants. This transforms space from a mere passive object, shaped to serve human needs, into a sentient entity, much akin to a "living organism". It perceives, reacts, and evolves – it has an essence of life, a sense of consciousness that echoes human attributes.
Q: What are you looking to achieve in your project Metamorphosis?
A: My focus lies in exploring the liminal spaces that exist between the human and non-human, the organic and inorganic, and reimagining our understanding of the world from a more-than-human perspective. By collecting environmental datasets such as microscopic images of minerals and satellite images, and training them with AI models, I re-generate new datasets that can reconstruct fluid, dynamic, and ever-changing representations of human bodies. Through this combination, I seek to disrupt the hierarchical structure that privileges humans over non-humans. Contemporary design and art practices are predominantly anchored in anthropocentrism, with an emphasis on the individual self and a binary opposition to "the other". I aspire to reconsider how we can embrace difference, iterate ourselves, and shape a diverse future from a transhumanist vision.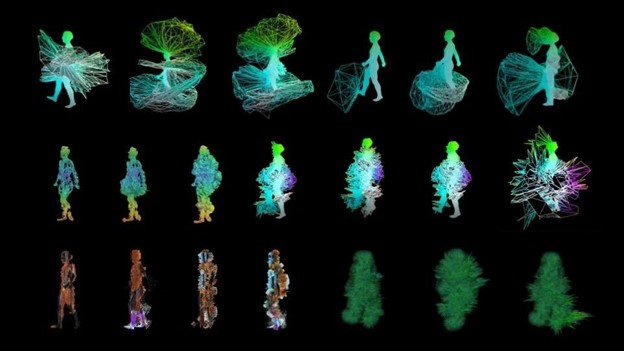 (Metamorphosis, by Meichun Cai, Yiou Wang)
Q: What distinguishes your work from digital art in general?
A: I use modern technology as an embodied instrument to assist in design processes, encouraging me to experiment with ideas and create paradigm shifts. While I have worked with various technologies such as holographic projection, virtual and augmented reality, photogrammetry and computational design, digital means are not the exclusive mediums through which I bring my vision to life. Some of the installations and sculptures I have made also involved manual processes. The line between reality and virtuality is blurred and relative. What I prioritize is the humanistic metaphor of the collective rather than self-indulgence as the main theme.
Q: How do you ensure all your works are "creative"?
A: Part of my creative process stems from extensive interdisciplinary research. I draw inspiration and support from diverse disciplines such as architecture, material science, and cognitive science, collaborating with experts in various fields to navigate and create within a realm that is rich with unknowns, yet profoundly interconnected. The definition of creativity extends beyond private emotional expression, which connects individuals to the outside world at different levels. It allows us to delve into our emotions and think beyond ourselves to contribute to the larger, shared narrative. Additionally, I find myself constantly drawn towards subjects that challenge me, that push me out of my comfort zone and compel me to work with mediums that I may not have been previously well-versed in. But I see it as an exhilarating experience.