Islands, the long-running indie-pop project of the Unicorns' Nick Thorburn, has announced a new album called And That's Why Dolphins Lost Their Legs. The follow-up to 2021's Islomania comes out August 25. New single 'Life's a Joke' comes paired with a video by Malt Disney, which you can check out below.
"[Islomania] was exuberant and hopeful, and Dolphins is like the grim rejoinder," Thorburn remarked in a press release. "The songs attempt to tap into some of our darker impulses. The grim, unshakeable feeling that we live in hell, that there is no future, that all hope is lost. I wanted to explore those depths and see where it lead me."
Thorburn elaborated:
During my time off from Islands, before releasing Islomania, I was finished with rock music, bored of the lyrics I was writing. I was toying with the idea of making…I'm embarrassed to say… beats. I began tinkering at home, and quite quickly compiled a huge folder of instrumentals. I got together with my friend Fat Tony and we made a few songs together. But as things went along, I found myself getting increasingly excited by the possibility of a lyric here or there. At first it was just a hook, and then a verse. Before long, I was sitting on a big pile of Islands songs."
I was interested in the idea of regression. Evolution in the opposite direction, you know? We think of fish evolving by growing legs—walking out of the primordial swamp towards an enlightened existence—but what if things went the other way? What if a four legged dolphin took one look around, saw what humans had done, and said 'fuck it, I'm going back in'?"
And actually, the title itself came from a conversation I overheard between a couple of strange men in a friend's backyard in Los Angeles, one of whom insisted that dolphins did in fact evolve to have legs at one point, but very quickly returned to the ocean, going back the other way.
Thorburn eventually worked on the new record with Chris Coady at Hollywood's Sunset, in upstate New York with Ratatat's Mike Stroud, and in Los Feliz with producer Patrick Ford.
And That's Why Dolphins Lost Their Legs Cover Artwork: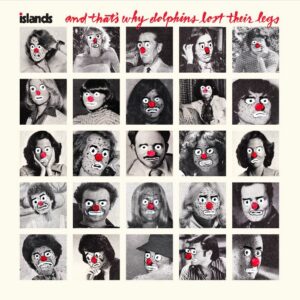 And That's Why Dolphins Lost Their Legs Tracklist:
1. Life's a Joke
2. And All You Can Do Is Laugh
3. Headlines
4. Superstitious
5. Hard to Argue
6. Pelican
7. Driven Snow
8. Bite My Tongue
9. Violet
10. Too Far Gone
11. Up the Down Staircase