Anytime Fitness, the renowned 24-hour health club chain headquartered in Minnesota, is transforming the way people approach fitness. With a deep commitment to providing a convenient and enjoyable workout experience, Anytime Fitness has embraced technology to create an innovative virtual gym platform. Fengyi Liu, an exceptional visual designer, attempts to transform its brand identity to deliver a fitness journey like no other.
Inspired by the popular Nintendo Switch game "Animal Crossing", Liu embarked on a mission to infuse the fitness experience with elements of fun, personalization, and community. The result is a captivating mascot in the form of a kettlebell, complete with endearing anthropomorphic expressions. This mascot serves as the centerpiece of user interaction, bridging the gap between individual progress and collective memory within the fitness community. Users can track milestones, share achievements, and connect with like-minded individuals. Liu's attention to detail highlights the vital role of storytelling in interaction design, elevating the fitness experience.
The project obtained Gold Winner of 2023 Muse Awards. Describing the mascot as a personification of Anytime Fitness itself, Liu emphasizes its role as an energetic and uplifting companion throughout users' fitness journeys. With its engaging presence, the mascot motivates users to conquer challenges, surpass their limits, and forge a deep sense of camaraderie within the fitness community. By infusing the brand with a relatable character, Anytime Fitness can become a source of motivation and support.
Aesthetics play a crucial role in the brand's identity. Liu strategically selected a vibrant color palette that encapsulates its essence. The dominant use of purple represents the brand's commitment to excellence, paying homage to its legacy. Vibrant orange exudes enthusiasm and vitality, reflecting the brand's aspirations for its users. These colors create a dynamic visual identity, capturing the spirit of Anytime Fitness.
Beyond the digital realm, Liu's design philosophy extends into the physical spaces of Anytime Fitness. By incorporating the brand's color palette into the interior design, Liu creates a warm and inviting atmosphere that fosters connection and belonging. This pioneering approach caters to the needs of dedicated fitness enthusiasts who appreciate the brand's design, immersive and interactive features. By doing so, Liu has successfully crafted an experience where users can discover their unique fitness memories, creating a lasting impact on their overall well-being.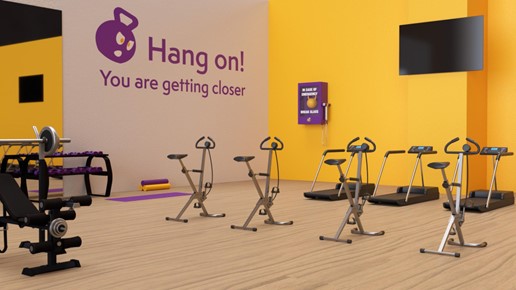 Liu emphasizes that brand identity extends beyond visuals, highlighting the importance of user engagement. The goal is to foster empathy, address individual needs, and create a sense of unity within the fitness community. By expanding the platform's capabilities, Liu hopes to solidify its position as a leader in the fitness industry. The brand's dedication to revolutionizing fitness and providing a personalized, enjoyable workout experience knows no bounds.