Strawberry Runners, the project led by Emi Night, has announced a new self-titled album. Following 2017's In the Garden, In the Night EP, Strawberry Runners was co-produced by Night and Michael Cormier-O'Leary. It includes the recently released track 'Circle, Circle', as well as a new song called 'Look Like This'. Check out a video for it and see the album cover and tracklist below.
Night shared the following statement about the new song and video:
This is the first song that Michael Cormier O'Leary and I worked on together production-wise. We actually recorded another version as a straightforward rock/power pop song with the Philly band a few years back, but it never felt right. Last year, Mike was living up in Maine and looking to take on more production work. When he visited Brooklyn for a gig, we hung out for most of a day and got into talking about what happened with the album we started in Philly. I had left off midway through finishing the album when some heavy stuff came up with my family – a pause that extended through the pandemic. It was a combination of that and the fact that the songs weren't feeling right. Together we figured that it might be fun to revisit the record with fresh ears, and re-work some of the old songs.
I told Mike that "Look Like This" was the first song I'd cut from the album as it was, so he offered to take a swing at re-arranging it. I re-recorded the song with just acoustic guitar and vocals, slowing down the tempo and lowering the key a bit to mellow it out. I sent some references for drum sounds I was into, along with a long playlist of music references for the vibe in general. Very soon after, maybe within a couple of days, he sent back a new keys/synth/midi arrangement under my vocal tracks. He had re-worked the rhythm a bit to pick the energy up, maintaining most of the guitar licks but keeping the track pretty keys/synths forward. There was a bit of back and forth after that and we honed the sound in the studio, adding more instrumentation. But when I heard that first pass from Mike, that was the moment I finally let myself start to feel excited about the possibility of this album getting out into the world.
"Look Like This" is a song about ego distortions, depression, the contradictions of the false self, and finding the boundary between imposed perceptions and one's own spontaneous reality. Finding this boundary for yourself is something we should all strive to do in our image-driven world. The intention is to gather energy, to break out of oppressive thinking patterns, and find clarity.
In the video, I was thinking about the way that depression and your ego can distort your view of the world and yourself. I thought of a few ways to distort figures in video form – shadows, reflections, filters, lenses, and spent a couple days filming my bandmates and myself."
The video features Benedict Kupstas, and the shadows of Michael Cormier O'Leary and Nico Hedley. It was edited by Santi and Ana Slade.
Strawberry Runners Cover Artwork: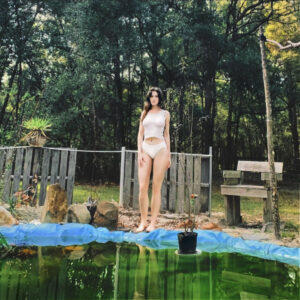 Strawberry Runners Tracklist:
1. When I Walk
2. Breakup 2
3. ha ha
4. Alison
5. Angel in the Glass
6. Slip Through
7. Look Like This
8. Buddy
9. Hollow
10. Can I Take This
11. Bed and Blanket
12. Circle Circle