heka has announced a new EP, swan songs, which will arrive September 22 via Practise Music. She's also shared a new single, 'i'm the thorn', which will appear on the EP alongside the previously released 'april (away)'. Watch the video for it below.
"'i'm the thorn; meditates over the spoils of an unhealthy relationship," heka explained in a statement. "It's about love that doesn't work and ends up hurting both. It's about feeling liberated by putting an end to it and still sensing a bond with that person through the mutual wounds inflicted. It was conflicting to feel comforted by it and I wanted to express the dichotomy of that feeling."
Revisit our Artist Spotlight interview with heka. 
swan songs EP Cover Artwork: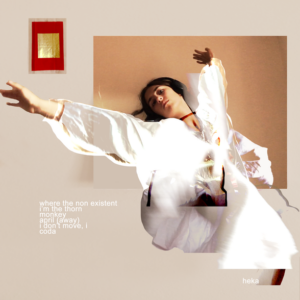 swan songs EP Tracklist:
1. where the non existent
2. i'm the thorn
3. monkey
4. april (away)
5. i don't move, i
6. coda