With the hype surrounding Oppenheimer capturing the attention of cinema enthusiasts everywhere, the watch community has also been buzzing, particularly regarding the film's showcase of Hamilton watches. Hamilton boasts an illustrious cinematic history, first gracing the silver screen in Marlene Dietrich's 1932 film Shanghai Express. Over the years, Hamilton has maintained a robust partnership with Hollywood, appearing in iconic films like Men in Black, James Bond: Live and Let Die, and 2001: A Space Odyssey, among others.
It's also worth noting that Hamilton's collaboration with Nolan isn't a recent development. Previous films from Nolan, such as Tenet and Interstellar, have prominently featured Hamilton watches. So, before we bore you, let's delve into the standout watches in Oppenheimer.
Hamilton Cushion B (1930s)
Designed with a distinctive cushion shape, the Hamilton Cushion B is a testament to the brand's legacy of producing uniquely-crafted timepieces since its inception in 1892. The watch highlighted in the film appears to be a 14k gold, complemented by a leather strap—a design Hamilton originally marketed as the ideal companion for the travelling man. The watch boasts a luminous dial powered by a 981 movement, later updated to the 987 movement around 1926.
In the movie worn by J. Robert Oppenheimer.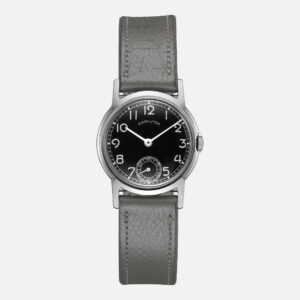 Lexington (1940s)
Another timepiece Oppenheimer wears is the Lexington, an Art-deco-like piece with a rounded bezel and a beautiful black dial held together by a grey leather strap.
Endicott (1940s)
The last of the pieces worn by Oppenheimer is the Endicott which was introduced by Hamilton in 1938 and concluded in 1948. In the movie, the watch features a gold case with gold numerals, bringing out a winning combination. It is also adorned with an exquisite brown leather strap.
Others
Before we finalise the list, quite a few other Hamilton watches are worn in the film. As an example, Kitty Oppenheimer wears a stunning Lady Hamilton, a piece you can still purchase today and which was also featured in Nightmare Alley (worn by Mara Rooney). Lieutenant General Leslie Groves also wears Hamilton in the movie, most prominently the Military Ordonance, a military watch that would fit any modern watch collection, even by today's standards. Alongside that, Groves wears a Piping Rock (1920s) dress watch that emulates class.