Glen Hansard has announced that his fifth solo LP, All That Was East Is West Of Me Now, will be released on October 20 via ANTI-. Today, the singer-songwriter has previewed the record with the opening track 'The Feast of St. John', which features Warren Ellis on violin. Listen to it below, and scroll down for the album's cover artwork, tracklist, and Hansard's upcoming tour dates.
The songs on All That Was East Is West Of Me Now began taking taking shape through a five-show residency Hansard arranged at his small local pub in November 2022. He then recorded the album with long-time collaborator David Odlum at his home studio on the outskirts of Dublin.
"I told no one. We set up in the corner and played to the locals, some of whom were only half listening," Hansard explained. "A collection of farmers and workers, dart players, pool sharks. I played two hours of new songs each week, some songs finished, some half-baked. Through this process I realized what I had and what I had to work on further – which songs landed and which ones were only good in my imagination. It solidified my choices right away. It was as if the album appeared in that bar. And not before."
Hansard's previous album was 2019's The Wild Willing.
All That Was East Is West Of Me Now Cover Artwork: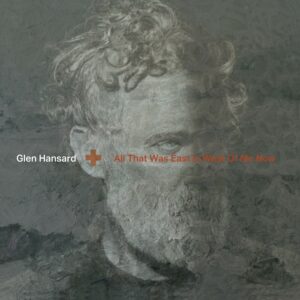 All That Was East Is West Of Me Now Tracklist:
1. The Feast Of St. John
2. Down On Our Knees
3. There's No Mountain
4. Sure As The Rain
5. Between Us There Is Music
6. Ghost
7. Bearing Witness
8. Short Life
9. Reprise
Glen Hansard 2023 Tour Dates:
Mon 30 Oct – Palladium, London, UK
Tue 31 Oct – RNCM Theatre, Manchester, UK – SOLD OUT
Thu 2 Nov – La Cigale, Paris, France
Fri 3 Nov – Cirque Royal, Brussels, Belgium
Sun 5 Nov – E-Werk, Köln, Germany
Mon 6 Nov – Jahrhunderthalle, Frankfurt, Germany
Wed 8 Nov – Circus Krone, Munich, Germany
Thu 9 Nov – Konzerthaus, Vienna, Austria
Sat 11 Nov – Volkshaus, Zurich, Switzerland
Sun 12 Nov – Teatro Dal Verme, Milan, Italy
Tue 14 Nov – Velky sál Lucerna, Prague, Czech Republic
Wed 15 Nov – Palladium, Warsaw, Poland
Fri 17 Nov – Verti Music Hall, Berlin, Germany
Mon 20 Nov – Koninklijk Theater Carré, Amsterdam, Netherlands – SOLD OUT
Tue 21 Nov – Koninklijk Theater Carré, Amsterdam, Netherlands – SOLD OUT
Wed 13 Dec – Vicar St., Dublin, Ireland – SOLD OUT
Fri 15 Dec – Leisureland, Galway, Ireland
Sat 16 Dec – St Columbs Hall, Derry, UK
Mon 18 Dec – Ulster Hall, Belfast, UK
Tue 19 Dec – City Hall, Cork, Ireland