ME REX have announced their debut album: Giant Elk lands on October 20 via Big Scary Monsters. Today, the London and Brighton-based trio has shared the album's first single, 'Eutherians (Ultramarine)'. Check it out below, along with the album cover, tracklist, and the band's upcoming tour dates.
"'Eutherians' is a clade of mammals that includes humans," the band's Myles McCabe explained in a statement. "The word can be translated contrastingly as either 'true beasts' or 'good beasts'. The lyrics follow the album's central metaphor of a creature cursed to continue life split in half, grieving the violent separation from itself, while trying to become whole and finding some meaning in that striving. The Ultramarine referred to in the song represents alternately the infinite, domineering sky and the chaos and danger of the sea."
Giant Elk follows ME REX's 2022 EPs Plesiosaur and Pterodactyl as well as 2021's 52-track collection Megabear.
Giant Elk Cover Artwork: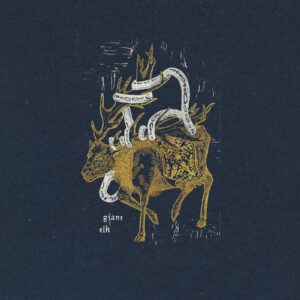 Giant Elk Tracklist:
1. Slow Worm
2. Infinity Worm
3. Eutherians (Ultramarine)
4. Giant Giant Giant
5. Halley
6. Oliver
7. Spiders
8. Jawbone
9. Pythons
10. Strangleweed
11. Summer Brevis
ME REX 2023 UK Tour Dates:
Fri 17 November – Green Door Store, Brighton
Sat 18 November – Moth Club, London
Sun 19 November – The Exchange, Bristol
Mon 20 November – Hare & Hounds, Birmingham
Tues 21 November – Gullivers, Manchester
Wed 22 November – Sneaky Pete's, Edinburgh
Thu 23 November – Broadcast, Glasgow
Fri 24 November – Wharf Chambers, Leeds